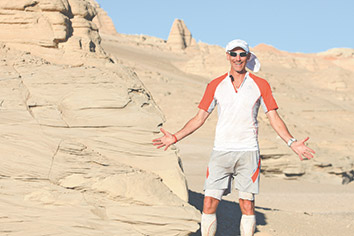 David McAvoy wears many hats. He's a husband, father of three, Eagle Scout, and general counsel of Eli Lilly & Company's emerging markets business. That would be enough to keep many people busy, but not this lawyer. McAvoy has a continuous craving for adventure, and he'll go to great lengths to find it.
In June, 53-year-old McAvoy not only marked his 25th year working at Eli Lilly, he also participated in a 155-mile race through the largest desert region in Asia: the Gobi Desert. Over the course of six days, the international lawyer faced severe weather conditions, took on the Tian Shan Mountains, and pushed himself to his physical limit. Out of 160 racers, he was one of the 148 who finished.
"I'm the kind of person that's interested in combining sport(s) with the discovery of self and seeking adventures that run A to Z," McAvoy said. "I'm looking at long, competitive events that help you learn about yourself and what your potential is. It's a paradox, because you almost have to go where the wild things are in order to discover yourself."
It goes without saying that McAvoy leads a busy life. His ability to juggle multiple projects is commendable, especially by those who know him.
"He lives on maybe three or four hours of sleep a day," said Phil Shinn, a friend of McAvoy's and a health safety and environmental consultant at Eli Lilly. "When he's not in a conference call, he's either with his family or at the gym. His energy is limitless."
Although McAvoy was a rookie in the Gobi, he's not new to rigorous challenges. He's trekked through the Grand Canyon and hiked up three of the Seven Summits. He refers to himself as a "wanderer" and believes that aspect also allows him to excel in his profession.
"Believe it or not, it helps me as a lawyer," McAvoy said. "Things I've learned from this have made me better for my clients at Eli Lilly … and when I go meet with the Chinese government to talk about access to medicines, (they say), 'You ran the Gobi?' It helps me relate to them when I'm out there."
Originally, McAvoy had his heart set on running a race in the Jordan Desert, but due to ISIS activity it was canceled. This shifted his attention to something else: The 4 Deserts Race Series. In addition to the Gobi March, the series includes races in the Sahara, Atacama and in Antarctica. Only 150 people have finished all four, but that's exactly what McAvoy intends to do.
Training
Due to the change in race plans, McAvoy found himself with 10 months to prepare for the Gobi. The extra time allowed him to focus on a combination of weight training, running and breathing techniques, but it also may have caused him to over train.
Hartman
"Dave's ability to push himself also creates an issue that he trains too much without recovery," Bill Hartman, physical therapist and co-owner of Indianapolis Fitness and Sports Training, said.
McAvoy collaborated with Hartman in order to address workout routines that would best prepare the attorney for his upcoming challenge. Each week, McAvoy ran varied, extensive lengths along the Monon Trail in Indianapolis while wearing his gear and pack. On the weekends, he ran consecutive days in a row.
As a sports performance coach, Hartman monitored McAvoy's progress throughout his ongoing training.
"We had to assure he was getting adequate rest," Hartman said. "While Dave can push himself incredibly hard, he can also recover poorly because of that."
Two months before McAvoy was set to trek across the Gobi, he suffered a severe tear in his calf muscle. Although at first the odds of recovery seemed grim, he worked with IFAST to reverse the damage and ended up running the race while the muscle continued to heal.
"I conquered the video game. I made it to the 12th level. And when you make it to the 12th level, it's not like you or anybody else expects it to be. It was phenomenal, and I'll write a book on it one day." David McAvoy (IL Photo/Teryn Armstrong)
The Race
After spending almost a year training for the Gobi March, McAvoy made the long haul to the main event. He had experience in long-distance running, mountain climbing and survival skills under his belt, but he wasn't expecting what the Gobi was about to throw at him.
"Within five hours in the Gobi, because it was so intense, I (was) holding my hands on my knees, sucking in the wind and saying, 'What have we gotten ourselves into?'" McAvoy said.
By the end of day one, McAvoy had journeyed through a blizzard, quicksand and up the Tian Shan Mountains. The extreme changes in weather forced him to quickly adapt, but also pushed McAvoy to his first low point. Following the blizzard, the Gobi terrain formed into quicksand, which made it a difficult trek.
"I called a timeout, and for 20 minutes had a debate with myself," McAvoy said. "I thought, how can I be only six hours into this and wondering, am I going to be able to finish this? I started feeling sorry for myself. But then Dave the lawyer (said), 'Why are you doing this?'"
McAvoy decided that he would finish the race, but it wouldn't be on his terms. He realized that he'd have to play by the Gobi's rules and overtake the desert region mentally and physically.
"It wasn't going to be me against the other racers, it was me against myself and the Gobi," McAvoy said.
While the first four days of the event consisted of marathon-length races, the final two turned into a 50-mile race, also referred to as "the long march." During the fifth day the temperature peaked at 127.4 degrees Fahrenheit, and McAvoy reached his second low point. The water bottles on his pack began to boil and made it impossible to hydrate. As a result, McAvoy became severely dehydrated and delirious, but after receiving help from a fellow racer, he managed to keep going.
During the six-day race, McAvoy also developed a severe blister on the bottom of his foot and had to continually monitor the swelling. Then, for the first time in 20 years, an 80-mph sandstorm hit and caused the racers to take a different course on the final day.
At 4:30 a.m. on day six, McAvoy crossed the finish line surrounded by a calm and quiet Gobi Desert.
"I conquered the video game," McAvoy said. "I made it to the 12th level. And when you make it to the 12th level, it's not like you or anybody else expects it to be. It was phenomenal, and I'll write a book on it one day."
Looking Forward
As for future race plans, McAvoy wants to not only complete the 4 Deserts Race Series, but also finish climbing the rest of the Seven Summits. He has four more to go. Although one other person has completed both, McAvoy would be the first American and oldest person in the world to do it.
"If I do it, though, I will not settle for being number two, and I will add Death Valley in the U.S. or something else to take the challenge up one," McAvoy said. "This in itself is a journey, and it will take me potentially until I'm in my early 70s to do it."•
Please enable JavaScript to view this content.