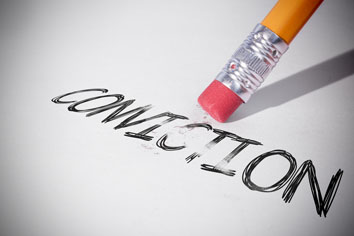 If you've stayed out of trouble for the required number of years, Indiana's expungement statute will erase your criminal record and give you a clean slate. (Individual results may vary.)
Lawyers who handle expungements say the second-chance law's promises sometimes dishearten clients because lingering remnants from an arrest or conviction may continue to follow them even if they've lived up to their obligations.
Meanwhile, two year-end decisions from the Indiana Court of Appeals added new wrinkles to the statute that's been amended, tweaked, interpreted and debated since its enactment in 2013.
On Dec. 28, an appellate panel ruled a trial court had overstepped its authority by ordering the Bureau of Motor Vehicles not to report an expunged drunken driving conviction by the holder of a commercial driver's license to the CDL Information System. In reversing, the COA held that restricting the BMV from reporting the conviction would violate state and federal statutes. The case is In the Matter of the Expungement of J.S.: State of Indiana, et al. v. J.S., 16A04-1503-MI-89.
On Dec. 31, the majority of a divided panel concluded that a civil forfeiture action related to a drug conviction must be expunged along with the criminal record. Dissenting Judge Michael Barnes said it should be up to the Legislature, not the courts, to specifically include civil forfeiture in the statute. That case is D.A. v. State of Indiana, 48A02-1504-MI-215.
Hires
"While they seem very different, they're in line with what I believe is the legislative intent behind the statute," Merrillville attorney Amanda Hires said of the COA opinions. She said the decision on reporting drunken driving convictions was unsurprising in light of laws mandating the BMV report certain offenses by CDL drivers. She was pleased with the decision regarding expungement of civil forfeiture actions.
Those actions are "still essentially tied to an individual's Social Security number, birth date and name, and it's still reviewable by potential employers," she said. "I think the Court of Appeals ruled in the way it did probably based on legislative intent and what the statute as a whole represents. … Did a civil forfeiture look the same way as a criminal conviction?"
Sallee
But it's not just CDL holders who may encounter problems erasing traces of drunken driving arrests. "A chemical test failure stays on your record," said Indianapolis attorney Todd Sallee, a frequent CLE presenter on expungement issues. He said employers are prohibited from asking job seekers if they've had an expungement, but a background check may reveal the incriminating breath or blood test.
However, Sallee believes the COA decision allowing expungement of civil forfeitures could be the basis for an argument challenging chemical test results or refusals that remain on a person's record after a drunken driving arrest or conviction has been expunged.
Brower
Lawyer Adam Brower of Banks & Brower LLC in Indianapolis said the drunken driving case decided by the COA may create issues for other state-licensed professionals. He wonders, for instance, whether records of convictions could linger at state agencies that regulate professionals from attorneys to nurses to veterinarians. Could trial courts similarly be prohibited from ordering those agencies to expunge records of arrests or convictions?
"If you dig deep enough, you can find criminal convictions" after they've been expunged, Brower said.
Another problem can be third-party Internet data-collection services. Brower said he had a client who had a sex offense reduced to a misdemeanor that was later expunged. The client once had been required to report to the Sex Offender Registry, but not after the charge was reduced.
"The client this week was sent a link showing he was still listed as a sex offender" by a third-party website that had not updated its information, Brower said. Clients in those situations have little recourse other than to contact the third-party sites and request the record be removed.
Hires said there also are systemic problems scrubbing criminal records. Indiana State Police are responsible for removing conviction records when they receive court orders, but the process can take months. This can put a job applicant in a difficult position if they represent they have no criminal record but an employer's check reveals a conviction that a court has ordered removed.
Additionally, if an arresting agency fails to expunge the record, the arrest will continue to show up in FBI records even after ISP has removed the information. "This happens really frequently," she said. "Local police agencies aren't entirely sure what the process is."
A representative of the Indiana State Police Expungement Section said about 15,000 expungement orders were processed in 2015. State courts only began to track expungements with the "XP" case type last July, and according to provisional state court data for 2015, 1,446 petitions were filed as "XP" cases after that.
ISP said processing expungement orders takes about four weeks if no additional inquiries need to be made. But attorneys and people familiar with expungements say sometimes the process to remove a criminal conviction can take up to a year and suspect ISP may lack the resources to promptly process expungements.
ISP said numerous matters can cause delays. To expedite processing, the agency says expungement orders should include the petitioner's date of arrest, criminal cause number to be expunged, or charges to be expunged. Delays also can be rectified by submitting the criminal chronological case summary and petition for expungement, an official said in a statement.
Another problematic issue: "I've represented tons of people whose gun permits have been denied" after expungement, Brower said. Hires and Sallee also said that's been a problem. Expungement orders typically include language broadly restoring civil rights, but Brower said as a precaution, he presses for the orders to contain specific language restoring the right to own, carry and possess firearms.
Brower said the federal Department of Justice initially refused to recognize Indiana expungements as restoring rights to possess firearms but reversed itself just last month. "It's been an ebb and flow," he said. "I don't see where the Indiana State Police has any right to reject a concealed carry permit" after a felony expungement.
Sometimes, the expungement case itself can be an indication of a criminal past. In Lake County, Hires said, expungement cases remain visible to the public on the court records website even after an order has been issued. "That should just be removed from public view, period," she said. By statute, expungement proceedings are public until the time an expungement is granted.
Sallee also noted that people who relocate outside the state also may find their expunged criminal history still shows up, because there's nothing prohibiting release of those records to people or agencies in another state. He's had clients planning to relocate and said, "I advised them in advance this could be an issue."
Law enforcement retains records of convictions even after they're expunged, and those records can be made available in the event of future charges. Expunged records may be used for purposes such as adjudication as a habitual offender, Sallee said.
"I always caution anyone advising them on expungement, when they hear the word 'expunge,' they think it means to eradicate. That's not exactly what it means," he said. "Just because it's expunged doesn't mean it's completely erased."•
 
Please enable JavaScript to view this content.