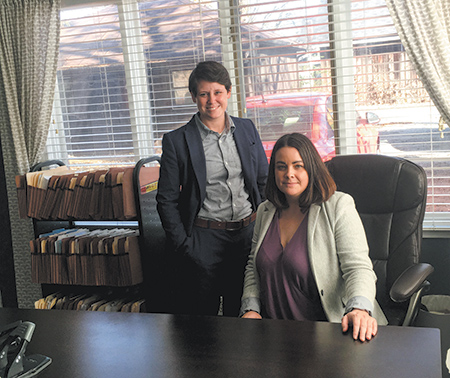 Crucial elements separate the good law firms from the great: a sense of community and a commitment to serving the greater good.
That's according to Christopher Anderson, president of the Florida-based legal organization How to Manage a Small Law Firm. Anderson sits on the committee for the Law Firm 500 Award 200 Fastest Growing Firms, a list meant to recognize firms led by attorneys with an entrepreneurial spirit and a genuine respect for their clients. Three Indiana firms made the 2017 list — Indianapolis-based Flood + Lewis LLC and The Law Office of Melissa Winkler-York, LLC, and Fishers-based Hunter Estate & Elder Law.
The Law Firm 500 Award measures growth in terms of revenue, and to qualify, each firm had to have an annual revenue of at least $50,000 in 2013 and at least $500,000 in 2016, Anderson said. The amount of growth was then calculated using a basic percentage change formula. Winning firms, who could apply for the award after being nominated by a third party, also had to be based in the United States, be a for-profit business and not be a division of a larger organization.
Melissa Winkler-York, center, with associates Zach Phillips and Brooke Bernhardt. (Photo courtesy of  Law Office of Melissa Winkler-York)
During the four-year period between 2013 and 2016, Flood + Lewis experienced 424.76 percent growth, according to independent accounting firm Kahuna Accounting, earning it the number 23 spot on the list of the 200 fastest growing firms. Coming in at number 152 was The Law Office of Melissa Winkler-York, whose revenue grew by 59.17 percent, while Hunter Estate & Elder Law was ranked number 192 with 28.36 percent revenue growth.
While other awards, such as the Am Law 100, recognize firms with the most attorneys, Anderson said his organization wanted to create an award that recognizes firms that experience substantial growth, a feat he considers equally important in the practice of law. Recent data show that the country's largest firms tend to grow 2 percent to 5 percent each year, while smaller firms experience as little as 1 percent growth, Anderson said.
But the firms that made this year's fastest-growing list each shared three common characteristics that contributed to their above-average growth, he said: they run their firms like a business, employ effective marketing skills and help clients understand the value of their work.
Susan Hunter, far left, and her staff have office in Fishers, Greenwood and Rockville.
(Photo courtesy of Hunter Estate & Elder Law)
While many attorneys might assume that achieving high rates of growth requires living a life of sacrifice to devote time to work, Anderson said applying effective business principles to running a law firm can make a life of sacrifice unnecessary.
Meeting unique client needs
Though their workload keeps them constantly busy, the attorneys at Flood + Lewis agree with the notion that they don't have to make sacrifices in order to experience significant growth in the number of clients and amount of revenue they take in each year. For Kate Flood and Megan Lewis, "sacrifice" would mean being forced to take cases that would involve them representing parties to a divorce or paternity dispute who are not good parents to the children involved — parties they deem the "bad guys."
Instead, through an effective marketing strategy that relies heavily on humor, the partners have grown their firm to the point where they can be selective in only taking on cases for the "good guys." Specifically, Flood + Lewis has a strong presence on Facebook, and uses radio advertising to get the word out about their services.
But the firm doesn't rely on standard advertising methods. Instead, their Facebook posts and radio ads are rife with sarcasm and dry humor, a tactic Flood said makes the two-attorney firm seem more approachable than other family law firms. Though they are not flippant about the serious nature of the work they do, Flood said the idea of using humor-driven marketing makes the notion of filing a family law case less intimidating.
"We try to be very approachable and open about the fact that, 'Look, we're human beings, too, and we want to help you through this because it's something we happen to know quite a lot about,'" Flood said. "Not because we're better than you are or smarter than you or anything like that."
Melissa Winkler-York agreed effective marketing has been a key part of the growth of her firm, which takes a slightly different approach to advertising. Her office focuses on ensuring client satisfaction so that clients will give the firm positive online reviews. Those reviews will then, hopefully, encourage potential clients to turn to the southside firm for assistance with their legal needs, she said. So far, that marketing strategy has been working for the three-attorney firm, a fact Winkler-York attributes in large part to the assistance of her support staff. With the help of a receptionist, a full-time intern, two paralegals, and her husband, who handles office management and marketing work, Winkler-York said she and her attorneys are free to focus on their clients' needs and ensure they leave the office satisfied with the service they received.
"I only practice, so I don't have to worry about any of the other stuff," she said.
Similar to Winkler-York's emphasis on client satisfaction, Susan Hunter at Hunter Estate & Elder Law said her firm's motto is to treat each client like it is the attorney's mother. Through that mindset, Hunter's Fishers-based law practice has expanded to two additional satellite locations in Greenwood and Rockville.
Through the satellite offices, Hunter said she can give her clients more options to use her firm's services in a location that is most convenient to them. That's particularly convenient for clients who don't want to battle heavy traffic to get to the Fishers office, she said.
Practice area growth
The growth of Hamilton County and the north side of Indianapolis is a contributing factor to the growth of Hunter's firm, she said. But more than location, the attorneys said their practice areas are playing a significant role in the expansions of their firms.
Both Flood + Lewis and The Law Office of Melissa Winkler-York focus on family law, a practice area that Flood said continues to grow as divorces become increasingly common. Similarly, paternity cases are extremely common in Marion County and account for a significant portion of Flood + Lewis' work, Lewis said.
As the need for family law attorneys continues to grow, Winkler-York said she hopes to expand her practice in the future to offer additional services in that area, such as mediations and guardians ad litem.
Likewise, as the general population ages, estate and elder law services are becoming increasingly valuable, which has also contributed to the expansion of Hunter's firm.
But regardless of marketing strategies, client needs and independent growth factors, Anderson said there's an underlying trait among all three Indiana firms – and among all 200 on the list – that puts them over the top: their belief in serving a cause greater than themselves. Through that mindset, Anderson said firms will be able to experience significant growth when potential clients recognize that the attorneys at those firms respect them and care about their problems.
The Indiana lawyers agreed, with Hunter noting that having a reputation for treating each client like an individual can make a difference between a good and great reputation for a firm.
"Our core principle has always been: treat every client like family," she said.
With this year's winners announced and recognized at a Florida awards ceremony last month, Anderson said the Law Firm 500 Committee will begin accepting nominations for next year's list of 200 Fastest Growing Firms in January.•
Please enable JavaScript to view this content.