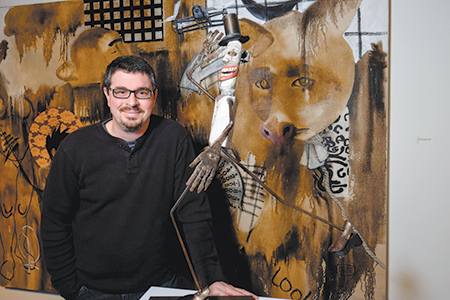 Attorney Mark Reichel can trace his interest in art to his move into a former automobile factory.
Opening his own intellectual property firm, Reichel Stohry LLP, he chose to locate in the Stutz Business and Arts Center. The hulking four story center commands an entire city block in Indianapolis and houses an array of different-sized spaces and snaking hallways inside.
Reichel's office shared a window with the art studio of Susan Brewer, an abstract painter. Being neighborly, Brewer put down her brushes and helped the just-arrived attorney unpack and arrange his new office.
Prior to that, his foray into art was limited to some cartoons drawn as a teenager, but meeting Brewer and getting to know many of the other artists who inhabit the Stutz Building sparked his curiosity. In the six years since he arrived at the old manufacturing facility, he has started keeping art history books on his nightstand, and collecting paintings, sketches and photographs by local artists.
"I'm only starting to understand what it means to appreciate and look at art because it's not always clear, especially when you've got abstracts," Reichel said. "Sometimes you need people to explain it to learn more about what the artists are doing and thinking."
Reichel claims he is still learning, but when the art gallery on the first floor closed, he knew enough to
realize what was being lost. The space could have been used for storage or become home to another business, but Reichel wanted it to remain a public space for art.
Susan Brewer, with her abstract triptych, starts with colors then lets the work evolve, adding and subtracting until she feels the piece is done.
So, he turned to his neighbor.
Opening an art gallery in good economic times can be risky, but for what is now the 10th West Gallery, the timing worked. Brewer was part of a group of Indianapolis contemporary artists who had dubbed themselves the "Collective Mess." They had displayed their colorful, imaginative creations at pop-up locations around the city and even had a show in Michigan.
While looking for more spaces for temporary displays, Reichel turned up with his idea for a gallery. The result, 10th West, opened in December 2017, and is a venue for contemporary art.
"There's a lot of online ways that people sell the art, different kinds of art, expensive art too," Brewer said. "But to get in front of the art and have the experience, see the brushstrokes, the hand of the artist in the work, that's the value of a gallery."
Officially, Reichel is the gallery proprietor and Brewer is the gallery director. Also, Tony Quintana is the assistant to the director. Brewer and her colleagues are now known as the Indy Collective and they routinely showcase their work at the gallery.
The entrance to 10th West is tucked down an alley between two sections of the Stutz Building and is marked with a little sign extending over the doorway. On a recent afternoon, Reichel unlocked the door and opened the gallery, flipping on the track lights to illuminate the art and tuning the stereo to a little cabaret music. He then toted a sandwich board sign to the sidewalk to invite passers-by to take a look.
Part of Philip Campbell's massive African mahogany carving is included the in the current "Scale" show at 10th West Gallery, along with a smaller portrait of a friend by Constance Edwards Scopelitis.
Inside, the gallery curls around on itself in the shape of a U. It has broad, stark white walls, a dark concrete floor and gallons of natural light. A remodel improved the space for patrons by removing some bottlenecks, adding a bathroom, putting the full kitchen behind a wall and building a small wet bar.
Reichel's goal is to have the gallery be self-sustaining by 2019. He plans to do this by supplementing the sale of art with renting the space for special events. In particular, he has offered the gallery to attorneys where they can host private gatherings to network and entertain their clients.
The gallery's last show was titled "Intense Color," featuring works with bold pigments, and the current show, "Scale," includes an array of large and very small works from portraits and fabric art to abstracts and sculptures of found objects. Every wall contains something to view and contemplate.
"We've been very well received because there feels like a real need," Brewer said. "In challenging times in society, you go back to culture and music and things to restore your soul and finding meaning."
Reichel walked around the gallery and provided a little information on each piece, having met the artists and learned what they are trying to communicate in their pieces. He sees creativity as the common connection between his work as a patent attorney and their work as painters and sculptors.
"My focus here really is on the contemporary artists who are involved and getting to know more artists in the community," he said. "It's all about relationships, just like a law practice."•
Please enable JavaScript to view this content.