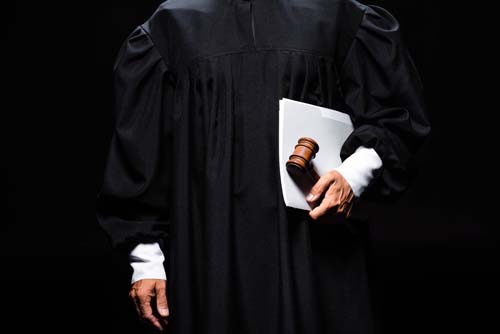 Three bills requesting additional judicial officers in three counties were heard by the Indiana Senate Judiciary Committee on Wednesday but have not yet been voted on.
The bills include a request for magistrate judges in Delaware and Elkhart counties and for a new court in Dubois County.
Senate Bill 75 authored by Sen. Scott Alexander, R-Muncie, would allow the judges of the Delaware Circuit Court to add one full-time magistrate judge to the bench.  The county currently has one magistrate judge and six judges, as well as five commissioners.
Alexander noted the addition of a magistrate in Delaware County has been delayed over the years due to the need for additional space and staffing that come with the position.
"That's why this got hung up, along with the issue of a judge — not only do you approve a judge, but you have additional staff, a courtroom that wasn't built out or ready at the time," he said. "What we don't think about sometimes when we do these things on the local level is these also can cause additional staff and other county offices … ."
Senate Bill 76 would allow the judges of the Elkhart circuit and superior courts to add four full-time magistrates beginning in July, then two more in 2024.
SB 76 author Sen. Linda Rogers, R-Granger, discussed the severity of the need for additional judicial officers in Elkhart County, which currently has seven elected judges.
"The request would elevate the juvenile magistrate to a regular appointed magistrate and eliminate the juvenile magistrate this session," Rogers explained.
Brad Rogers, president of the Elkhart County commissioners, testified in favor of the bill. He said the additional magistrate judges are a necessary step for the county, which is building a new courthouse in Goshen.
"I also wanted to let you know from the county executive — and also knowing what the county council, our fiduciary body, expresses desire for — is that we are very supportive of this," Brad Rogers said.
Finally, Senate Bill 329 would allow the Dubois County judicial district to create a second superior court.
That bill's author, Sen. Mark Messmer, R-Jasper, said it has been 43 years since the county requested a new court.
Dubois Superior Judge Mark McConnell testified in favor of the bill, pointing to the county's growing population. He also said the county is facing conflict-of-interest issues due to a family connection between a judge and the local prosecutor.
None of the bills were voted on during Wednesday's meeting, but they are on the calendar for the committee's next meeting at 1:30 p.m. on Wednesday.
Please enable JavaScript to view this content.