Services have been announced for Cass Circuit Judge Richard Maughmer who died Monday evening in an accident at his home. He was first elected to the bench in 2001 and was the first and only judge to preside over Cass Superior Court 2.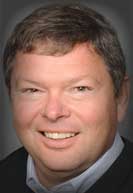 A funeral service for Maughmer will start at 1 p.m. Saturday at the First Congregational Church, 5050 W. Mulberry St., Kokomo. Pastor Jon Tice will officiate. Burial will follow in Walton Cemetery in Walton with military honors provided by the U.S. Air Force.
Visitation will be from 3 to 8 p.m. Friday at Shirley & Stout Funeral Home & Crematory, 1315 W. Lincoln Road, Kokomo.
Also, a memorial service will be held at 4 p.m. Monday in the Superior 2 courtroom at the Cass County Courthouse in Logansport. Attendees will have to pass through security and only attorneys and courthouse personnel are allowed to enter with cellphones.
Maughmer grew up in Cass County and returned to practice law after receiving his law degree from the University of Nebraska. He was appointed Cass County Prosecutor in 1986 and held the position until he became a judge.
In the courtroom, he earned a reputation for demanding the attorneys be on time and be prepared. He also had high standards for himself, his colleague and friend Judge James Muehlhausen of Cass Superior Court 1, said.
Maughmer believed judges had to maintain high ethical standards in order for people coming to court to respect the law and the judgment. "We must maintain high judicial standards," Muehlhausen said. "I think that's something I learned from Rick."
Muehlhausen worked with Maughmer for many years, first serving as his chief deputy prosecutor then joining him on the bench. In encouraging him to run for judge, Muehlhausen remembered Maughmer telling him judges get to do a variety of things and be a positive influence.
"Judges are good people to work with. He was a good person to work with," Muehlhausen said of Maughmer.
Off the bench, Muehlhausen said his friend had a strong Christian faith and lived it. He also was respected and always involved in different activities.
Please enable JavaScript to view this content.