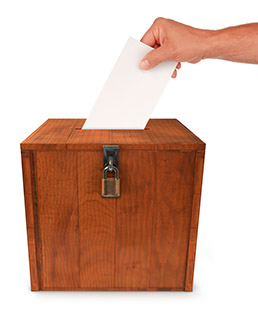 A "historic" settlement has been reached that will allow Hoosiers with print disabilities to vote independently without the assistance of another person.
The lawsuit, filed by several individuals as well as disability rights organizations, alleged the Indiana Election Commission and Indiana secretary of state were violating the American Disabilities Act and the Rehabilitation Act of 1973 with traveling boards requirements for absentee voting for print-disabled Hoosiers.
In the settlement announced Wednesday, the defendants agreed that the Indiana Election Division will contract with a vendor to provide a remote accessible ballot marking tool with an email return option for all elections through June 30, 2025. The tool will be offered to all Indiana counties for qualifying voters with print disabilities in the May 2023, November 2023, May 2024, November 2024 and May 2025 elections.
Additionally, the co-directors of the Indiana Election Division agreed to instruct the contracted vendor to design the tool in a manner that will allow voters with print disabilities to sign all electronic ballots and forms that contemplate a voter's signature independently and without the assistance of another person.
"This settlement realizes the goals of ensuring that voters with disabilities have equal access to all aspects of Indiana's voting program, including absentee voting," Tom Crishon, Indiana Disability Rights' legal director, said in a statement. "By agreeing to provide a remote accessible ballot marking tool, the state is finally removing unnecessary and unlawful barriers to voting."
The lawsuit, which was originally filed in the Indiana Southern District Court in December 2020, resulted in two injunctions.
First, in March 2022, Judge Jane Magnus-Stinson ruled that the use of a traveling absentee voter board should be permissive rather than mandatory for voters with print disabilities. Then in September, Magnus-Stinson ruled voters with print disabilities can choose who will assist them in marking their paper absentee ballots.
However, in the September order, Magnus-Stinson denied the plaintiffs' request for permanent injunctive relief requiring the defendants to implement a web-based RAVBM tool.
Also as part of the settlement, the defendants agreed to pay $500,000 for attorney fees and court costs, with $400,00 going to Disability Rights Advocates and $100,000 to Indiana Disability Rights.
"Print-disabled people deserve equity in voting rights," Dee Ann Hart, a member of the board of directors at the American Council of the Blind of Indiana and chair of the council's Advocacy and Awareness Committee, said in a statement. "By ensuring an accessible electronic means for voting absentee, this settlement agreement provides many of Indiana's blind and print disabled voters an accessible means to exercise our voting rights, privately and independently."
Wanda Tackett, a plaintiff in the case, said, "I look forward to seeing actually accessible elections in the state of Indiana going forward."
Please enable JavaScript to view this content.