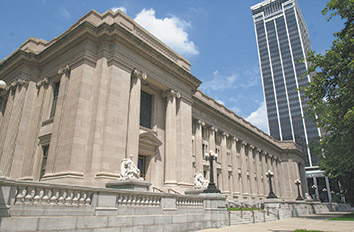 The Administrative Office of the U.S. Courts highlighted its 2022 legislative goals and achievements — including a new law meant to protect federal judges' personal information — in an annual report released Tuesday.
The Daniel Anderl Judicial Security and Privacy Act was the result of an effort led by New Jersey District Judge Esther Salas, whose son gave the legislation its name.
Daniel Anderl, a college student, was killed in July 2020 by a former litigant who stalked Judge Salas with information from internet searches.
The law, signed by President Joe Biden in December, limits the availability of federal judges' personally identifiable information in federal databases and restricts data aggregators from reselling the information.
It also improves courts' ability to monitor online threats.
In February, the U.S. Marshals Service reported more than 4,500 threats toward federal judges during the 2021 fiscal year, an increase of about 300 from 2020.
"We recognize that security on multiple levels is essential to fulfilling our constitutional mission of delivering fair and impartial justice," Judge Roslynn Mauskopf, the office's director, wrote in a message included with the report.
The judiciary launched a new system in November that provides the public access to financial disclosure reports for federal judges, along with their periodic securities transaction reports — as required by the Courthouse Ethics and Transparency Act of 2022.
It touted bills that would establish a single, consolidated system for court records, replacing the Case Management/Electronic Case Files system.
One bill, the Open Records Act, would require that documents be made available to the public free of charge. Neither the Senate nor House of Representatives took action on the bill at the close of the 117th Congress in 2022.
Other highlights from the report, which includes updates on funding, public outreach, court operations, cybersecurity and other topics:
▪ The judiciary received $8.5 billion in discretionary appropriations for fiscal year 2023, a 5.9% increase from 2022.
▪ The Judicial Conference authorized courts in a pilot program to make audio recordings of livestreamed proceedings available on their YouTube channels for up to one year.
▪ An inaugural group of 14 lawyers joined federal public defender offices around the country as part of a fellowship program to foster diversity in the ranks of federal defenders.
▪ About a third of cases from the U.S. Capitol insurrection were resolved by November. The Justice Department has estimated that an additional 700-1,200 will be filed.
The Administrative Office also released  Tuesday its annual Judicial Business report, which showed civil case filings decreased in fiscal year 2022 by 20% to about 275,000.
Criminal defendant filings declined by 8% to about 68,500.
The Southern District of Indiana was one of five districts that had a reduction of more than 150 weighted civil filings per judgeship due to fewer filings of multi-district litigation cases.
There were just over 4,000 criminal and civil cases filed in the Southern District, and there were about 2,200 cases filed in the Indiana Northern District.
There were 1,520 complaints against judges filed in 2022, an increase of 19% from the previous year. Litigants accounts for 65% of complainants, and prison inmates accounted for 31%.
A little more than half of complaints were against district judges. The most frequent allegations were related to the merits of a decision or ruling.
In the 7th Circuit Court of Appeals, there were 111 complaints filed, and 97 were dismissed in whole or in part. There were 37 complaints pending at the end of the 2022 fiscal year.
A total of 122,872 people were under post-conviction supervision at the end of the fiscal year, a 1% increase from the previous year.
About 43% of people under supervision had been convicted of drug offenses, which is consistent with years past.
There were about 6,200 people under supervision in the 7th Circuit.
A quarter of them were from the Indiana district courts.
Please enable JavaScript to view this content.