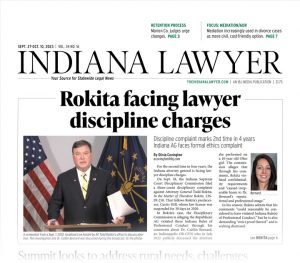 SEPT. 27-OCT. 10
For the second time in four years, the Indiana attorney general has been hit with a lawyer discipline complaint. In our top story this issue, Indiana Lawyer Editor Olivia Covington breaks down the disciplinary charges against Attorney General Todd Rokita, and what they could mean for the AG's office. Meanwhile, a trio of Marion County judges are calling on the local Judicial Selection Committee to take a more active role in the judicial retention process. IL senior reporter Tyler Fenwick explains. And in the Mediation/ADR Focus, IL managing editor Daniel Carson explores why a growing number of couples are turning to mediation to resolve their divorces. Read those stories and more in the Sept. 27-Oct. 10, 2023, issue of Indiana Lawyer.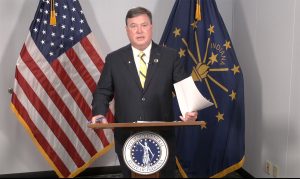 For the second time in four years, the Indiana attorney general is facing lawyer discipline charges.
Read More
The 2023 Summit for Rural Justice and Public Health Professionals will feature 26 speakers, including Indiana Supreme Court Justice Christopher Goff, who serves as the chair of Indiana's Justice Reinvestment Advisory Council.
Read More
Some judges on the Marion Superior Court want the Marion County Judicial Selection Committee to have a more prominent role in the retention process, but that would likely require a change to legislation passed in 2017.
Read More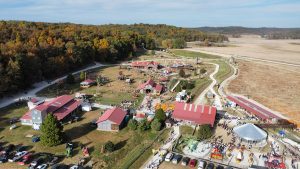 There's a pumpkin patch, corn maze, apple cider slushies and more waiting for visitors who make the trip this fall to Lark Ranch. For attorney and owner Matt Lark, the plan was to stop running the farm once his kids were grown. But they had other plans.
Read More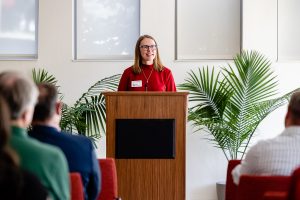 An ongoing assessment of the Monroe County Prosecutor's Office is giving officials a look at how prosecutorial decisions have impacted racial and ethnic disparities.
Read More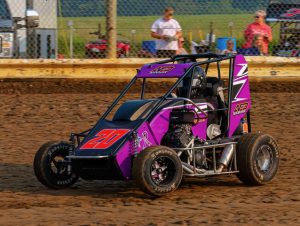 While Carroll Superior Judge Troy Hawkins said never imagined he would be a judge, he's glad to have ended up there.
Read More
Read the latest Indiana appellate court decisions from the most recent reporting period.
Read More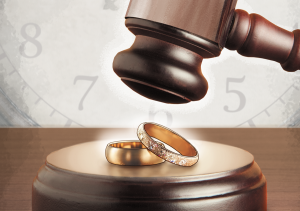 From the mid-2000s to now, mediation has become an accepted part of the divorce process.
Read More
Michael Bishop is a commercial arbitrator. It doesn't really matter how big any particular case is  — the process is essentially the same, which means he'll see extended delays from the smallest of consumer cases all the way up to large contract cases.
Read More
In this article, we share some practitioners' ideas about what mediators can do to help the parties succeed more often.
Read More
Whether this is your first mediation or 100th, using the following tips for preparation will put you in a position to achieve the outcome you and your client want.
Read More
The closest analog to IP mediation, in my opinion, is divorce mediation.
Read More
The practice of law carries an extraordinary power: a heavy responsibility to do good while avoiding harm. For this reason, law schools must be held to the highest standards in educating future lawyers.
Read More
Research by Lawrence Krieger tells us that law students start law school with high life satisfaction and strong mental health measures, but within the first year of law school, they experience a significant increase in anxiety and depression.
Read More
This article will review legal AI programs and how legal actors are diving headfirst into the brave new world of AI and the law.
Read More
Indianapolis criminal defense attorney Robert Hammerle gives us his take on "The Equalizer 3" and "The Eternal Memory."
Read More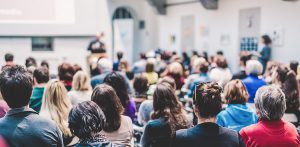 Join your DTCI Colleagues at the 30th Annual Conference Nov. 16 and 17 at the Indiana Memorial Union in Bloomington. The complete agenda will be circulated soon, but in the meantime, here are the preliminary topics and events.
Read More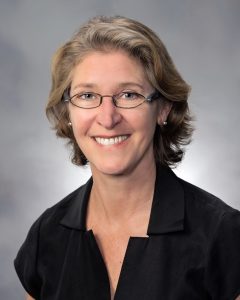 The Women and the Law Division of the Indianapolis Bar Association is thrilled to announce that Jane Henegar, executive director of the American Civil Liberties Union of Indiana, has been selected to receive the 2023 Antionette Dakin Leach Award.
Read More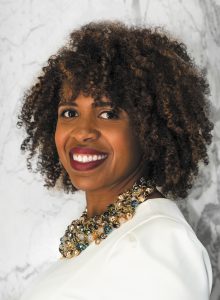 Katie Jackson-Lindsay of Jackson Legal Services has been selected to lead the Indianapolis Bar Association in 2026 by the IndyBar's Nominating Committee.
Read More
You don't need to add social channels for the sake of adding social channels — especially when you're getting started.
Read More
Tens of thousands of laboratories. Nine billion annual test subjects. Rapidly-evolving influenzas and force-fed antibiotics. This massive experiment is U.S. factory farming.
Read More
One of my grandmother's favorite movies was "The Wizard of Oz." Recently, I've pondered a very practical question about that movie: Who built the Yellow Brick Road?
Read More