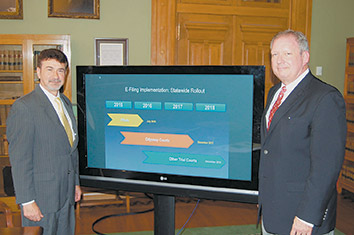 Lawyers will have to file electronically in all Indiana state courts by the end of 2018, according to a plan overseen by Supreme Court Justice Steven David and Court of Appeals Judge Paul Mathias. Hamilton County will get the ball rolling in a few weeks.
Mathias said the response from attorneys has largely been, "Why hasn't this happened before? What's taken so long?"
"This is a big leap," David said. "But if someone's able to use Facebook, this should be a piece of cake."
And in a Facebook world, Mathias said, court information should be online, accessible and free. But that free information comes at a price: Effective July 1, civil filing fees will increase by $14 to support court technology upgrades, including e-filing.
"It's an extremely huge responsibility to get this into all the courts by 2018," David said.
The goal is to incrementally get to 100 percent electronic filing. Once e-filing starts in trial courts, paper filing won't be permitted without an order from the court. David said efficiencies can only be gained by transitioning entirely to e-filing.
"We need to get it right," he said.
To start, attorneys will need to line up electronic filing service providers that will connect with the state's e-filing manager, Tyler Technologies Inc. The state judiciary soon will list certified providers at courts.in.gov/efile.
David and Mathias said e-filing will be free, though providers will assess a 3.5 percent credit-card convenience fee. The jurists envision competition among providers will result in a range of service options and pricing.
Getting ready
Hughes
More than 100 Hamilton County attorneys and court staff were trained June 25 on the basics of how e-filing will work. Hamilton Superior 3 Judge William Hughes said the courts expect to begin e-filing of non-confidential civil matters in late July. "Within two months, we should be e-filing like pros," he said.
Criminal matters are expected to begin electronic filing about 30 days after civil e-filing starts.
"This is a big change for the Indiana courts," Hughes said. "This will probably change the way we do business in courts more than anything in the 27 years I've been on the bench. We're excited, and a little nervous."

Hamilton County Bar Association Vice President Jillian Keating is organizing a continuing legal education program on e-filing and said she's looking forward to the change.
"I'm looking forward to being able to file anything as soon as it's ready to file instead of sending a runner," Keating said. Getting the immediacy of email notifications instead of receiving them by mail also will be a big advantage, she said.
Tyler Technologies was selected in February as the electronic filing manager for state courts. It also provides the Odyssey case management system that state court administration furnishes Hamilton County and other courts around the state, accounting for 60 percent of statewide caseload. Tyler's bid to manage e-filing was scored best of seven bidders based on cost and its offer of a centralized database, Mathias said.
He said Hamilton County was chosen for the pilot because courts and lawyers were eager to adopt e-filing and because of the county's proximity to the capital, which worked to Tyler's advantage.
The fact that Hamilton County uses Odyssey also was a factor. Courts using Odyssey will get e-filing sooner, according to the timeline David and Mathias presented. With pilots beginning this year, all Odyssey courts are expected to fully transition to e-filing by December 2017. Trial courts using other case management systems, such as CourtView and JTS, will complete the switch to e-filing by the end of 2018.
Early adopters
E-filing isn't totally new for the state's two largest court systems. Courts in Marion and Lake counties have allowed e-filing for years in certain cases – mortgage foreclosures in both, along with collections cases in Marion County.
"We've had very few problems, and it's been running very smoothly," said Lake Superior Judge Diane Kavadias Schneider.
"Some of us, including me, are looking forward to the day we have it in a wider fashion," Marion Superior Judge David Dreyer said. Concerns of some attorneys about the potential cost of e-filing were legitimate, but he said the benefits would outweigh the expense.
In Marion County, heavy-volume cases and dockets have been e-filed with the consent of attorneys and court approval. Marion Superior Judge Tim Oakes said more dockets are expected to switch to e-filing soon. "It's really not a perfect system in my mind, but it works well and the lawyers like it," he said. "It makes everybody's job easier."
Oakes said a paper document is handled by court staff many more times than a document would be processed through e-filing.
"When we look back we'll say, 'Why did we ever do it that way for so long?'" he said.
Mathias said the pilots that Lake and Marion counties have used will come to an end with the rollout of wider e-filing.
Have it your way
David and Mathias said e-filing will vary for practitioners depending on the types of services they choose. A basic level of service will be available, but so will other options.
For instance, some e-filing service providers might offer plans that pay filing fees up front and send a monthly bill, at a premium. Others may work with a law firm's internal CMS network, weaving seamlessly to court e-filing systems.
"If I'm practicing law and I'm not worrying about court costs until the end of the month and a report is delivered with my Starbucks, I'd be a happy camper," David said, noting this wouldn't be everybody's cup of tea.
Mathias said competition among e-filing service providers should yield a variety of options starting with basic, credit-card convenience-fee-only plans. Access to courts is ensured because the system will be available in libraries and other public places, he said.
In a few years, paper filing will be a memory.
"By making (e-filing) mandatory, we also bring all the attendant benefits to the litigants and the lawyers," as well as courts, Mathias said.•
Please enable JavaScript to view this content.