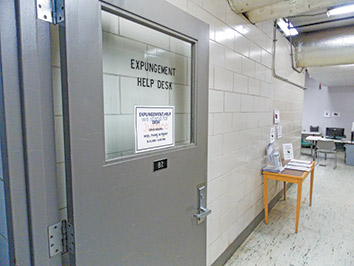 When the Indiana General Assembly passed the expungement law in 2013, Marion County Prosecutor Terry Curry was in favor of giving a second chance to ex-offenders who had turned their lives around.
He knew the statute would help these individuals live more productive and stable lives. But he did not expect the large number of people who filed and continue to file petitions to have their arrests and convictions expunged.
Since the law was enacted July 1, 2013, more than 8,000 expungement petitions have been filed in Marion County. Other counties also report a steady flow of petitions since 2013. Indiana trial court statistics show 2,572 expungement petitions were filed in state courts from July 1, 2015 — when expungement filings were given their own case type of XP — through Dec. 31, 2015. Of those, 1,588 were disposed while 992 cases were pending. Prior to the change, expungements were filed under the case type "miscellaneous."
Court clerks and attorneys from around Indiana say the bumps when the law rolled out have been cleared away as the Statehouse tweaked the statute in subsequent sessions and handling petitions became more familiar.
Marion County deputy prosecutor Andrew Fogle and the help desk manager, Julie Mennel, discuss the expungement process. (IL Photo/Marilyn Odendahl)
Marion County deputy prosecutor Andrew Fogle used to routinely file for a 30-day extension when the petitions landed on his desk. He needed the extra time to check the information, but now, with the help of a full-time paralegal hired exclusively to help with expungements, he can meet the initial deadline.
Tippecanoe County Clerk Christa Coffey has noticed that whenever clerks from other parts of the state gather they no longer talk about expungements, and seldom does a clerk email with a question about the process or the law. To her, this indicates clerks are doing well processing the petitions and resulting court orders.
Rather than seeing a leveling of expungement petitions, Coffey's office has been recording year-to-year increases. In 2014, the first full year the new law was in effect, Tippecanoe County had 265 expungement cases filed; in 2016, the number had risen to 379. A total of 900 cases have been filed since July 1, 2013.
An expungement does not entirely erase a criminal record, and with the language of the law being very exact and strict, it is not easy to obtain. A misstep could get the petition dismissed and the petitioner may not be allowed to refile.
But the need for expunging past criminal acts is huge, according to Jared Haller, staff attorney in Indiana Legal Services Inc.'s Fort Wayne office. Even a misdemeanor can prevent an individual from getting a job, renting an apartment, becoming a guardian of their grandchildren or accompanying their children on a school field trip. The stigma from a bad decision can hinder a person for years.
"Nobody benefits from somebody spending a life in poverty because of a conviction for something they did when they were young," Haller said.
Raising awareness
Curry attributed the pace of expungement filings to clinics, workshops and programs in churches, universities and community centers providing information and making people aware of the law.
In Fort Wayne, the Volunteer Center RSVP, Volunteer Lawyer Program of Northeast Indiana, Neighborhood Christian Legal Clinic, Indiana Legal Services and Ivy Tech Community College have partnered to start the Second Chance Expungement Initiative. This effort helps people eligible for expungement gather their court and driving records, then pairs them with a pro bono attorney who will complete and file the petition.
Six information sessions have been offered as part of the initiative since October 2015, attracting roughly 1,200 people. Ruth de Wit, executive director of the Volunteer Lawyer Program, said many coming to the session did not qualify because their records have not been clean for at least five years, while others wanted to get information for a family member or friend.
About 100 people from the sessions have continued taking steps to expungement, but de Wit expects that number to increase. "The number of people needing help is never going away," she said, adding the initiative allows the nonprofits to help one another and serve the public.
In Marion County, the Neighborhood Christian Legal Clinic has established an expungement help desk to guide pro se filers through the process. The desk, located in a brightly-lit room in the subbasement of the Marion County City-County Building, typically sees between 15 and 35 visitors each day it is open.
People get help tracking down their criminal histories, figuring out their eligibility for expungement, and drafting the petition. Julie Mennel, paralegal and manager of the desk, said she has worked to create a comfortable space where clients are not judged and where they can get as much completed as possible without having to run between the courts and record departments.
"It's very heartening to see the hope that people can leave here realizing (their criminal record) is no longer going to be in their way," Mennel said.
Not completely gone
As a student at Indiana University Robert H. McKinney School of Law, Chris Nancarrow always had the image that expunging a criminal record meant throwing the papers onto a bonfire. But now as chief deputy clerk in Allen County, he knows the record remains intact and is just removed from public view.
Nancarrow keeps a master spreadsheet of all the cases that get expunged or labeled as having restricted access. A drop-down menu on the computer enables electronically formatted records to be hidden while the paper files are pulled from the shelf, stamped "expunged" and placed in a separate filing cabinet outside his office door.
A total of 1,300 expungement petitions have been granted in Allen County since 2013. Nancarrow said a vast majority of the petitions are for driving under the influence cases and most are for incidents that occurred between 2002 and 2004.
Floyd County Clerk Christy Eurton said the initial confusion over expungements has transformed into part of her office's daily routine. The original version of the law contained bewildering language about whether criminal records could be restricted, sealed or expunged. This created gray areas, and her staff fielded an array of questions with no clear answer.
The Legislature's subsequent tweaks have brought more clarity, Eurton said. Like other clerks around the state, she has noticed more attorneys filing expungements for clients and fewer pro se filers. Eurton linked the trend to lawyers seizing the opportunity to get the work by advertising expungement services and reaching out to former clients.
Haller pointed to one change in the law that he believes slowed filings. In 2015, the Legislature amended the language regarding fees, opening the door for many courts to charge the standard $156 civil filing fee.
Coffey advocated at the Statehouse to allow the courts to charge petitioners. The money is used to offset the expenses that come with the clerk's office processing petitions. Also, she said, the filers should have to pay a cost for the benefit of expungement that they are receiving.
Still, Haller noted many of his clients have trouble coming up with money and cannot move forward with getting their record expunged. He recalled one judge outside of Allen County who demanded his client prove her inability to pay the fee by showing the court her tax returns from the last three years.
When banks offer a mortgage, they only want to see two years of tax returns, Haller noted. His client could not produce the returns and likely still has two misdemeanor convictions on her record.
"I'm not helping as many people as I would like," Haller said, noting if the fee was waived, so many more petitioners would come forward that "the courts might actually have trouble keeping up."•
Please enable JavaScript to view this content.