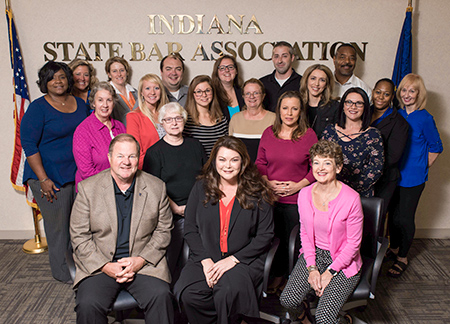 Though nine days remain before Andi Metzel officially takes the helm of the Indiana State Bar Association, the Benesch Friedlander Coplan & Aronoff LLP partner has been working diligently for the last year to prepare for her time as president.
For example, Metzel has appointed the chairs of the various ISBA committees for her term as president, with attorneys who have completed the state bar's Leadership Development Academy specifically selected to take on those leadership roles. And with a strong belief in the value of collaboration, Metzel has personally called each of her committee chairs, as well as the vice chairs, to solicit their ideas and suggestions.
Plus, in anticipation of the times when she will be called upon as ISBA president to opine on the current state of the legal profession, Metzel has prepared a list of topics she could write about. She intentionally chose topics that have not been covered extensively in the past with the goal of providing bar members with a fresh perspective.
But Metzel doesn't want to offer a fresh perspective only in her writings. Rather, she views her presidency, which coincides with the transition to a new ISBA executive director, as an opportunity for the bar association to reflect on its mission and refine how its services meet the needs of its members and their clients.
"That meant a whole lot of things to me coming into this position knowing I was going into this transition of leadership," Metzel said. "And not just leadership — executive leadership, the foundation of our organization. And (I) tried very hard to see that as an opportunity for change."
While Metzel concedes that it's a bit unnerving for the transition in the ISBA's top leadership position to occur on her watch, she expressed confidence in Joe Skeel, the head of the Society of Professional Journalists who was selected to replace retiring Executive Director Tom Pyrz. During the selection process, Skeel consistently stood out as a candidate with a visionary, forward-thinking mindset, a trait Metzel said would benefit the organization as it moves into a new era.
However, Metzel and the ISBA's leadership team value the organization's traditions, so they won't be looking to completely reinvent the wheel as she and Skeel lead the bar into its next phase. Rather, Metzel plans to build on the bar's existing programs and services to equip members with the tools and resources they need to serve their clients to the best of their abilities.
Responding to change
One of the biggest challenges facing attorneys today is the impact of rapid technological advancements on the practice of law, said outgoing ISBA president Mitchell Heppenheimer. As technology has changed, so have the needs of attorneys, so much of the focus of his year as president was on helping attorneys adapt. Describing Metzel as a hands-on leader, Heppenheimer said he thinks she will continue on that path and will use her leadership position to address the specific challenges attorneys face in their work.
Similarly, Pyrz, who has worked with Metzel extensively as part of her previous involvement and leadership positions within the bar, said she is very aware of how online legal service providers are changing the profession. Through ISBA programs such as the Future of the Provision of Legal Services Committee, Pyrz said Metzel will be able to address the impact of online service providers and provide bar members with resources to adapt.
Metzel agreed that technology is rapidly changing the work attorneys do and expressed concern about the commoditization of the practice of law. In order to remain effective in their work, legal professionals must nimbly navigate the changing waters of the profession, she said, and the bar's role should be to offer resources that make the navigation easier.
Changing the rhetoric
In addition to staying nimble, Pyrz said it's important for attorneys to show their clients that no amount of technology can replace the value of a face-to-face conversation with a trained legal professional. Metzel agreed and lamented stereotypes of the "bulldog" attorney that are common in movies and among society — stereotypes that often give the public a negative perception of legal professionals.
That's why part of Metzel's plan for her year as ISBA president is to engage with the public to earn their trust and change the rhetoric surrounding the legal profession.
"I heard someone say during the (American Bar Association Annual) Conference, 'We need to stop defining our profession by the worst of us,'" Metzel said. "And man did that resonate with me a lot."
For Metzel, changing the rhetoric and negative stereotypes accompanying the legal profession starts with her own work. Describing herself as a thoughtful and deliberate litigator, Metzel said she never engages in an argument with opposing counsel just for the sake of arguing.
Instead, she strongly believes in the power of civility, noting she has little tolerance for incivility. Choosing not to take the "bulldog" approach doesn't mean sacrificing effective advocacy, she said.
Metzel said the role of a good advocate should be working for the best interests of clients and society as a whole. Attorneys can play a unique role in resolving some of the most contentious, complex problems facing society, but if the general public doesn't trust them, then that role is lost, she said. To that end, she plans to use her time as ISBA president to equip attorneys and the bar to show clients and the public the good that attorneys can do.
"We're critical thinkers, we're creative problem solvers, we are what the world needs now," she said. "We deal in the justice system with the most complicated issues and come up with the most creative or appropriate solutions."
Power of collaboration
But Metzel knows she can't accomplish any of her goals for her year as president on her own, which is why she plans to promote a culture of collaboration within the bar. Whether an attorney is a member of the bar or an active part of the Board of Governors, Metzel wants each member to feel like their thoughts and opinions matter and to know input from all members will be seriously considered.
Similarly, Heppenheimer noted the resources Metzel has available in the bar's full-time staff, saying they would be among her greatest assets. Pyrz agreed and said that having experienced staff members standing by to offer support and assistance will help Metzel more easily lead the bar through its transition to a new executive director.
As she prepares to take the helm of the ISBA, Metzel plans to rely on the staff, members and any others who want to offer her advice or suggestions, because she believes the organization is stronger when everyone is given the opportunity to be heard.
"This isn't the year of Andi Metzel," she said.•
Please enable JavaScript to view this content.