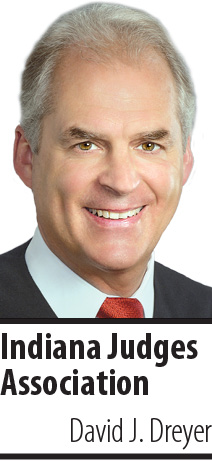 "Wisdom is the reward you get for a lifetime of listening when you would rather have talked."
— Mark Twain
In the early 1970s, John Baker was coming out of the Army, already a licensed attorney, and going home to Bloomington. There were no lawyer jobs, so he had to work as a law clerk. As a new kid in town, he was asked to help the Bloomington City Court judge as a pro tem so that the judge could manage his part-time law practice. In 1975, a Monroe County Court was established, and so John Baker, 29 years young and looking younger, began a historic 44½ years in the Indiana judiciary. As the first Monroe County Court judge, Baker recounts, "I had to actually create a court from nothing, set up a small claims docket and do all kinds of stuff." His memories of those cases, those issues and, most of all, those people, remain dear to him to this day. "In that first year, everybody wanted to test me, so we had 33 jury trials," says Baker. But, he says, those experiences made him a listener and planted a lasting appreciation for the everyday problems of ordinary people.
After that first year, a new Superior Court was added to Monroe County, and Baker was presented with a unique opportunity. Monroe County was solidly Republican in those days, but the powers-that-be decided they wanted Baker, and they wanted him to be a Democrat for token political diversity. "So that's how I became a judge, and a Democrat," says Baker. Starting in July 1977, Baker's office was in the police building, not the courthouse. "And the courthouse was old," he says. Baker remembers the leaky roof over his jury box. "Juror No. 10 always had an umbrella under the seat, just in case," he laughs.
As Judge Baker's trial court career flourished, he always found himself in the midst of change and challenge. In 1980, he worked with others to create a uniform Monroe County court system sharing dockets and budgets. By 1983, a new Monroe County courthouse was opened, due in no small part to his efforts. "I'm proud of that," he confides. By 1989, he had assumed leadership on a statewide basis as president of the Indiana Judges Association, building bridges with legislators and improving the judiciary. When Court of Appeals Judge Robert Neal retired, Chief Judge Paul Buchanan took Baker to lunch at the Columbia Club in downtown Indianapolis and told him to apply. He became Gov. Evan Bayh's first judicial appointment.
Over the next 31 years, Judge Baker did not stop making a difference. His leadership in forging the Indiana Graduate Program for Judges with Chief Justice Randall Shepard has had profound effects on the lives and careers of a score of Indiana judges (including this author). When judicial compensation became a critical issue in the late 1990s, Judge Baker was central in fighting for over 10 long years to create a solid foundation upon which our judges, and their families, can rely. And he has never been left out of any Statehouse discussion that has had anything to do with Indiana judges.
Even though Judge Baker is always forward-looking, he misses some things about the past. "Technology has changed everything," he says. "Lawyers are not as social as they used to be. We are all too busy for collegiality." The profession, he worries, has become more of a business and has lost its larger role of serving the community. But he is happy to see courts becoming more proactive and working together more often. "We have to realize that courts have to be a kind of 'legal ER' that helps find solutions for society," he says. And Judge Baker is an ardent supporter of increasing minority representation on the bench. "When I got here," he says, "we only had two women judges and no people of color on the entire appellate bench. And we still need to do more." Judge Baker advocates enlarging the Indiana Supreme Court to seven justices to provide more opportunity for diversity.
Countless cases over 44½ years have left lasting impressions on Judge Baker. His biggest one was the nationally reported 1982 Baby Doe case in which parents sought to withhold treatment for their Down syndrome newborn. Due to its urgency, Judge Baker, still a young Superior Court judge, went to the hospital and held the hearing in a makeshift room. And he listened. He listened to the parents and to the doctors. "I just felt that the parents should be able to make that decision," he explained. Another that sticks in his mind is the oral argument to decide whether Mike Tyson would be freed on bond pending appeal of his rape conviction. (This author argued for the state; Alan Dershowitz argued for Tyson. The state prevailed, so Judge Baker listened well.)
As his judging life comes to a crossroads, Judge Baker sees similarities between his first days in small claims court and his last days now on the Court of Appeals. "Other judges may have had better grades, or may have a better feel for great constitutional questions," he muses, "but I just have this affinity for a 'listening' kind of justice. I always feel for the little guy. It was just embedded in my mind when I left that police building so many years ago to go to the main courthouse." The personal and emotional consequences of judicial work on real people have never been lost on him. "Sometimes when society has failed someone, I have to announce that," he says.
So it seems that young John Baker has come full circle to a certain kind of wisdom. Or maybe he never really left.•
• Judge David Dreyer has been a judge for the Marion Superior Court since 1997. He is a graduate of the University of Notre Dame and Notre Dame Law School. He is a former board member of the Indiana Judges Association. Opinions expressed are those of the author.
Please enable JavaScript to view this content.