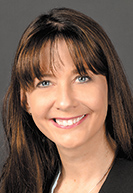 By Kari Morrigan
Does anyone remember the television show "Mad Men"? Running from 2007 to 2015, about an advertising firm in the 1960s and starring Jon Hamm, the show presented the prevailing social norms of the time — including social drinking verging on binging, sexual harassment and a requirement to present a perfect front to the world. This was the world then … and in some ways, it still is. So many of the norms from then still hold sway today. As lawyers, a relatively conservative group in manners (regardless of politics), we are not immune to the siren song of following the social norms, particularly in the way we present ourselves to the world.
Lawyers are fixers. We fix things other people have messed up. So, obviously, we like to project a persona that is not in need of fixing. We hold ourselves to a high standard to get new clients, bill more hours, finish an opinion, bring that next charge, defend the next client … always perfectly. And that's the crux. Because, of course, we are not perfect. But that desire to be so affects our wellness and can lead to substance use disorder, anxiety, depression and grief.
According to research presented by the Hazelden Betty Ford Foundation, lawyers are more than twice as likely to have issues with alcohol than surgeons. The Journal of Addiction Medicine states 1 in 5 attorneys will have a problem with alcohol. Additionally, "61% [of attorneys asked] reported concerns with anxiety at some point in their career and 46% reported concerns with depression." Because of information like this, the legal community has stepped up and made "wellness" or "well-being" its watchword.
With this information in hand, local bar associations now actively provide wellness support to their members. The leaders of these groups are passionate in their desire to offer protection, support and resources to their members in an effort to overcome stigma and keep those members, and their families, healthy.
So, what is available in the different areas of Indiana?
In St. Joseph County, wellness is integral to the local bar association. They've integrated wellness messages throughout their activities. Included in yearly activities are those that are family-oriented, along with social activities that include information regarding the Judges and Lawyers Assistance Program (JLAP). Dedicated member Ann Carol Nash says, "We want our lawyers to be healthy, well-rounded people."
Shawn Cox and Debra White from the Lake County Bar Association spoke at length about "increasingly realizing healthy lawyers are happier lawyers better able to represent their clients." The association offers a Practice Health Not Law Day where they offer free health screenings and encourage other preventative screenings. They've had JLAP offer CLE for some years wherein chiropractic assessments, yoga demonstrations, healthy cooking demonstrations, chair massages and meditation classes have starred. They are hoping to expand their wellness offerings to include run/walk events and the use of therapy animals.
Julie Holtz from the Evansville Bar Association shared how wellness initiatives are present throughout their current standing committees, such as a presentation on the features of stress in a Women Attorneys Section event. They are also looking into a program for retirement-age attorneys. Importantly, Julie offers an open-door policy wherein she advises all members that confidential conversations are available.
IndyBar offers several opportunities featuring wellness. Judge Heather Welch, who hangs JLAP posters on her chamber's public bulletin board, encourages members to attend the yoga, run/walk and meditation sessions offered at the Bench Bar. Commissioner Kelly Scanlan chairs the Helping Enrich Attorneys Lives (HEAL) Committee. This committee, which started with three or four members and now has more than 70, was created to help all those in the legal field, from judge to attorney to paralegal, "who are personally experiencing a crisis," according to IndyBar. They offer a yearly memorial for those legal professionals who have passed and also present CLEs focused on wellness.
Patty McKinnon chairs the ISBA Wellness Committee. While offering free CLE on many wellness topics, they've also offered presentations regarding the not-so-typical subjects of diversity and hidden discrimination. In order to show their dedication to integrating wellness into every aspect of your life, committee meetings may feature yoga, meditation, walking and riding. Patty stresses that attorneys need to make an "affirmative decision" to integrate wellness into their lives. She argues passionately that lawyers can learn anything, so they can learn to be well.
Local bar groups realize the impact they have on our profession's acceptance that wellness is important. Most importantly, they stress that no one is alone and there is someone, usually locally, to talk to, no matter the stressor. Rather than accepting problem drinking, harassment or hiding your pain, bar associations are encouraging acceptance and support. You may be a fixer, but that does not mean you must be perfect.•
• Kari Morrigan is an associate at Schuckit & Associates in Zionsville and volunteers at JLAP facilitating a class for those retaking the Indiana Bar Exam. She and her therapy cat, Mischa, visit law schools, law firms and elder care facilities.
Please enable JavaScript to view this content.