We all know, or at least we are learning, how the COVID-19 pandemic and the death of George Floyd has impacted the world and our societies. It has affected our outlook upon life, the impact on youth, our health, underrepresented populations, the next generation of people and the list goes on. But what about the impact it had on people of color? What about its impact on attorneys and judges of color in Indiana and across the nation? Since the summer of 2020, the Indiana Supreme Court's Judges and Lawyers Assistance Program has had many deep discussions about the issues that are affecting people of color and what the program can do to support law students, attorneys and judges of color, as well as others who care about these issues and want to be meaningful and proactive allies. For some people of color, situations of unfairness and injustice are publicly known or quietly endured. Those public injustices are often seen as criminal arrests and convictions or other encounters with law enforcement. Later, those encounters are memorialized as another statistic.
Often, we think about these inequalities, inequities, slights, microaggressions or however it may be identified as experiences of other people, but not realize it's happening or happened to a person in your firm, your organization, your office neighbor, your mentor or your friend. Over time and reflection, these experiences can cripple the emotional and physical well-being of any person — particularly law students, lawyers and judges of color who often endure these obstacles more than their peers.
As many of you know, on June 5, 2020, Chief Justice Loretta Rush of the Indiana Supreme Court issued a "Statement on Race and Equity." In my opinion, the statement was powerful and clear. The chief justice stated, "We must listen to and learn from the experiences of our communities who are too often unheard. Heeding their voices will give us the wisdom we need to correct the entrenched disparities that still divide us." The statement left an invitation to the public to voice how the Indiana court system can be improved. The chief justice further expressed, "To be sure, the complexities of race in America will not be solved by simply saying we will try to do better. Rather, we must take action for all of us to live in a better world." On the same tangent to improve the legal system, the players must be heard and supported. As a result of its many initiatives, the Indiana Supreme Court created the Office of Diversity, Equity and Inclusion. The office is led by the court's chief diversity officer, Gina Forrest, Ph.D., and supported by DEI Coordinator Princess Darnell.
In September, Forrest and Darnell led a six-hour diversity and inclusion training for JLAP called the "Foundations of DEI Training." The training began with an overview of the new DEI Office and the intent of the fundamentals course. Forrest explained that all of the Supreme Court's Office of Judicial Administration employees (with JLAP being the first) will complete the training. Forrest described the DEI office as an independent entity from human resources, with overlap of some issues. She further explained that while the lines can be blurred, there is great importance in having an independent office to provide DEI guidance, support and workshops. During the training, JLAP staff and participants had a long discussion about what it means to have confidential conversations about feelings of inequality, microaggressions, exclusion and, even more importantly, who would be privy to these deeply personal and perhaps embarrassing encounters. Based on industry practices, Forrest and Darnell assured all conversations with DEI staff except those that would involve harm to oneself or others will be confidential. Employees who need more aggressive attention than a supportive listening ear and education will be encouraged to contact human resources for additional guidance.
The workshop emphasized that DEI training is a journey and not a race. Diversity is what you bring to the table, and it's not solely race and ethnicity. Equity is what a person needs individually, and inclusion is bringing traditionally excluded individuals or group into the process, activities and decision/policy making in a way that shares power. The workshop participants were challenged to take time to know who they are and how they interact with others that are different from them.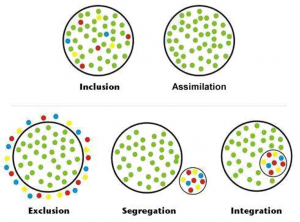 A portion of the workshop was dedicated to word choice and how society identifies groups of people. The word "minority" is often used to identify Black and brown people. Instead of identifying someone as a minority, which essentially means less than, it's better to say "underrepresented" or, preferably, to name the group. After the explanation, there was a meaningful pause from Forrest and Darnell to let the material sink in before diving into the next topic.
Forrest taught the group the spectrum of gender versus sex and the use of personal pronouns, microaggression as a verb and as a behavior, microinsults, microinvalidation and environmental microaggressions, and what resonates most with JLAP is the impact of receiving microaggressions — the anxiety, helplessness, hopelessness, depression, self-doubt and the list continues. No matter the inequity or inequality experienced, it affects law students, lawyers and judges as individuals. The impact is hurtful and greatly affects our well-being and the quality of our practice.
The Indiana Supreme Court is one of few court systems in the nation that has an office dedicated only to issues of diversity, equity and inclusion. Practitioners and judges across the state should be proud of a legal community that is continuing to learn and address issues that are unfairly experienced by the underrepresented. The executive director of JLAP, Terry Harrell, and her staff have shown compassion, empathy and the willingness to learn the unique issues and challenges of underrepresented law students, lawyers and judges. The JLAP office has been proactive to support all members of the practice. Forrest said that "DEI is a continuum of learning," and I believe JLAP is off to a great start, with the other Office of Judicial Administration employees on their way.•
• Angka E. Hinshaw is an Indianapolis attorney and serves on the Indiana JLAP committee. Opinions expressed are those of the author.
Please enable JavaScript to view this content.