Having bounced around the foster care system from the time he turned 2 until he reached the age of 21, Joshua Oswald is certain he would have found permanency with a family sooner if he'd had an attorney.
The Indianapolis man, now 24, was adopted as an adult in September 2020 by his caseworker, who first became a mentor then extended an invitation to join the family. At that point, Oswald said, his life changed dramatically as the love and support from his forever family gave him the confidence to work on a national level helping those caught in a foster care system that he describes as having failed him.
"I think family can help a young person transition into adulthood," Oswald, now director of strategic partnerships at All-IN Fostering Futures, said. "Without family, that transition into adulthood can be pretty brutal."
Indiana is one of just six states that does not require counsel for children in child welfare cases in any situation, according to the National Association of Counsel for Children. Although Indiana Code § 31-32-4-2 does give state court judges the discretion to appoint counsel for children in child welfare cases, stakeholders say the Hoosier State could be forced to implement a direct representation program either through lawsuits filed by national children's rights organization or federal legislation that Congress is considering.
The appointed attorney would be another person around a table that can get crowded if a guardian ad litem and court appointed special advocate have been assigned to the child. However, advocates for direct representation say GAL and CASA workers tell the court what they believe is in the best interest of the youngster, while the attorney would relay exactly what the child wants.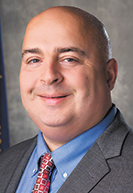 Even though Oswald has been advocating for direct representation for years, the topic has moved to the forefront in Indiana with the introduction of Senate Bill 180 in the Legislature this session. Sen. Jon Ford, R-Terre Haute, authored the bill, which in its original form mandated that children in child in need of services and termination of parental rights proceedings be appointed their own legal counsel.
Before it arrived on the Senate floor, the bill was amended to only a request that the Legislative Council assign the topic of direct representation to an interim study committee. The bill passed on a 46-0 vote but has stalled in the House Committee on Rules and Legislative Procedures.
Ford said he and a bipartisan coalition of legislators have submitted a letter to the Legislative Council, requesting that a task force be created specifically to study direct representation. His goal, he said, is to reintroduce the legislation in the 2023 session.
"As someone who was a foster child, its ways have been part of my life and I have been trying to find ways to improve our child welfare system," Ford said. "I have been watching this for a couple of years and this really seems to help states save money, help states shrink the amount of time kids are in the welfare system before permanency and, I think, it's helped kids get better outcomes."
'Legislative leap'
Several foster parents spoke in support of SB 180 during the Jan. 10 hearing of the Senate Committee on Family and Children Services. Echoing Oswald, they said they could have adopted their foster children faster if the youngsters had their own attorneys advocating for the placement.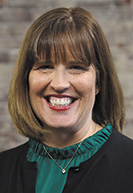 Speaking to Indiana Lawyer, Maggie Stevens, CEO and president of Foster Success, highlighted the obstacles CHINS and TPR youths can face without legal representation.
For example, the children have no one to file a petition on their behalf or explain the legal proceedings, and many times they are asked to share information about their families in open court rather than being given the opportunity to speak confidentially, Stevens said. The children and teens can be left to navigate by themselves life-altering changes like being reunified with their parents, finding another foster family or changing schools.
"Many of them have shared stories of just not feeling as if their voice has been heard in the process," Stevens said. "… So the lawyer would provide direct representation and advocate for what the young person wants."
A majority of the individuals who testified before the Senate committee were in favor of the bill. However, Tippecanoe Superior Judge Faith Graham told legislators she appreciated the concept but opposed SB 180 as it was written.
Among her concerns, Graham said, was that while many of the states that do provide direct representation set limits by age or type of representation, SB 180, in its introduced form, did not have any such qualifiers. Also, she pointed out that with the original bill calling for public defenders to represent CHINS and TPR children, an already understaffed system would be overburdened even more.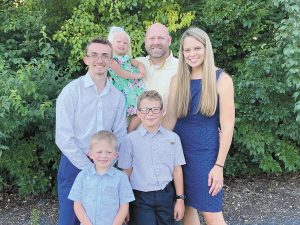 Graham raised the prospect that, counter to the foster parents' assertions, requiring the appointment of counsel could actually keep children in the system longer because of the current shortage of public defenders.
Foster children could have their cases "delayed, delayed, delayed," the judge said, or children could remain in unsafe environments while the court waits for public defenders to become available.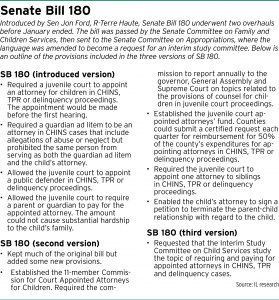 "It's a legislative leap to go from no representation to representation for all of these children in all of these cases," Graham said. "So it really takes some time to study this, the potential for reasonable and appropriate qualifying conditions on those appointments, so that we do the right thing, the right way, the first time to avoid some unintended consequences, which, I think, we can see coming if we don't get it right."
Adding another party
Ford said his legislation relied on research from Gen Justice, a national advocacy group for foster children, and is similar to a bill that was passed by the Arizona Legislature last year. Before he makes another attempt at getting a measure passed, he said he wants the task force to answer key questions, such as the age children should be to get appointed counsel and how the state should train and staff a pool of attorneys for direct representation.
A fiscal analysis by the Legislative Services Agency outlined the expected increase in annual expenditures caused by SB 180's requirement that counsel be appointed to children in CHINS, TPR and delinquency cases. The estimate found state expenditures from the Public Defense Fund could increase by $11.3 million annually beginning in fiscal year 2023, while local expenditures could increase by approximately $38.4 million to $49.7 million.
The Indiana Department of Child Services did not testify at the Senate hearing on SB 180 and declined to comment on the issue of direct representation. Ford said he talked to the agency's lobbyist about his bill and "they don't oppose it."
Also, the Indiana Public Defender Council remains neutral on the bill, according to Bernice Corley, executive director.
Jan Carroll, retired of counsel at Barnes & Thornburg LLP, has served as a CASA volunteer and questioned why an attorney would be needed if the child already had a GAL and CASA. Drawing upon her own experience of talking to children in the child welfare system, investigating their living conditions and writing reports for the courts, Carroll said she had difficulty seeing a situation where the GAL and CASA would recommend something different than the attorney.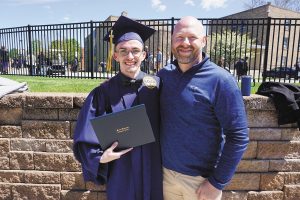 In addition, she pointed out that DCS has the job of advocating for the youngsters it determines to be in need of services. Guardians ad litem were added when concerns arose about how well DCS was handling its duties, and then CASAs came along.
Now, Carroll shakes her head over the push to have appointed attorneys representing the children.
"The solution, it seems to me, is not to add another party," she said. "Why don't you fund DCS and get them 1,000 more caseworkers? We all know how overburdened DCS is."
Oswald recalled going through 18 placements during his time in the foster system. As a 13-year-old, he was so tired of the broken promises, he gave up hope of being adopted.
He said he sees appointed attorneys as preventing other foster children from hopelessness by educating them about the law and enabling them to choose instead of allowing other people to make the decisions.
"I just think we have to ensure an obligation to young people so they don't leave foster care under the circumstances where they don't have permanency," Oswald said. "I think high-quality legal representation is one of the ways to ensure this."•
Please enable JavaScript to view this content.