The U.S. District Court for the Southern District of Indiana is wrapping up a toy and book drive focused on collecting 100 dolls of color and children's books that celebrate the beauty of diversity.
The effort, undertaken through the Indiana Southern District Court's Diversity and Inclusion Committee, has already cleared its goal of collecting 100 dolls and books to be donated to the Fay Biccard Glick Neighborhood Center's "Holiday Shop" toy drive this winter.
Beginning in the summer of 2021, court employees were invited to donate voluntarily to the campaign, which wraps up Nov. 15. All donations will be delivered to the neighborhood center's toy drive by Nov. 16.
Magistrate Judge Doris L. Pryor said she's "over the moon" about meeting the court's original goal so quickly and said she wouldn't be surprised if the court receives at least 200 donations before next week.
In addition to the dolls, the district court has received books geared toward fourth grade students and younger, celebrating the multiplicity of experiences and diversity.
"These books give them that framework and the language to be able to talk about differences among people that they recognize, including gender differences, race differences, religious differences, disabilities, etc.," Pryor said.
The 100 Dolls of Color campaign was birthed out of discussions held among members of the district court on race and racism in America following the 2020 death of George Floyd and ensuing nationwide protests and civil unrest.
In ensuring the Indiana Southern District Court was living up to its mission and commitment to equal justice, the court began taking a deep look at its own operations for necessary pruning.
"Our commitment to that and providing rights and protections to all of our court staff regardless of race and to prevent discrimination in all forms took on a life in what we called conversations on race," Pryor said.
As a result, the district court's diversity, equity and inclusion program was created. A desire to be educated was also voiced by employees of the court, Pryor said, prompting speakers, small groups and a reading group to address the topics of race and racism in America.
Pryor, who served as the facilitator for the reading group, recalled sharing with its 13 members the impact of having little representation in the legal profession among federal judges and magistrate judges of women and Black women.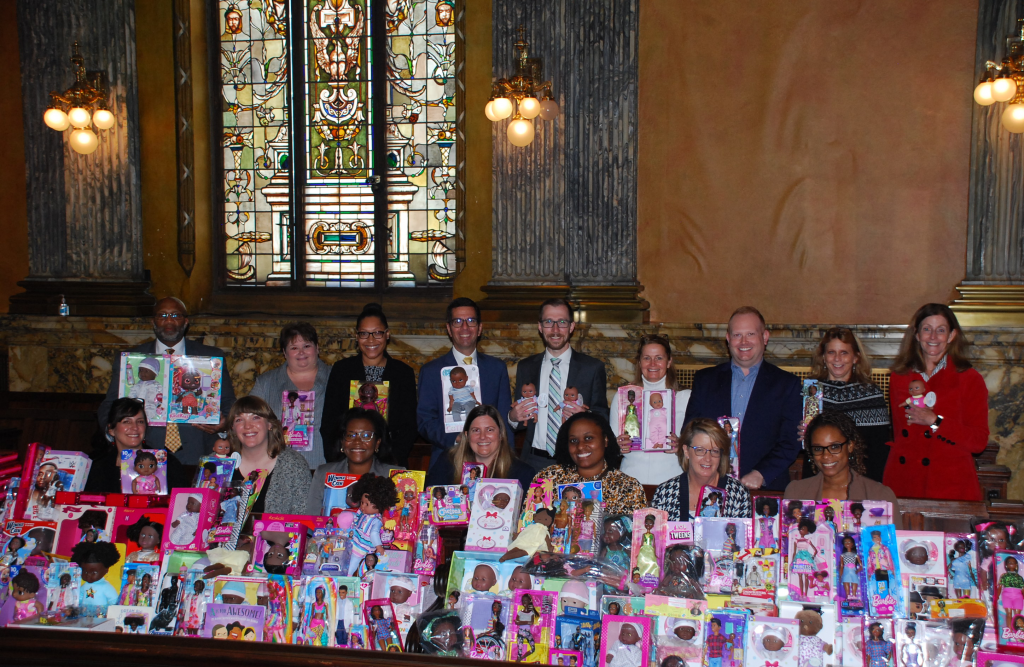 That lack of diversity was also true for trying to find toy dolls during her childhood. Pryor recalled being elated at the release of the Disney movie "The Princess and the Frog" as an adult because, finally, there was a princess that looked like her. The movie features Princess Tiana, a Black woman in New Orleans.
"For all of my formative years I had played with or imagined the princesses, Cinderella, Snow White, the Little Mermaid, but I could never be a princess, as it was understood in my mind, because I had never seen it reflected," she said.
As the reading group discussed the lack of representation among children's toys, Pryor realized one way they could give back to the community.
"It occurred to me that would it be a beautiful thing that every child going into the holiday season has the option of having representation in all forms," she explained. "So that little girl just like me who wants to be a princess or a superhero can."
Campaign donors — including Indiana Southern District Court Chief Judge Tanya Walton Pratt, Judge Jane Magnus-Stinson and Pryor — gathered to sift through the donations last week."I was so amazed at the different hairstyles and textures," Pryor said. "Dolls come with textured curly hair, dreads, cornrows, everything I could have imagined when I was little. Now it's more common, and I'm just excited to be able to do (the campaign)."
With donations flooding the court, a growing pile of dolls and books in the court's chambers have left Pryor feeling enamored.
"At the end of the day, when you are sitting among 30, then 40, then 70 dolls of different professions, different skin textures, different imaginations being opened up, the best part for me was to go and sit and know that this courthouse is playing a part in opening the minds and imaginations of the next generation of what is possible," Pryor said.
"I'm being able to give to a child something that I didn't have access to," she continued. "And everybody in this courthouse wanted to be part of that. Isn't that what justice is, though — a reflection of the people?"
Please enable JavaScript to view this content.