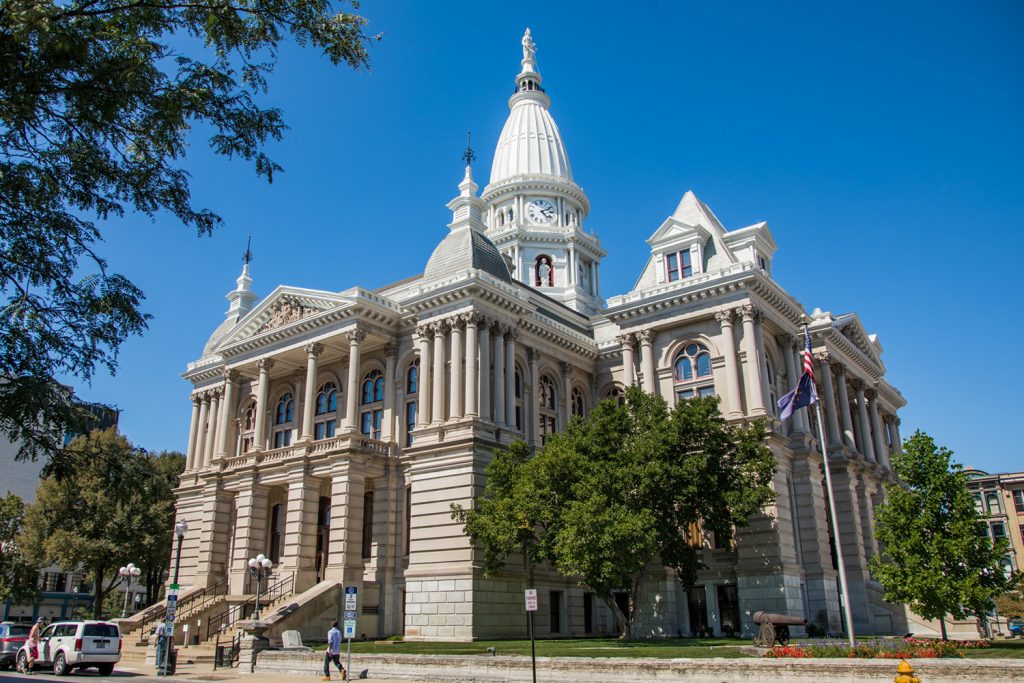 On a sunny day with white puffs crossing the sky, Joey Lax-Salinas framed his camera lens squarely on the glistening glass of the new Marion County Courthouse.
After wandering for more than hour around the towering structure, he heard the shutter faintly click for a final time before stepping back. That, he thought, was a wrap on more than a decade's worth of work.
The Crown Point native has been capturing photos of more than 400 cities and towns across the Hoosier State in his spare time. It started with northwest Indiana, where Lax-Salinas resides, and expanded outward to every nook and cranny of the state.
Folded into his mission of showcasing Indiana's positive features was the task of capturing the historic and local landmarks of each town, which includes each of the state's county courthouses.
"I've always loved architecture, but I feel like this took it to a new level," Lax-Salinas said.
Lax-Salinas recently completed his journey of photographing every active courthouse in the state by documenting the brand new Marion Community Justice Center in Indianapolis. Now, he's put all the courthouses in a tangible collection that some Hoosier judges are praising as an exciting way to document — and preserve — a piece of Indiana's judicial history.
Preserving history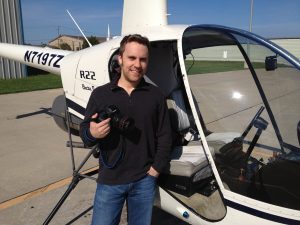 Lax-Salinas started taking photos of his northwestern Indiana community and posting them on social media after graduating from Indiana University. Once people started asking if they could use his photos for their business and promotional materials, he jumped headfirst into the photography market. That's when he said he saw a glaring need to promote his beloved hometown.
"When I would go online and google images, I would always get served up with all of these either really old or just really gritty images, nothing that really showed Hammond or depicted Hammond as we know it today," Lax-Salinas said. "I kind of took it upon myself to go all around and take positive photos of Hammond that we could use that makes it look like a destination."
That was in 2012. By 2016, Lax-Salinas began branching out to other areas across the state, photographing historic downtown squares. That meant running into a variety of courthouses typically nestled in a town's heart.
More than 100,000 miles traveled and 10 years later, Lax-Salinas crossed off the final three courthouses on his list in Cass, Crawford and Marion counties last month.
See the photos: View a selection of Lax-Salinas' courthouse photography here.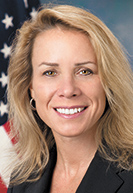 Lake Circuit Judge Marissa McDermott planted a seed in Lax-Salinas' mind about compiling all his photos of the Indiana courthouses into one frame to showcase the state's rich architectural history. In addition to selling the images individually, Lax-Salinas is offering a master collage of all the courthouses in a variety of sizes.
"I knew that he was undertaking this project of photographing all the courthouses and I said, 'You know, it'd be so nice to have that all on one poster or some way that someone could frame it and display it,'" McDermott said.
McDermott, who has an interest in history, said she always enjoyed traveling to the state's courthouses while she was practicing law.
"It was always fun to see the different buildings. So the thought of having that all on one poster, I thought, would be something that would be attractive to anybody who's interested in Indiana history, anyone who's interested in law," she said. "I just thought it would have a lot of cross-appeal."
Having a print of the courthouses was also appealing to Judge Kristina Kantar of the Lake Superior Court. She was the first person to purchase Lax-Salinas' framed courthouse collection print and said she's proud to own the piece.
In years past, Kantar purchased other photographs from Lax-Salinas of the surrounding community, including a church she can see from her office window and a historic Hammond railroad bridge that was dismantled and stolen in 2014 and 2015 by a now federally sentenced Whiting man.
"At the time (Lax-Salinas) said he was working on this courthouse project," Kantar recalled. "I told him to let me know and then all of a sudden he says he got this project done."
Kantar already has plans to hang the framed work inside the entryway to her Gary courtroom.
"I was really excited because I had only been to about four or five of the courthouses in Indiana," Kantar said at the unveiling of the piece. "I had no idea some of these places existed, and some are absolutely gorgeous."
Architectural diversity
There are lots of logistics to photographing a courthouse, Lax-Salinas said. He can typically capture an entire courthouse in about 30 to 45 minutes, walking around and trying different angles.
Before he gets in the car, the photographer said he extensively researches the location of the courthouse, what direction its central focal point faces and what time he should arrive to get the best lighting.
"Intense is certainly a good word to use for it," he chuckled.
Each courthouse is unique in its architectural design based on when it was built, he said. The courthouses built in southern Indiana along the Ohio River typically date back to the 1850s, he said, whereas northern Indiana's courthouses are generally post-1880. Only a handful of Indiana's courthouses are more modern.
Lax-Salinas said he gravitates toward courthouses built between 1870 and 1890, including the courthouses in Johnson, Monroe and Lake counties.
"That 20-year span seems to be the sweet spot," he said. "The ones that came after that between 1900 and 1920 are generally very blocky, limestone and very monolith."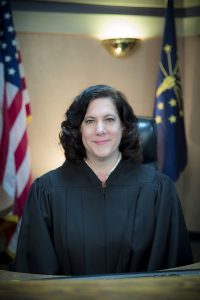 Kantar said she favors the old-fashioned courthouses, like the structure situated in Montgomery County.
"(I) am looking forward to actually visiting some of them to better appreciate their beauty," she said.
The judge gushed over her own courthouse, citing its soaring ceilings and windows, original wood furniture and ornate features.
McDermott said she appreciates when cities and towns are able to maintain their architectural history and original structures. She praised the Allen County courthouse as being a "spectacular" sight, for example.
"It has Italian marble and hand-painted friezes and it's absolutely gorgeous," she said. "It's still just a beautiful building to visit."
Drawing attention to the state's history and improving Indiana's overall image was the catalyst for Lax-Salinas' courthouse project. He said he hopes his photography can help encapsulate the beauty the Hoosier State has to offer its citizens and visitors alike.
"That's always been my goal, is to utilize the courthouse and those features to create this really cool picture that is prideful — that people of the town can say, 'Hey, that's my town,'" he said.
McDermott said she plans on purchasing the print for her own courtroom for everyone to enjoy.
"And to see in one fell swoop all 92 counties represented, I think that's a really neat idea," she said. "I think a project like this would help maintain the history of these old buildings and maybe lend a hand in preserving them for the future generations."•
Please enable JavaScript to view this content.