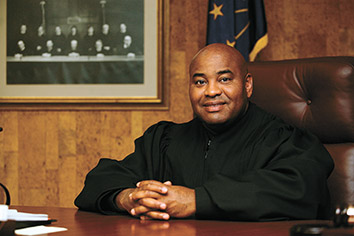 When he was named to the Madison Circuit bench late last year, Judge Rudolph "Rudy" Pyle III made history in that he became not only the county's first African-American jurist but also the first Indiana Conference for Legal Education Opportunities graduate to be elevated to the state's judiciary at that level.
 
That was the second time he marked the pages of Indiana history as it relates to diversity, as he was one of the inaugural ICLEO graduates back in 1997. His rise through the legal community not only reflects his personal success, but also showcases why the Hoosier diversity program is a model for the rest of the country.
"I'm very honored and very humbled to those who've had the confidence in me to be successful in this important post," the 39-year-old judge said. "This is actually a moment that everyone in Madison County can be proud of, because we as a community have come this far. But it says a lot about where our legal community has come."
 But while his appointment is historic and significant in its own right, Judge Pyle is just one piece of a larger puzzle. On top of his story, the ICLEO program received national attention recently when the National Black Law Students Association (NBLSA) honored Indiana Chief Justice Randall T. Shepard with the annual award known as the A. Leon Higginbotham Award, named after a federal appellate judge and civil rights activist who died in 1998. He got the award during the association's 42nd annual conference in March, but it was announced in early May just after three of the state's CLEO fellows from 2007 finished their terms as members of the national NBLSA board.
The now former-chair of the NBLSA board, who just graduated from Indiana University School of Law – Indianapolis and plans to take the bar exam this summer, nominated the chief justice for the award specifically because of the ICLEO program. All of the fellows and those running the ICLEO program say his leadership and passion for diversifying the Hoosier legal community is what has made the program so successful.
"He had the forethought, courage, and understanding of the importance of pursuing this program in the first place," said Tiffany Munsell, who spent her final year of law school serving as the NBLSA's national chair. "That's the main reason why we gave him the award. Very few other states have similar programs because they rely on national, but people in this state are just more committed to its success. That's tremendous."
Formed by the General Assembly in 1997 at the chief justice's urging, ICLEO is designed to assist minority, low income, or educationally disadvantaged college graduates in pursuing a law degree. Each year, 30 college graduates get into the program. Students who successfully graduate may be eligible for an annual stipend, which can be awarded for up to three successive academic years if the student remains eligible. The annual stipend is currently $6,500 for public law schools and $9,000 for any private law school in Indiana.
Since the program's inception, 277 students have graduated and that includes the 24 in the 2010 class, according to program director Robyn Rucker.
With Judge Pyle's appointment to the bench, Rucker said she is particularly proud of where the program has come since she first got involved and graduated in 1999. The new judge was actually a tutor and mentor of hers, reading essays and giving feedback on how the newer fellows could best prepare for the bar exam. He's kept up that mentoring by staying involved, she said.
"His appointment is amazing, and he's an example of how ICLEO helps them gain roots here and stay in Indiana," she said.
A Rhode Island native, Pyle came to Indiana in 1988 to attend Anderson University and served there as the school's first black student body president. After graduating in the early '90s, he became a state trooper for four years before deciding to pursue a law degree. Reflecting on that, the judge recalls that even as early as high school, he'd wanted to be a lawyer and that point in his life was just the right time. Though he wanted a military career and possibly to be an officer in the Army or to go the U.S. Military Academy, his aspirations always came back to being an attorney, he says.
He enrolled at what is now the Indiana University Maurer School of Law – Bloomington, and set the stage for how he'd make history for Indiana's judiciary. During law school, Pyle remembers being asked to participate in a new program being developed — ICLEO. At the time, it began as a national initiative but ultimately lost its funding and would be carried on by the state. In those days as a student, Pyle like the other inaugural members didn't know what to expect but took advantage of the program that would aid in their legal career's success.
Pyle also used his police experience to serve as a legal advisor for the Bloomington Police Department during his law school days, and after graduating in 2000 he clerked for four years for Indiana Court of Appeals Judge Carr Darden. He then went on to become deputy prosecuting attorney in Madison County and handled major felony cases, and opened a private practice where he handled criminal, civil, and corporate cases.
In October, Gov. Mitch Daniels chose Judge Pyle to replace Judge Fredrick R. Spencer, a longtime judge there who resigned while facing a judicial ethics investigation into a lawyer's claim that he'd decided a murder defendant's sentence ahead of time. The term expires at the end of 2010, and he'll face Democratic opponent Kevin M. Eads in the November election.
The chief justice during his annual state of the judiciary speech in January mentioned Judge Pyle, who attended the speech and watched from the balcony. Chief Justice Shepard said that the local jurist joins the ranks of Eduardo Fontanex, a Hammond attorney who served for 10 months in 2003 as the East Chicago City judge and was the state's first ICLEO graduate to take any bench in the state.
Both are role models for young attorneys and represent what's possible through ICLEO for anyone interested in a legal career, the chief justice and program graduates said.
Though he shepherded its creation and evolution, Chief Justice Shepard points to the leadership of the three ICLEO fellows on the national NBLSA governing board as evidence of the program's success: aside from Munsell, there was Leah Dupree from Indiana University School of Law – Indianapolis who served as national chief of staff, and Gary native Melvin Felton II at Columbia Law School who served as national director of communications. Both Munsell and Felton plan to take the bar exam in July, while Dupree plans to take it in February 2011.
Taking a modest tone about the award named after a man he knew and admired, Chief Justice Shepard also described the late Judge Higginbotham as the true trailblazer deserving recognition while also commending those who've gone through the state's program.
"It was heartwarming to see the NBLSA leadership in the hands of former CLEO students," the chief justice said. "Indiana decided these young adults had great gifts to offer our state if given the opportunity. They have gone a step further by making a contribution to a great national organization."
But those running the ICLEO program and utilizing what it offers say the chief justice deserves more credit.
"We have had milestones before, but these back-to-back milestones more recently all stand out to show that the chief justice leads in action, not just in word," Rucker said. "His commitment hasn't wavered since the beginning, and this speaks volumes about his continued commitment to diversity. With him leading the way, we're a beacon for other states to follow."•
 
Please enable JavaScript to view this content.