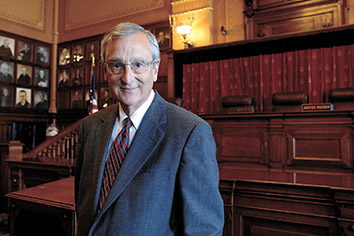 When he started practicing law more than four decades ago, the thought of someday being a justice on the state's highest
court wasn't something Theodore R. Boehm had in mind.
But after rising through the private practice ranks and tours of corporate counsel duty, he found himself as a member of
the Indiana Supreme Court in August 1996.
 
Reflecting on that time, the 71-year-old justice says now that it was more luck than anything, and he didn't or couldn't
plan on becoming an appeals judge if he'd tried.
"I certainly didn't expect to be an appellate judge, and it was a tremendous amount of luck that went into getting
this type of position," he said. "I just happened to be in the right place at the right time."
Now, after 14 years on the Indiana Supreme Court, Justice Boehm is ready to enter the next stage of his life and career.
He announced May 25 that he's stepping down from the court Sept. 30, about two weeks after he turns 72. Though he sought
and received voter retention in 2008, he knew then that he wouldn't be able to continue his full term before reaching
the mandatory retirement age of 75. This has been a decision Justice Boehm's been mulling for some time, but a combination
of factors such as his wife's approaching retirement and a desire to spend more time with family helped make up his
mind.
"It's been an honor, but it would have to happen in the next three years," he said, adding that he isn't
sure if he would've reached the same decision if the mandatory retirement age wasn't set as it is. "This
is what state law says, and I've known about it since I started, and so this is the best time for me."
Becoming a justice
Born in Illinois, Justice Boehm grew up in Indianapolis and went on to graduate magna cum laude from Harvard Law
School in 1963. He served as a law clerk for U.S. Supreme Court Chief Justice Earl Warren after graduation, and then returned
to Indiana. He joined Indianapolis firm Baker & Daniels in 1964, becoming a partner in 1970 and the firm's first
managing partner in 1980. He was heavily involved in complex corporate law cases, including representing Eli Lilly against
insurers who refused coverage of multi-million dollar lawsuits brought by women, and even made it to the Supreme Court of
the United States.
Boehm left Baker & Daniels in 1988 to become general counsel of General Electric's appliances division, moving
up the ranks quickly before becoming deputy general counsel for Eli Lilly in the mid-1990s. He then returned to Baker &
Daniels the year before his selection to the Indiana Supreme Court.
Through the years, he was also actively involved in Indianapolis sports and economic development and served in roles such
as leader of the organizing committee for the 1987 Pan American Games in Indianapolis, as well as first president and chief
executive officer of Indiana Sports Corp.
His litigator role changed in 1996, when then-Gov. Evan Bayh chose him as the state's 104th justice to succeed Justice
Richard DeBruler, who retired that year after a quarter century on the appellate bench. He was 57 at the time, which was "old
for a rookie justice," Justice Boehm says now.
Through the years, Justice Boehm has authored 468 majority opinions and 77 dissenting opinions at the time of this story's
deadline. Some highlights of his judicial career include his work on webcasting all of the court's oral arguments, leading
the effort for a set of new appellate rules, leadership on a jury pool project, and a 2000 constitutional amendment that changed
the Supreme Court's jurisdiction to a mostly discretionary role.
But he doesn't take credit for it. Keeping a modest tone about his role and accomplishments, he downplayed his significance
on the court and said he's just been one member of a phenomenal five-person court that's remained together for
more than a decade.
"This is all a compliment to the court, not me personally," Justice Boehm said about the response to his retirement
announcement. "It takes three, at least, to get anything done and this is nothing that I can personally take sole credit
for. This court has left a legacy for modernizing the Indiana judiciary overall, but it's a process that took all of
us."
In fact, recalling stories that stand out during his time on the bench, Justice Boehm pointed to one about how he influenced
his colleagues.
"One of the most memorable moments was during a conference, when a great big fly about a half-inch in length was in
the room, and I was there catching him flat-handed. … That absolutely astonished the staff and justices," he
said with a laugh, noting that it's a highlight that illustrates how collegial the court has been.
Though he's modest, Justice Boehm's colleagues and those within the legal community who know him the best say
that he's irreplaceable.
"While it is disappointing to lose Justice Boehm as a colleague, we are all grateful for his 14 years of service to
our state's judiciary," Chief Justice Randall T. Shepard said in a statement. "He has brought powerful insight
to our deliberations and enormous energy to the goal of making Indiana a better place for its citizens."
Nationally, the Indiana Supreme Court is widely regarded for its efforts to modernize the state's judicial system and
also for its collegiality – something that observers largely attribute to the merit-based selection system that's
been in place since 1970 and doesn't result in the heated election campaigns that other states experience.
That collegiality is one aspect of how Justice Boehm has stood out in being the person other justices can rely on when a
quick analysis and decision is needed on a complicated case, said Joel Schumm, Indianapolis attorney and law professor at
Indiana University School of Law — Indianapolis who clerked for the justice in the late '90s.
For example, the Indiana Toll Road case in 2006 and a Southwestern Bell Corp. case in the late '90s were emergency
cases that were lengthy and complicated, but Justice Boehm was able to turn them around quickly and make them understandable,
Schumm said.
"He's at the top of his game, and his productivity and work product are as good as they could ever be,"
Schumm said. "I'd say he's brilliant. He can take any legal issue in any wide variety of law, take those
complicated matters and make them understandable with ease and poise. He'll be hard to replace because he can do so
many different things."
Other issues that stand out in Justice Boehm's time on the court include the 2000 constitutional amendment that gave
the Supreme Court almost complete discretion over which cases to consider, basically making it a court of last resort.
In death-penalty cases where unanimity hasn't been as common, Justice Boehm tended to side with granting inmates further
appeals, often in the dissenting position. Last fall, he was one of three judges in the majority when the court adopted a
new rule that will require videotaping of most felony police interrogations starting in 2011.
"He's been at the court at a time when the administrative side has grown significantly, and that's helped
the justice wheels turn more quickly and efficiently here in Indiana and across state lines," said Indianapolis attorney
Paul Jefferson, who clerked for Justice Boehm from 2002 to 2004. "His ability to distill complicated issues into the
simplest terms is amazing and what many of us aspire to do as attorneys."
Justice Boehm's outside involvement in cultural tourism initiatives, the sports community, and economic development
has been a benefit to everyone – not just those in the legal community.
"He's done many things outside of just wearing a robe, and I think the city and state are better off for it,"
Jefferson said.
Uncertain future
Now, the search begins for a new justice. This is the first vacancy on the high court since former Justice Myra
Selby left the bench for private practice in 1999, and Justice Robert Rucker took that spot. Applicants have until the end
of June to submit their names for consideration, and interviews are expected to wrap up in July before Gov. Mitch Daniels
gets his chance to select his first state justice.
Justice Boehm won't weigh in on the process, and he doesn't want to talk about what his future holds before his
service on the court wraps up. With four months remaining, he plans to continue hearing cases and deciding transfers until
it's no longer prudent to do so. He hasn't made a decision and won't begin discussing options until after
his judicial service ends, in order to not infringe on any cases that may come before him this year. That's different
from the last time the Supreme Court saw an opening, when former Justice Selby announced her retirement with plans to return
to private practice at a specific firm.
For now, all Justice Boehm will say is that golf, traveling, and family time are likely in his future after September. Until
then, he won't know whether his prediction from his days as a "rookie justice" – that this would be
his last stop in his legal career – will remain true.
But those who know him, such as former clerks, agree that this likely won't be the end of the legal community's
interaction with the longtime lawyer who's been a key force in the state's judiciary.
"I don't think we've see the last of him," Jefferson said. "Don't expect him to sit quietly
by and go into retirement without doing anything. That's not Justice Boehm."•
 
Please enable JavaScript to view this content.