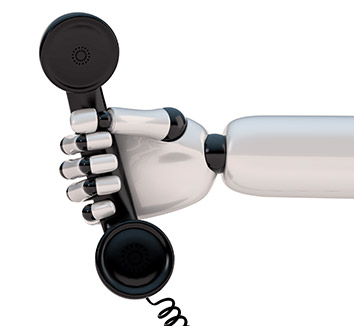 What started with a pre-recorded, autodialed phone call message four years ago during campaign season has now transformed
into a court case challenging a little-used 22-year-old state statute on grounds that it violates free-speech protections
of politically involved businesses.
The case comes from a line of litigation that's been playing out in Indiana's state and federal courts during
the past several years, all involving what is and isn't permitted under the Automatic Dialing Machines statute (ADMS),
Indiana Code 24-5-14. That suit is ongoing even as a new federal suit in the Southern District of Indiana raises similar issues
about how the law is applied here.
While it still remains at the trial court level, attorneys on the case wonder if this could be a sequel to one that brought
an Indiana Supreme Court decision 18 months ago regarding the statute. However, that decision left open constitutional questions
about how the law applies to political messages that may have some free-speech protections.
"This could be the case that allows the justices to resolve those constitutional issues they hadn't ruled on
before," said Indianapolis attorney Paul Jefferson at Barnes & Thornburg, who is lead attorney on both the state
and federal cases. "The Indiana law as it stands is that these types of calls are never allowed to be made. …
That runs afoul of every notion of free speech we have, particularly when it comes to protected political speech."
State suit success
Most significantly in the Brown Circuit case of State of Indiana v. Economic Freedom Fund, FreeEats.com Inc.,
and John Does 3-10, No. 07C01-0609-MI-0425, a local judge declared the state statute unconstitutional in part, which
could lead to a higher court ruling that redefines how it's been applied.
Former Indiana Attorney General Steve Carter launched this suit in September 2006, the first time since the statute had been
enacted in 1988 that the AG had enforced it. It was aimed at multiple companies that made these types of automated calls to
potential voters prior to elections. The Virginia-based company FreeEats.com used an artificially intelligent calling (AIC)
system to contact residents throughout the country via telephone on behalf of its clients. The pre-recorded messages are interactive
and ask residents to consent to the calls and messages that could be used to conduct polls in order to identify supporters
of various political issues and candidates, as well as to encourage voting.
Carter
With the system, FreeEats can call 1.7 million Indiana residences in seven hours, with some numbers getting as many as three
calls before messages are left on answering machines. None of those are made between the hours of 9 p.m. and 8 a.m., which
is restricted by state law.
In this case, FreeEats used this system to disseminate a political message in Indiana for the conservative group Economic
Freedom Fund out of California. One Indiana resident, John Vanderlippe, recorded the call he received and filed a complaint
with the state. The AG sued after receiving 12 consumer complaints regarding automated calls happening statewide, and FreeEats
later sued in federal court, though that case was eventually sent back to the state level.
Now, at issue in this case is how the statute is applied to more modern political speech methods that have come about since
the statute was enacted.
Special Judge Kenneth G. Todd issued a significant ruling June 10, finding that the statute violates the freedom of speech
provisions in the Indiana Constitution. He also found the AIC system used to obtain consent is just as efficient and effective
as the statute's existing requirements that consent be obtained from a live operator.
The ruling comes on a preliminary injunction only and isn't a final ruling on the overall case. It still leaves the
defendant on the hook for penalties that were the original basis for the suit.
"The state has identified that the sole purpose of the ADMS is a limitation on the total volume of automated calls,"
Judge Todd wrote. "Such a limitation has the sole effect of limiting the political speech in question. It has no affect
whatsoever on whether an individual receiver of the call might perceive the call to be annoying or a nuisance. Nor would the
individual receiver of the call have a different opinion if the call were made by a live operator. Thus the effect of the
ADMS to the extent that it requires such calls to be made by a live operator as opposed to an automated system, is to materially
burden the political speech in question, not protect the peace and quiet of the Indiana residents in their homes."
The company praised the ruling and urged the AG to rethink this litigation strategy. The AG's Office has not yet filed
an appeal, and litigation spokesman Bryan Corbin said attorneys are still reviewing the ruling to decide how to handle it.
A new opportunity?
But Jefferson thinks an appeal is imminent and that this could be a case that goes to the Indiana Supreme Court
to address issues left unresolved in December 2008.
In that ruling in State of Indiana v. American Family Voices, et al., 898 N.E.2d 293, 296 (Ind. 2008), justices
unanimously determined the state law on pre-recorded, autodialed calls isn't limited to those placed to consumers with
commercial messages. But they stopped short of deciding how the law applies to political messages.
"As can be easily inferred from the presence of the Democratic and Republican State Central Committees as amici in
this case, this litigation raises questions as to the extent to which the Autodialer Law limits and may constitutionally limit
the use of autodialers to convey political messages," Justice Frank Sullivan wrote. "However, all parties agree
that no such questions are before this Court at this stage of the litigation and we express no opinion with respect thereto."
With FreeEats now working its way through state court, some wonder whether this could be a sequel to that decision
giving the Supreme Court a new chance to weigh those constitutional issues.
Broader federal questions
As the state courts analyze how the Indiana Constitution and auto dialer statute interact, the issue remains pending
and continues to be raised in federal court. A new suit filed June 10 – coincidentally the same day as Judge Todd's
state court ruling – raises more specific First Amendment claims about the statute.
The case, Patriotic Veterans v. State of Indiana, No. 1:10-CV-0723, involves an Illinois-based nonprofit that's
suing on claims that the state robo-call ban violates the group's right to free speech by not allowing it to make political
calls leading up to the November general election. Patriotic Veterans claims the Indiana law is preempted by a similar but
a more lenient federal law on robo-calls in the Telephone Consumer Protection Act and Federal Communications Act of 1934.
Unlike the state statute banning all prerecorded telemarketing calls unless the consumer has given consent, the federal law
makes exceptions for nonprofit groups, telephone carriers, and politicians.
Zoeller
The nonprofit Center for Competitive Politics urges less-restrictive arrangements such as a potential "Do Not Call"
list specific to political groups. Candidates, groups, and companies that voluntarily participate in a political-message do-not-call
list could win favor with voters while a flat-out ban punishes everyone.
Twenty-eight states regulate political robo-calls, but the patchwork of restrictions varies greatly by state and only a few
ban the calls outright.
Indiana Attorney General Greg Zoeller – who took over this area of litigation when he took office in 2009 – said
he will work to protect the statute as written.
"Hoosiers have said in no uncertain terms that they detest robo-calls, don't want to be disturbed by such intrusions
– and they value the privacy that our state's laws afford them," he said
But some attorneys like Jefferson say the statute goes too far and presents constitutional issues, especially after the Citizens
United decision by the U.S. Supreme Court in January found companies and organizations can't be prevented from
getting involved in political speech because of the First Amendment protections.
"These are complementary but not identical," Jefferson said about the robo-call suits in Indiana's state
and federal courts. "There is a lot that's unresolved and unsettled right now."
The systems being questioned in these cases are tools that can benefit a greater good and shouldn't be restricted,
Jefferson contends. He said businesses could conduct instant polls on health-care issues in real time, and based on the tone
and language of the person receiving a call, could quickly provide a lawmaker with immediate feedback needed to cast a vote.
The same could be done for television ads and how candidates respond to ads issued by opponents, Jefferson said.
"It's an effective way to engage in political dialogue, if used appropriately, and that," he said, "is
protected by the First Amendment." •
Please enable JavaScript to view this content.