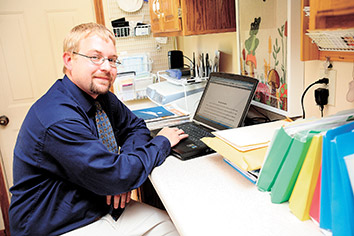 Delivering pizzas and moving furniture isn't what Greenwood attorney Justin Cook thought he'd be doing once he
earned a law degree.
Although he graduated from Ohio Northern University College of Law in May 2009 and learned in October he passed the Indiana
bar, the 28-year-old is just now starting what he describes as a "real job" in the practice of law. Before that,
he took whatever work came his way.
"My graduation was the most anti-climatic achievement ever because I had to come home and start studying for the bar
here, and then I was looking the best I could for a job since late last year," Cook said.
His search paid off in May, when his five months of non-compensated work finally evolved into a paying position to fit his
legal education, even though he's now working in a consulting position with a Zionsville solo practitioner and hopes
that turns into a full-time job soon.
"With the market and economy the way it is, it took quite a while to develop any type of relationship to get paid to
do anything," he said.
The same reality applies for many of Cook's graduating classmates and those who've graduated recently from any
of Indiana's four law schools, as new lawyers face hurdles in finding jobs.
For new lawyers, it's a tough time to be starting in the profession when established lawyers struggle to keep up their
practices and client lists.
For Cook and his classmates, the reality check came just before graduation when they obtained their law degrees in 2009:
their valedictorian learned the law firm where she had planned to work had yanked the offer and left her without a job.
"Everybody wakes up a little bit and starts to see the reality that, 'Just because I made it through law school,
that doesn't mean anything except that I have enormous debt over my head.' It's pretty depressing to look
at your own resume and realize you have to suck it up without any offers like you'd planned. This isn't what we
thought it would be."
Cook said he questioned whether he'd made the right decision to become an attorney. He had attended Purdue University
for engineering, but decided not to pursue the field. He graduated with a history degree but no concrete plan for what might
be next. A longtime friend persuaded him to take the LSAT, and he did so well that it convinced him law school was a worthwhile
goal.
But that didn't prepare him for the lack of opportunity as graduation approached. As many are doing, his school cancelled
all on-campus interviews for graduates, and that made landing a job even more difficult. Many of his classmates had to use
all of their favors and resources to line up potential spots in Ohio, but he had to focus his energy on studying for placement
in the Hoosier legal community.
After waiting and learning he'd passed the Indiana bar exam and could practice here, Cook said he routinely applied
for positions that asked for five years of experience because potential employers wanted experience, not brand new lawyers.
He prepared for those to at least try to get an interview.
While he was searching for a legal position, Cook said a high school friend got him a job delivering furniture for a few
months to pay bills. He is fortunate to have had the chance to live with his parents, and Cook said he thought for a while
about starting his own practice. But the costs of doing that and maintaining his own insurance were just too high, he said,
and it limited his options.
Indianapolis attorney Shawn Richter, who graduated with Cook, said he also had no luck in finding any attorney jobs during
law school or once he'd passed the Indiana bar. Being a non-traditional law student who'd done his undergraduate
studies at Indiana University after two years of active Army Reserves duty, the 33-year-old returned to clerking for Johnson
Superior Judge Kevin Barton, who he'd clerked for during the summer after his first year of law school.
Judicial clerking was all he could find, even though Richter said he continued his job search in full force.
"I found it to be exhausting as I lost opportunities several times because of budget cuts or the large amount of unemployed
lawyers with experience gunning for the same jobs," he said.
That led him to explore state and federal positions, mostly because he had a family to support and needed benefits such as
health insurance. Large firms pay well and offer benefits, but allow little family time or flexibility that he wanted, while
small firms offer more time but usually offer lower pay and fewer benefits, he said.
After about seven months of searching, he started a position earlier this year as an administrative law judge with the Indiana
Department of Workforce Development. He mostly hears unemployment appeals at hearings in Indianapolis, though he may be able
to travel to other locations in the future.
"It's a nice job that offers a lot of flexibility, good benefits, and great opportunity for advancement while
helping out honest folks in need," he said. "So, it all worked out in the end. But it was tough going for a while."
Some of their other classmates had contacts during law school and carried on clerkships or internships to get in the door
for a job post-graduation, Cook and Richter said. One of their fellow graduates took a position with a family friend who runs
a practice in Greenfield, and that enabled him to get started quickly. But those types of opportunities aren't as common
as they once were when the market was better, they say.
Cook said he was lucky enough in December to find a solo practitioner who was willing to take the new attorney under his
wing. Now, Cook handles elder law matters – something that he finds more fulfilling than criminal cases or even regular
courtroom work. He's not yet working 30 hours per week, but the Zionsville attorney has agreed to put him on the insurance
plan and he gets consulting fees working on estate planning and asset protection issues.
"I've seen enough in DUIs and divorce cases to know that as lawyers, at best you're fixing a crisis,"
he said. "That's not as rewarding for me because you don't know that people are happy with my work. Elder
law is different, there are smiles and people are happy."
The possibility still exists for him to put out his own shingle, but it will have to wait until he has the resources to buy
his own insurance and ability to generate a client list, Cook said.
Cook said law schools need to do more to prepare students and graduates for what lies ahead in finding a job.
"There isn't a lot of preparation for this from law schools," he said. "Law school is more about
the theory, and they teach you how to do the research or read a case and apply the law to other cases, but it doesn't
help you with the practical matters of being a lawyer, like how to become a lawyer based on what you've just spent years
learning. But even though it was tough a year ago, it's looking worse and worse for people getting out now." •
Please enable JavaScript to view this content.