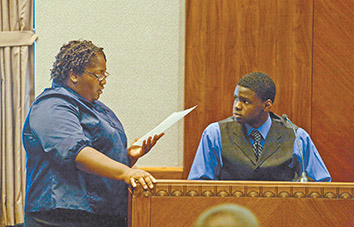 While many teenagers spend their summers at the pool, as camp counselors, or at other summer jobs flipping burgers or slinging
mall merchandise, 24 high school students decided to spend two weeks at the only law school camp for teenagers in Indiana
and one of about a dozen in the country.
The Teen Law College at Valparaiso University School of Law, which took place for the first time June 13-26 and will continue
as an annual summer event, was organized for high school students who have an interest in becoming attorneys.
 
During the program, students took law-school level classes about criminal law, alternative dispute resolution, legal writing
and research, torts, forensic evidence, constitutional law, contracts, appellate, and international law. They also prepared
and presented a criminal mock trial; met with law professors, lawyers, and judges; and visited federal and local courtrooms
and a jail. It wasn't all business though as they spent some recreational time with their instructors and each other
at a baseball game, at the Indiana Dunes, and at Second City in Chicago.
Of those who attended, just over half were African-American and about two-thirds were girls. Most were from northwest Indiana
and Chicago, but others came from California, Louisiana, Nebraska, Ohio, and Wisconsin, said program organizer Stephanie Medlock,
who joined the law school last year as the school's director of professional and community studies.
One of the 15 instructors for the program, Bruce Berner, has taught at the law school since 1971. He worked with students
in the first week on criminal law issues.
Sometimes people forget the importance of diversity, he said.
"The real effect of diversity is how it affects everyone. We're trying to train people to go into a world that
is diverse. That was an important part of this," he said.
To help students who otherwise couldn't afford the program – including students whose families a year or two
ago could have afforded it but had experienced changes in income due to the economy – the law school awarded scholarships
to many participants.
The cost of the camp without a scholarship was almost $3,000, which included tuition, room and board, and entertainment expenses
for trips.
The students stayed in dorms on Valparaiso University's campus and ate at a campus dining hall. Law students served
as resident assistants and were impressed with how much work students did outside of the classroom.
Medlock also was impressed with the high school students' efforts.
"I was just elated," she said. "They were so smart, like bright shiny new pennies. … Maybe some
of us had the fear we would be looking across a sea of bored faces … but these were people who pre-selected themselves
for this program. They were unflagging in their enthusiasm."
While the students are still in high school, the level of education they received was not. From 8:45 a.m. to 5 p.m. every
day, and some evening programs, they worked with instructors who typically teach law students. They also visited a federal
judge in Chicago, watched hearings at the Porter County Courthouse, and visited the Porter County Jail.
One way Medlock tried to determine the best way to reach the students was by talking to Porter County Prosecutor Brian Gensel,
an adjunct professor at the law school who has been in the office for more than 20 years.
Gensel has worked with high school students on mock trials and worked at the law camp as well. At the end of the two weeks,
the students presented their mock trials at the Porter County Courthouse.
"What Stephanie didn't know was that mock trial work stresses out everyone involved. But my experience is that
students put their game faces on. … I was very impressed how these kids had a mastery of the case they were assigned,"
he said.
He added that with only two intense weeks of preparation, they did as well as students he's worked with who had eight
weeks to prepare.
The case regarded an armed robbery and was part of the mock trial program of the National Institute of Trial Advocacy. Split
into six groups of four to present three versions of the same case, each student portrayed a lawyer and a witness.
One of the students who participated was Joshua Cooper, 17, who will start his senior year at Wheaton Academy in West Chicago.
His mom, who he lives with in Plainfield, Ill., said she was thrilled for him to have the opportunity because he has wanted
to be a lawyer for a long time.
"School wasn't always easy for him until he found his passion," Veoria Cooper said, but once he realized
his interests, the importance of education clicked for him. She said she sends him to private school because he's a
good student and she wants him to have opportunities that come from a good education.
Joshua said he most enjoyed the classroom experience, particularly lessons about the appeals process, constitutional law,
and international law.
"I really enjoyed the classes, and I'm happy I was able to be a part of something that furthered my knowledge
on the subject and cemented in my mind that this is what I want to do," he said.
His mom said he is considering Valparaiso for college and would likely attend the law school based on the summer experience.
"I think it's valuable to give them an idea of what the law does, its value to society, what it takes to be a
good lawyer. It might also help inform them how they go about their collegiate experience. … If none of those kids
go to law school, there isn't a loss. They still have a good sense of how the law works," which makes them better
citizens, Berner said.
While Medlock and other organizers considered the program a success on many levels, she said the only thing she would do
differently would be to add more breaks for the students.
She also thanked the law school for supporting the program and said she is working on other programs, including one for professionals
outside of the legal community.•
Please enable JavaScript to view this content.