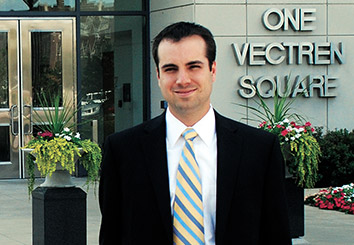 Few TV shows highlight the glamour of being a corporate lawyer, but Josh Claybourn in Evansville sees the appeal and says he couldn't have found a better place to utilize his legal skills.
As the in-house attorney for energy and gas company Vectren Corp., the 29-year-old lawyer who's been practicing for about four years has found his niche.
 
"Hollywood is slow to glamorize the in-house side of practicing law, but it can be every bit as interesting as a law firm environment that you see TV shows about," Claybourn said. "This is not where I thought I'd be when I set out, but as you go on in practice you see there are many in-house aspects that are appealing. … Especially as more companies are wanting their in-house lawyers to take a broader strategic role."
The Indiana University School of Law – Indianapolis graduate began practicing in 2006, starting at the Evansville firm of Rudolph Fine Porter & Johnson. He handled mostly business transactional work and a large amount of health industry and corporate law, paving a way for the Vectren opportunity.
His former boss, managing partner L. Montgomery Porter, described Claybourn's departure as a great loss for the firm but the new post seemed like a natural fit for the young attorney. Claybourn was really the first attorney from the firm to move directly into the corporate counsel role, even though another lawyer had previously left the state and returned to that corporate arena of law, Porter said.
But Porter noted that Claybourn is an Evansville native and very involved in the local community, and so staying in the area was very important to him.
"He's a proponent of, and probably the best kind of example of, keeping the best and brightest in town," Porter said. "With his talents, Josh could have gone anywhere else to practice. But he grew up here and that's important to him, and he does more than just talk the talk about staying involved."
Claybourn left the firm in September and started at Vectren, where he is one of seven attorneys working in-house – a difference from the roughly 20 attorneys who'd been at the firm. He describes the change as a great opportunity, one that brings greater responsibility and many longer hours.
"With all of that kind of role, you have new challenges and opportunities but there's a big difference: you have one huge client," he said.
Vectren is an Evansville-based Fortune 100 company that has about $4.3 billion in assets and provides gas and electric services to about 1 million Indiana customers, as well as about 300 more in Western Ohio. However, Claybourn says the company's seven in-house attorneys makes it one of the smaller-sized legal departments for a company of that size.
"It's more team-oriented, rather than having the competition you might see within a law firm," he said. "There's an interesting dynamic that can arise anywhere between a lawyer and client, but this seems more personal because you're only focusing on them and not other clients. You get a lot of closure from being there from beginning to end, and seeing a full solution rather than piecemeal resolutions."
His job is the only that handles day-to-day legal work for the company, and a large amount is general transactional work, contract review, negotiations, and business deals, Claybourn said.
An area that he has found new and interesting is the transition into the utility regulatory scheme, overseen by the Indiana Utility Regulatory Commission and a similar agency in Ohio. He often travels to Indianapolis to handle that side of things, attending hearings and proceedings before administrative law judges with that state agency.
"This is so much broader, not narrow and grinding," he said. "It all dovetails together into how there's such a great depth of work."
For example, Claybourn notes the need to contain utility costs with a greater desire for environmental and carbon emission controls as one area that brings up interesting issues he faces regularly. Keeping rates affordable in this tough economy versus being able to achieve what the regulations require mean a thorough review of internal company costs and those government rules, Claybourn said.
"All the regulation puts a bigger responsibility on the in-house attorneys to help manage and navigate those waters," he said.
From the corporate perspective, vice president Ron Christian said he couldn't be happier with Claybourn's activity in the past 10 months. He says Claybourn has done an outstanding job, and describers him as a self-starter and excellent communicator who's helped keep the legal department strong.
Reflecting on his own time at Vectren so far, Claybourn says he's touching many more lives with the work that he's doing simply because of the amount of people who rely on his work each day. Families and businesses plan their budgets based on utility rates, and the overall environment might be shaped by how the utility company builds its industry and where those facilities are located, he said.
"We have a pretty big footprint, mostly in the utility world, and there are a lot of legal challenges you have to balance," he said. "Hollywood may not have jumped on the corporate counsel theme, but you never know – maybe we'll have our own show about interesting and important this type of job can be."•
Please enable JavaScript to view this content.