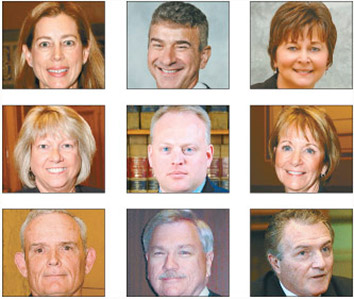 Nine attorneys remain in the running to be the next Indiana Supreme Court justice after a seven-member commission narrowed
down a list of nearly three-dozen applicants earlier this month for the court opening.
After two days of interviewing 34 initial applicants, the Indiana Judicial Nominating Commission chose nine people as semi-finalists
after about two hours of deliberation on July 7. Those individuals will return for second interviews at the end of the month,
before three names are submitted to Gov. Mitch Daniels for consideration.
Whoever is chosen will succeed Justice Theodore R. Boehm, who announced earlier this year his plans to retire Sept. 30. This
will be the Republican executive's first chance to put someone on the high court.
The semi-finalist group consists four women and five men who in their professional legal roles offer a makeup of four trial
judges, two big firm private practitioners, a law school general counsel, a state senator, and the state's Solicitor
General.
Following a unanimous public vote on the semi-finalists, Chief Justice Randall T. Shepard – who chairs the commission
– said that he initially expected fewer semi-finalists than the number chosen, but it was a direct result of having
so many highly-qualified applicants to draw from.
Semi-finalists are, as arranged by the time they will have second interviews on July 30:
 
8:45-9:15 a.m.: Boone Circuit Judge Steven David, who's been on the bench since 1995 and also has
had an active career with the Army Reserve. The judge said that he didn't plan to re-engage in active duty and that
he could retire anytime, so his service wouldn't impact any judicial duties. He discussed his views on the use of international
law in considering constitutional issues here. The judge also delved into his work drafting new parenting-time guidelines
and the comments that are easy to understand for lawyers and litigants, as well as his experience as a special judge handling
the high-profile Zolo Azania death penalty case where he ruled the state couldn't proceed with that sentence after 23
years of delays and new trials. The state Supreme Court reversed him 3-2, and Judge David said he supports the idea of the
death penalty in the right circumstances.
 
Fisher
9:15-9:45 a.m.: Thomas M. Fisher, who has been Indiana's solicitor general since the office was created
in 2005, and previously worked in the Attorney General's Office. Before joining the AG's Office, he had worked
at Baker & Daniels in Indianapolis and Jones Day in Washington, D.C. Fisher told commission members that he'd wanted
to be a judge since clerking for Judge Michael Kanne on the 7th Circuit Court of Appeals, and that through the years he'd
fine-tuned that consideration for where he would want to work. His current job won't last forever and this justice position
is the next logical step that fits well with his "career trajectory," he said. He outlined characteristics for
an ideal justice as someone having intellectual curiosity, a sense of fairness, dispassion, and "open-mindedness about
where the law can take us."
 
Emkes
9:45-10:15 a.m.: Johnson Superior Judge Cynthia S. Emkes, who's been on the bench since 1987 after
serving as a magistrate and working in private practice. Judge Emkes talked about the intense population growth in her county
and how it's impacted the court system, ending the random rotation of case filing and allowing judges to instead divide
up amounts and specific types of cases. She also spoke about the emotional experience handling death penalty cases, such as
the Michael Dean Overstreet case in 2000, and told members that it would be an honor for all Indiana trial judges to have
one of their own appointed.
 
Boshkoff
10:30-11 a.m.: Indianapolis attorney Ellen E. Boshkoff, a partner at law firm Baker & Daniels for more
than a decade and practicing for more than 20 years. During her interview, Boshkoff mentioned she'd been in the trenches
and argued cases at both the trial and appellate levels and told members about her desire to learn more. Members delved into
her background clerking for the 9th Circuit Court of Appeals, and she explained her views that the economy was the biggest
challenge the judiciary faces.
 
Mulvaney
11-11:30 a.m.: Indianapolis attorney Karl L. Mulvaney, who's been practicing since 1977 and is an
appellate attorney with Bingham McHale. Drawing on Mulvaney's service as Indiana Supreme Court Administrator from 1984
to 1991, the chief justice noted that he'd observed proceedings around the conference table in that room more than almost
anyone. Mulvaney said it would be a "pinnacle" for any appellate lawyer to join the court, and he stressed the
importance of being collegial, open-minded, and willing to listen. In response to a question about his appellate-only experience
and lack of trial-level experience, Mulvaney said that he'd worked closely through the years with many trial attorneys
and tried disciplinary, mandate of funds, and many other cases before the appellate courts.
 
Steele
11:30 a.m.-12 p.m.: State Sen. Brent E. Steele, R-Bedford, who's served in both the House and Senate
and works as an attorney with the law office of Steele & Steele. The senator said his legislative work on both sides of
the aisle has prepared him for the court, and he spoke about his lifetime commitment to public service. He spoke about his
support of merit-selection versus judicial elections, and said campaign fundraising typically involves at least a public perception
that a legislator will vote a certain way.
 
Moberly
1:15- 1:45 p.m.: Marion Superior Judge Robyn L. Moberly, who's been on the bench since 1997 and previously
had been a commissioner after working in private practice. She spoke about her experience handling various aspects of law,
and said she loves to write and almost always takes cases under advisement for that writing and intellectual process.
 
Nation
1:45-2:15 p.m.: Hamilton Superior Judge Steven R. Nation, who has been on the bench since 1995 and previously
served as Hamilton County prosecutor. During his interview, he pointed out his experience as a prosecutor and judge and spoke
about his efforts to try and reach kids early on to keep them out of the system later in life. As a judge, he tries to ensure
consistency on the bench to give clear guidance to attorneys and litigants. Specific cases he mentioned included the Geist
zoning case, which he said entailed 30,000 pages of documents.
 
Drew
2:15-2:45 p.m.: Bloomington attorney Kiply S. Drew, who has served as associate general counsel at Indiana
University in Bloomington since 1994. She told commission members during her first interview that she'd be good as a
justice based on her intellect, writing ability, and appreciation for the role of the court.
But aside from those selected as semi-finalists, some of the most colorful and interesting comments came up during the two
days of interviews and demonstrated the state bar's colorful characters.
For example, Indiana Court of Appeals Judge Elaine Brown was the only appellate jurist to apply for the post and unlike most
applicants, she relied heavily on a prepared speech lasting more than 10 minutes to outline her initiatives and other ideas
for the court. Lake Superior Judge Mary Beth Bonaventura stressed her experience handling juvenile cases, and made the statement
that despite her groundbreaking involvement in televising juvenile proceedings that she didn't generally think those
types of cases should be televised to the public because of the sensitive nature.
During Miami Superior Judge Robert Spahr's 20-minute interview, he discussed his two decades of experience as a child
services attorney and harshly criticized the current direction of the state's Department of Child Services and financially
motivated decisions about juvenile justice. As a trial judge, he's too concerned with micro-managing and service cuts
and that makes his job more difficult. Judge Spahr also noted that he felt trial courts are often "confused" by
appellate direction because there's not enough direction or clarity, and he urged members to visit his personal website
promoting his books to see how good a writer he is.
But one of the most interesting interviews came from Steuben Circuit Court Judge Allen Wheat, who'd opened his interview
by telling members that he isn't "the sharpest knife in the drawer." The judge asked members rhetorically
why litigants in a civil money case can get automatic judge changes but criminal cases involving liberty cannot. He also noted
the rise of mediation in the past two decades has diminished the number of great trial lawyers, and how that has impacted
the civility and professionalism of the practicing bar.
Ending his interview, Judge Wheat offered a monologue to the commission.
"How about a story, if that's OK," he said. "About an hour ago I was terribly nervous. For some reason
I envisioned this antelope running across the African savannah. And he was going just as fast as he could. His heart was pounding
and his nostrils were flaring and then all of a sudden there appeared a lioness that went right for the antelope's throat.
The antelope screamed in pain, rolled over, died. It's over.
"I don't wish to be that antelope," he said.•
Please enable JavaScript to view this content.