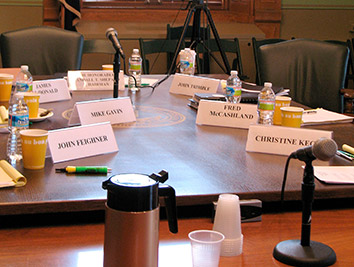 One set of interviews remain before the Indiana Judicial Nominating Commission goes into a closed-door meeting to deliberate which three names should be sent to the governor to decide who will be the state's next Supreme Court justice.
The seven-member commission this morning interviewed six of the nine semi-finalists to succeed Justice Theodore R. Boehm once he retires in September. Almost three dozen applicants had put their name in the hat for the justice spot, and two days of interviews in early July narrowed that list to nine semi-finalists. The commission is tasked with providing three finalists' names to Gov. Mitch Daniels, who will have 60 days to make a decision.
Interviewed so far today: Boone Circuit Judge Steven David, Indiana Solicitor General Thomas M. Fisher, Johnson Superior Judge Cynthia Emkes, Indianapolis attorney Ellen Boschkoff with Baker & Daniels, Indianapolis attorney Karl Mulvaney with Bingham McHale, and State Sen. Brent Steele, R-Bedford. Those being interviewed this afternoon are Marion Superior Judge Robyn Moberly, Hamilton Superior Judge Steven Nation, and Indiana University associate general counsel Kipley Drew.
Each person began their 30-minute interview with a congratulatory welcome from Chief Justice Randall Shepard, who chairs the commission. He then asked each semi-finalist to address a two-part question sent out by the commission earlier this week:
"What do you consider your finest professional accomplishment or contribution?" and "Name two things that need improving in the Indiana court system that a justice might help solve."
Some of the semi-finalists mentioned technology as a key area the judiciary must focus on, including Boshkoff, Judge David, and Steele.
"As a member of the court, with my experience in the legislature, I can keep the Odyssey program on track," Steele said, adding that he'd be in favor of seeing the Supreme Court establish a sort of "mini-law school," or indoctrination program for new lawyers to learn the basic tenets of the law and how to apply those to their practices.
Judge David responded to one commission member's concern about his military career and said it wouldn't interfere because he'd finished his service, and overall his military experience and international law knowledge make him unique among the nine semi-finalists in bringing something new to the court.
In talking about his greatest accomplishments, Fisher discussed the three Supreme Court of the United States arguments he's made through the years. As far as changes, he noted that the court might explore allowing merit briefs similar to what the SCOTUS allows and possibly look at changing evidentiary rules to mesh with what's already in place in the federal system.
Judge Emkes spoke about her biggest accomplishment as being her familiarity with and education for trial judges on the death penalty, given her history in that area. She also spoke about expanding problem-solving courts to include business areas, and also the need to establish best practices for criminal sentences and alternatives.
In response to the advance question, Boshkoff said that her review of court activity shows her that access to justice and civil litigation costs are the two top areas that the judiciary must address. She praised the court's action on IOLTA accounts, court interpreters, low-cost ADR, civil legal aid, pro se litigants, and the mortgage foreclosure crisis, but said more needs to be done as far as access is concerned.
Once the interviews end today, the nominating commission goes into an executive session to discuss who the finalists should be. The process could be quick or take hours – members were able to narrow the initial 34 applicants to nine semi-finalists in about two hours.
Reflecting on that decision and how the semi-finalists view it, Judge David provoked laughter from the commission when he talked about how he felt about waiting to know who'd move on to the final round.
"This is like being nine little birds in a nest… You're flying overhead with a worm, and we're all waiting with our mouths open wanting that one worm," he said. "Now I know what a bird feels like."
Please enable JavaScript to view this content.