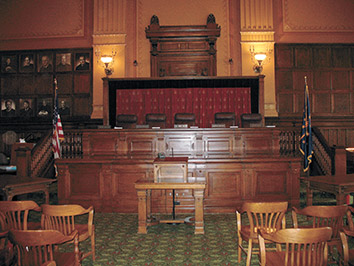 The Indiana Judicial Nominating Commission has completed its work.
Now, it's up to Gov. Mitch Daniels to decide who'll be the next Indiana Supreme Court justice.
Following a full day of interviews Friday, the seven-member Indiana Judicial Nominating Commission choose Boone Circuit Judge
Steven H. David, Marion Superior Judge Robyn L. Moberly, and Indianapolis appellate attorney Karl L. Mulvaney from a list
of nine semi-finalists to forward on to the governor for consideration.
Whoever is chosen will be the Republican governor's first appointment to the state's highest court, the first
new justice since 1999, and he or she will succeed Justice Theodore R. Boehm once he retires from the bench Sept. 30.
Aside from the three finalists, those who made it past the first round of cuts were: Indianapolis attorney Ellen Boshkoff
with Baker & Daniels; Indiana University associate general counsel Kipley Drew; Johnson Superior Judge Cynthia Emkes;
Indiana Solicitor General Thomas M. Fisher; Hamilton Superior Judge Steven Nation; and State Sen. Brent Steele, R-Bedford.
Each person began their 30-minute interview with a congratulatory welcome from Chief Justice Randall Shepard, who chairs
the commission. He then asked each semi-finalist to address a two-part question sent out by the commission earlier this week:
"What do you consider your finest professional accomplishment or contribution?" and "Name two things that need
improving in the Indiana court system that a justice might help solve."
All raised points about what they might tackle if they were a member of the court, and then responded to other questions
posed by commission members – their views on approaching issues of first impression, how they might compliment the current
court makeup, what the judiciary's three most pressing issues are, and how justices should factor in political, economic,
and social ramifications in decision making.
Judge David said the biggest challenge is how the state judiciary stays efficient and relevant without much money, and he
said more centralized operation and coordination between the 92 counties must be explored. The court must be as open and transparent
as possible in order to make sure litigants have adequate access to justice. The judge noted he wasn't afraid of cameras
in the court, and he said the JTAC statewide case management system is an important part of that.
Mulvaney told the commission that his experience in handling attorney ethics matters is his biggest accomplishment, and potential
changes might include how judicial mandates are handled and possibly a rule revision on how long juvenile cases can have to
be briefed on appeal. One commission member praised Mulvaney's appellate experience and also allowed the attorney to
delve into his experience as Supreme Court Administrator and how that gave him experience in many issues before the court.
In the last of the three finalists to face their interview, Judge Moberly discussed her pride in being involved in the state's
Family Court Project since the beginning almost a decade ago. But she also said that the growing number of pro se litigants
is one of the judiciary's biggest concerns, and that one idea that could help might be creating a public-law librarian
program modeled after how the court recruits teachers to educate kids about the Third Branch. She also explained the importance
of managing the inevitable statewide court system changes, and how statewide funding is a significant point to consider. She
said regional funding might be a step in that direction because everyone might be more able to easily agree on that.
After hearing Judge Moberly speak so passionately about her family and trial court work, one commission member asked her
why she wanted to move to the Supreme Court despite her loving what she does now.
"I know there's another chapter in my career… I hope this is the next chapter, but I know there's
something more for me out there and I hope it presents itself here," she said. "If not me, who would do it?"
A full rundown of the interviews by all nine semi-finalists can be found at the Indiana Lawyer's blog, First Impressions.

The governor's general counsel, David Pippen, said a 60-day clock begins once Daniels receives an official evaluation
report on the three finalists from the nominating commission; that's expected next week, he said. Interviews will likely
be scheduled "pretty quickly," and there's really no set procedure for how that interview process will happen.
Whether one interview will take place or finalists will be invited back for a second informal interview hasn't been
determined, but it will be up to the governor to decide. Pippen said he doesn't expect the governor will come close
to running the 60-day deadline, but if Daniels doesn't meet that deadline, the chief justice would make an appointment
from the same list.
 
Please enable JavaScript to view this content.