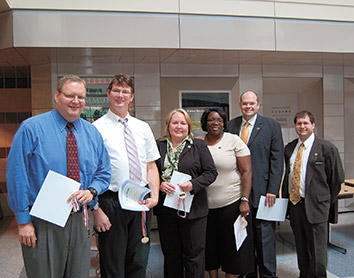 An annual highlight for participants, mentors, and organizers, the summer institutes for Project Citizen and We The People have once again actively prepared teachers to present civics lessons so students can understand and become responsible citizens.
The Indiana Bar Foundation civics education team hosted the summer institutes at the Indiana University School of Education in Bloomington – one for Project Citizen in June and another for We The People in July. Participants come from Indiana and neighboring states.
Problem solving
Project Citizen is a program that enables students to solve a problem in their community in a creative way while learning how government officials are able to solve the problems of their constituents. The teachers also learn what their students will experience as they work on community projects that help instill a sense of pride in themselves and their communities.
This year brought one change. Indiana was among just a handful of states to include a new focus: international human rights. It's a subject that is often talked about among students and teachers in other countries, particularly countries that have written their constitutions since the Universal Declaration of Human Rights was written more than 60 years ago.
Almost two dozen registered teachers were engaged in the weeklong conference. The opening day discussion was led by Dr. Dan Prinzing, education director of the Idaho Human Rights Education Center. Prinzing, along with Indiana teachers Scott Frye and Lynnette Wallace, served as mentors to the teachers at the institute.
Organizers Erin Braun, Kyle Burson, and Eric Steele said the mentors were an invaluable resource to the teachers at both institutes, as they have gone through the program themselves and were able to help the teachers troubleshoot and consider any issues they may face when back in their own classrooms.
Prinzing talked about how teachers can share with students what they need to know in terms of basic knowledge, such as laws and how policy works, how to use that knowledge to cause change through voting and other means, and why the students need to care or else the other two things don't matter.
As an example, one teacher in the room said she had a student who was stopped by police. As a result of that student's experience, she rewrote her curriculum for that class and the students worked on a list of things for juveniles younger than 18 to know if they ever needed to interact with law enforcement.
Frye then explained the two civics standards in Indiana are the steps of how to excel as a citizen – voice opinion, monitor government, and effect and evoke change; and the character traits of a good citizen – participation, cooperation, responsibility, and the newest, respect for others.
Wallace also explained how the projects for Project Citizen work: students first choose a problem to address, such as a littered park; they come up with a few alternative solutions; they propose which policy would be the best; and then they decide on an action plan to present to community leaders who can help implement the project.
Other highlights of the week included: Indiana Rep. Chester Dobis, D-Merrillville, who has served since 1970; and former Project Citizen students who shared their experiences with the program.
Active learning
This summer's weeklong We The People institute hosted about 50 teachers from elementary, middle, and high schools in Indiana, Ohio, and Kentucky.
Similar to the Project Citizen institute, teachers learned what their students will be taught, including the six units for We The People: philosophical and historical underpinnings of the Constitution; writing of and debates about the Constitution; Civil War and President Abraham Lincoln through the civil rights movement; modern day functions of the branches of government and federalism; Bill of Rights and civil liberties; and current applications of the units and international relations.
Throughout the institute, they also prepare and ultimately present mock congressional hearings before those who've judged or worked with students in the past, including many attorneys.
The teachers also learned how to present to the students. For instance, during the discussion about a unit that covers the modern functions of the branches of government, Robert Dion, a political science professor at the University of Evansville, said this unit is of interest to students more than some others because it has to do with current events. If nothing else, students do or at least should know who the president is and may have also heard their parents gripe about Congress as a whole or certain members in the news.
He also used pop culture references to explain the difference between empirical questions of fact and normative questions of value, as well as the imperfections of the Constitution.
For instance, he said some questions were too "Pat," and showed a photo of the androgynous Saturday Night Live character, Pat, to illustrate that some of the questions would be ambiguous, but that was OK because students understand there isn't always a clear-cut answer to the questions they ask. He added some of these "Pat" questions will make for more work for the teacher and students, but the learning process and research will be worthwhile in the end.
Shawn Denney, an eighth-grade social studies teacher at Shortridge, the Indianapolis Public School system's magnet school that focuses on law and public policy, said he looks forward to teaching the We The People curriculum to his students.
"We The People encourages students to be critical thinkers in its approach to teaching civics in the classroom," he said via e-mail. "Instead of being lectured about history, students participate in history by analyzing the ideas of the original framers of the Constitution and then presenting those same concepts in a group setting. We do this in the individual classroom, between other classes, and formally and informally with other schools. The participator nature of We The People seems to help students retain the information. Team work, analytical thinking, research, and public speaking skills are some of the side effects We The People gives Shortridge students."
While Project Citizen and We The People are funded via congressional allocation, the civics education staff who organized the event is supported by the Indiana Bar Foundation. Their funding partly comes from IOLTA funds, which are low this year because of low interest rates. They also are receiving funds from the "An Hour for Civics" program, available online at www.inbf.org/an_hour_for_civics.
As of mid-July, volunteers had raised more than $21,770, "which makes us almost halfway to our goal," said Theresa Browning, IBF director of development and communications. "More than 80 attorneys have donated 'an hour' so far. I'm not sure what the average billable hour is, but for this campaign it's $265 – slightly higher than last year."
She said this is the second year of the campaign and added two firms have signed on for five years of support as charter "Visionary Supporters": Taft Stettinius & Hollister, and Barnes & Thornburg. As such, the firms commit to a gift of $2,000 a year for five years knowing that supports at least one classroom of students. She said the IBF will sign up firms statewide until December.
The money raised by the campaign will help pay for staff time and resources to organize events such as the summer institutes, teacher training and development, state and district competitions, and all the phone calls and staff time answering teachers and administrators questions as new programs begin.
Bob Beasley, IBF president and in-house counsel for Albany-based Paws Inc., said he thought the civics education programs were a hidden gem in Indiana and wished that more people knew about them. He said he has participated as a judge at the state and national level for We The People, and that any time he mentioned he was from Indiana, participants from other states knew of the program's strength right away: The Indiana team has consistently placed in the top 10 almost every year since the IBF took it on several years ago.•
Please enable JavaScript to view this content.