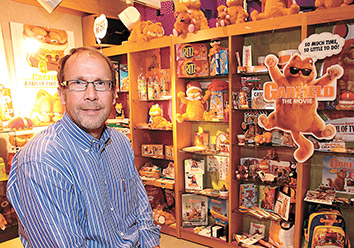 It may be surprising to some that a global phenomenon – with a daily newspaper, TV, and overall cultural presence in
63 countries and translated into 23 languages – has only one in-house lawyer to represent his interests. That phenomenon
is Garfield the cat, the larger-than-life orange tabby who hates Mondays, loves lasagna, and is created and recreated on a
regular basis at the Paws Inc. studio in Albany, just outside of Muncie. According to the company, 96 percent of the world
population knows and loves the finicky feline.
Attorney Bob Beasley has represented Garfield-creator and Hoosier Jim Davis since the early 1980s. Beasley worked in his
father's Muncie law firm at the time he began his representation, but he left the firm in 1991 for a job at a title
company.
In 1993, Davis asked Beasley to come on board full time to represent his work; Beasley is and has been the only in-house
attorney in the office most of the time since then.
Most of Beasley's work for the company relates to intellectual property matters: copyright issues, licensing agreements,
contracts for TV shows – including one now airing on Cartoon Network – and movies, such as the two live-action
films that starred Bill Murray as the voice of Garfield.
Another aspect of his work is seeking out counterfeit Garfield products, particularly in Asia and Latin America. He did more
of this shortly after Davis was able to purchase the rights to his comic strip character from the newspaper syndicate in 1994.
However, the company now has enough people in place around the world to help be on the look out.
When it comes to the licensing aspect of his job, which is a good portion of the work, he said Davis and his wife, Jill,
first approve all requests before Beasley sees them.
However, among the more interesting requests he said are grave stones and toilet seats. He said the grave stones are sometimes
specifically mentioned in a person's funeral arrangements and he suspects that they are mainly for people who were affectionate
or just big fans of Garfield.
For the toilet seat licensing request, however, Beasley was a little skeptical at first; he was surprised to learn later
that they are a pretty big seller for Garfield-themed bathrooms, particularly for kids.
On a tour of all the licensed products at Paws Inc. – which are all designed in house – Beasley also pointed
out a computer keyboard with a Garfield image over the keys, baby clothes, and back-to-school supplies such as backpacks,
watches, and leather jackets.
Another aspect of his job is working with a non-profit organization, Professor Garfield, which is a partnership between Paws
Inc. and Ball State University. Ball State provides the educational component of a website to promote literacy among children
who are in kindergarten and first grade. Paws Inc. then provides the creative and Garfield stories to engage the students
and teachers who use it. The website for the organization is www.professorgarfield.org
He is also an active member of the Indiana Bar Foundation, for which he is serving as president after spending about half
a dozen years on the board of directors.
He said his father was a strong influence on him when it came to why pro bono work was important for lawyers, and the organization
appreciates his work.
"Bob's been a great leader in sharing our civics message with fellow attorneys in both one-on-one meetings and
at larger events," said Theresa Browning, IBF director of development and communications. "He spoke passionately
recently to our fellows about how Indiana's civic education programming is held in high regard by other states. …
I've also heard him speak passionately about the impact of [Interest on Lawyer Trust Accounts] rates on pro bono assistance.
He obviously cares deeply about providing access to justice for our citizens."
He compared the company culture to some of the intellectual property firms with which he has worked, although the company
focuses on the creativity of the employees and is more artist heavy. Other firms and companies he's worked with while
representing Paws have seemed to have more business people and fewer artists.
Because of this, Beasley said he was a little unsure how he'd fit in as the only lawyer when he first started. But
he said he has felt nothing but welcome by Davis and the other staff since he started there.
Beasley recently opened a general practice in downtown Muncie with Davis' permission. A happy accident in this case
was Beasley's son, Samuel, who learned he passed the bar in May and is a fourth generation lawyer, will work with him
at the firm.
But opening a new firm doesn't mean Beasley's work at Paws has slowed down, it's just that he wanted to
take on some outside legal work so that when he's ready to move on, it will be an easy transition to represent other
clients and continue the practice of law.
"I love my work here, but at this stage in my career I wanted to get a foot back into private practice," he said.
"I missed the variety and the personal nature of private practice."
Beasley said his father continued to practice into his 70s, something Beasley admired and hopes he will also be able to do.
But realistically, he didn't think he'd be in-house counsel for the company forever.
But while he remains at Paws, he is a respected member of the company.
"Currently, Bob does provide all the legal licensing contract services for our Global Licensing of the Garfield brand
and of course all other legal issues for our company," said Tom Greiwe via e-mail. Greiwe is a certified public accountant
who serves as chief financial officer for Paws and works directly with Beasley. 
"Beyond this and more importantly, Bob is a member of the top level management of our company," he added. "His
input and advice are invaluable and are always sought out. He has the ability to be presented with a convoluted scenario and
reduce it to a practical working conclusion. Bob is extremely respected by ownership and his fellow employees, and all of
us find it a pleasure to work with him."•
Please enable JavaScript to view this content.