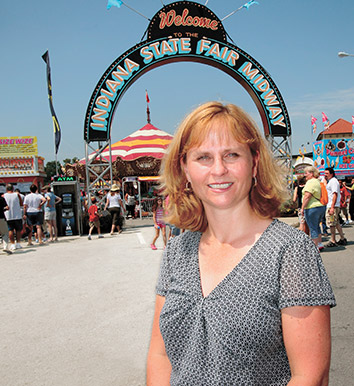 There are only a few days left to experience corndogs, lemon shakeups, deep-fried butter, doughnut hamburgers, a ride on
the Ferris wheel, the various farm animals brought to Indianapolis by 4-H members from around Indiana, and other attractions
of the Indiana State Fair.
While some things are new this year – a show featuring bears and an exhibit that explores the culture of Japan, for
instance – one that most fairgoers will likely not even notice is the recently enhanced partnership between the state
attorney general's office and the state fair.
For the duration of this year's fair, two deputy attorneys general from the Advisory and ADR Services Division have
been at the fair for part of the time, and were on call at other times just in case they were needed for potential legal situations.
Anne Mullin O'Connor and Susan Gard had worked with the fair in the past, but after the person who was handling contracts
for the fair left, the fair worked out an agreement with the AG's office instead of hiring someone to replace that full-time
employee.
The fair also split that former employee's duties among other offices, but this solution was a creative way for the
state to save some money, O'Connor said, adding she has enjoyed being able to work with and at the fair this summer.
Part of the job Gard and O'Connor took on was to help improve and streamline the fair's contracts, something
executive director Cindy Hoye said has always been a priority.
With the thousands of contracts the fair handles every year having to do with vendors, exhibitors, the midway, animals, performers,
and others, she said much attention must be paid to the details.
"For the contracts we issue, those are updated all the time," she said. "We believe our business approach
is that we are doing a great job, and we can always do better. … We usually discover something that gives us cause
to pause on some use of terminology or how we could better word things to improve the process."
And the contracts vary widely even for seemingly similar events, O'Connor said.
For instance, a concert with a band like KISS, who performed to a sold-out crowed of about 13,000 Aug. 9, would have different
issues than Selena Gomez, who is known for her roles on Disney Channel shows and performed to a much different audience Aug.
15.
She said the contracts are probably more or less the same as any other concert, "but there just happens to be a fair
going on around the concert."
Hoye said the contracts for performers include fairly standard language, but include some fair-specific clauses including
alcoholic beverages are prohibited on the fair grounds, and that performers need to be aware profanity is not encouraged.
"It's not our intent to censor the performers, but we want them to be sensitive to the family-oriented nature
of the fair," she said, adding that someone who happens to be at the fair during a performance, but not actually sitting
in the grandstands, might still overhear what the performers are saying.
She said the performers on the smaller stages have "boiled down" versions of the contracts of the grand-stand
performers.
Other than contracts, Gard and O'Connor have been available to make sure safety precautions are followed in terms of
how the animals are handled, and safety for the visitors – food preparation, midway rides – and to make sure Red
Cross workers are handy in the event someone is overcome with heat-related illnesses.
"The No. 1 priority is to make sure customers and vendors and exhibitors and employees have a safe place to come and
visit," Hoye said. "That's our No. 1 priority. After it's safe, then we'll entertain them."
For instance, the fair has a 23-page booklet about the handling and care of animals, and a 43-page booklet for the fair's
biosecurity plan. The latter contains information about hand-washing stations, which are all over the fairgrounds, and directions
about how to prepare and use bleach solution for cleaning when needed.
O'Connor said there is also a strong presence of state police and Indianapolis Metropolitan Police Department officers
at the fair to keep an eye on things. While she said there typically isn't much criminal activity at the fair, compared
to other state fairs Indianapolis is in a more urban location, making it more accessible and more diverse than other state
fairs.
She added the AG's office would help handle any claims of slip-and-fall injuries. This would include a visit to the
site of the reported incident to determine what happened and what would potentially need to be fixed to address those claims.
But Hoye and O'Connor said that the fair's main purpose is to focus on the agricultural aspects of Indiana. This
year's focus is pork, but beyond that they said the fair strives to encourage a good atmosphere for Indiana residents
to learn about farms and the animals, while giving 4-H participants and others a chance to share what they've done over
the year.
But like any contest, there are rules to be followed – something Gard or O'Connor could be called in on. However,
O'Connor said that most of the animal areas already have their own experts to act as mediators to handle most incidents.
And in the past when there have been problems involving contestants – mainly positive drug tests of the champions and/or
random participants, or when the person presenting the animal isn't the same person who raised the animal – there
is an appeals process. But in most cases, that person will usually admit he got caught doing something wrong. Of all the contestants,
there is maybe only one appeal per year, sometimes none, but usually no more than three.
Overall, O'Connor said she didn't anticipate any major issues, and had nothing to report as of Aug. 13. She said
with this job, "You never know where you'll end up. That's what makes it fun. It's not like the standard
state job where you're at a desk all day." •
Please enable JavaScript to view this content.