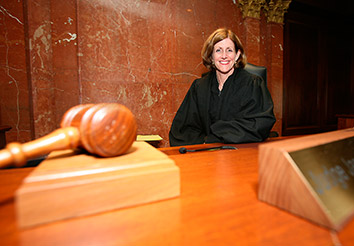 In her 15 years on both the state and federal benches, Judge Jane Magnus-Stinson has had only one time when she's feared for her safety inside her courtroom.
That was when a criminal defendant threatened and charged at her after the then-Marion Superior judge had just denied that he be released on his own recognizance.
"Fortunately, the court line officers moved immediately and subdued him somewhat peacefully," said the judge, who left the state bench to become a federal magistrate three years ago and is now a judge in the U.S. District Court, Southern District of Indiana. "But the part that scared me most of all was when he took off, and his lawyer ran to the opposite end of the courtroom … You wonder what might happen."
That is the concern for any judge who faces danger regularly from unhappy litigants and wonders whether the next written or spoken threat could be the one that means real-life peril. You never know.
With that uncertainty, a federal case out of Brooklyn takes on an important message in how judicial safety intersects with someone's free speech rights. Three 7th Circuit Court of Appeals judges – Chief Judge Frank Easterbrook and Judges Richard Posner and William Bauer – say they felt threatened when a New York blogger wrote online that the trio should be killed for their June 2009 decision that upheld a Chicago gun ban on grounds that the Second Amendment didn't apply to the states.
Specifically, blogger Hal Turner read the ruling and then criticized the judges, saying they were "traitors" and "tyrants." He also wrote that the reason so many judges ignore the U.S. Constitution is because "… they have not, in our lifetime, faced REAL free men willing to walk up to them and kill them for their defiance and disobedience. Let me be the first to say this plainly, these judges deserve to be killed. Their blood will replenish the tree of liberty; a small price to pay to assure freedom for millions."
The U.S. Attorney in Chicago argued that the online posts amount to threats, that Turner saying that the judges "deserve" to be killed is a threat to actually go kill them. Turner argued that is his opinion, which is protected by the First Amendment.
His first two trials – in December 2009 and in March 2010 – ended in mistrials after the juries couldn't reach a decision. A third trial began Aug. 9 and continued that entire week.
Turner testified that his comments were no more than political hyperbole and protected speech. He also testified that it was not a call for action against the judges, who were not harmed and had previously testified they hadn't increased their security because of the comments.
But the prosecution worked to show Turner's comments – combined with the posting of the judges' office addresses, photo of the building where they worked, and a map of the area – amounted to an attempt to motivate an attempt to harm the judges and provide the information to facilitate that.
Posner
The judges testified that that they took his postings to be threat on their lives but that they hadn't requested additional security at any point because of them.
Turner faces up to 10 years in prison; a jury found him guilty Aug. 13 of threatening to kill or assault the judges.
To Indianapolis-based First Amend-ment attorney Dan Byron, the case doesn't present much question that Turner's conduct was over the line.
"Normally, you can have some great defenses on the First Amendment, and caselaw has upheld laws on strong and outrageous speech against those running for office … even judges," he said. "But there are limits, and this is a different situation. Just like you can't yell 'fire' in a crowded theater, caselaw is very clear that you can't advocate the killing of a person."
Without any connection to the case or particular knowledge of the Turner case, Byron said he views this as a clear example of someone going too far. Posting the judges' addresses and location photos of where they work shows the intent, he said.
In the greater context of judicial safety, he understands the potential concern if the jury wasn't able to determine this kind of conduct was over the line and might be permissible under the First Amendment.
"This is a pretty scary thing, and in my opinion it goes beyond the bounds of free speech," Byron said.
But that case aside, Indiana judges say the legal community and court system are still on edge and trying to stay more mindful of safety following a 2005 shooting of an Atlanta judge and another that year in Chicago, where an unhappy litigant broke into the home of Northern District of Illinois Judge Joan Lefkow, lurked in the basement, and shot her husband and mother before committing suicide. Threats against federal judges hit record-setting paces following that, and many turned more attention to the lapses in security inside and outside a courthouse.
Easterbrook
The U.S. Marshal's Service reports that thousands of judges have installed security systems at their homes in recent years and a majority in Indiana have opted for that, while the office nationally investigated nearly 1,400 threats and inappropriate communications against judges during fiscal year 2009.
Judge Magnus-Stinson said she feels safe in the federal courthouse in downtown Indianapolis. She met with the Southern District's newly confirmed marshal, Kerry Forestal, shortly after her own judicial confirmation and voiced her appreciation for the level of safety in the courts. She also suggested that he look at the multiple courtrooms and explore the placement of marshals in each one, and that he do reviews on escape prevention and judicial safety overall.
That time Judge Magnus-Stinson faced danger while on the bench came in 2003 in the case of State of Indiana v. Schroeder, No. 02189466. That defendant had a long history of mental-health issues, and when she issued a decision not to release him on his own recognizance, he came toward the bench and charged at her. The bailiff protected her, and she ultimately requested personal protection from the sheriff's office after that and recused herself from the case.
Aside from that, she has received other threats from time to time. She noted one letter that referenced her children; the prosecutor sought stalking charges and obtained convictions on that matter.
"We are always keeping up with tools and trainings on how to manage our safety," she said. "That's indicative of the level of priority that our system places on safety. That's something you always have to be vigilant about, keep your guard up and be responsive to whatever happens."•
Please enable JavaScript to view this content.