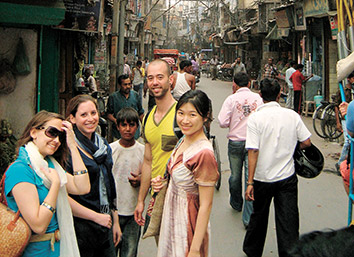 Ties between an Indiana law school and India were strengthened this summer as six students completed legal internships and
a professor began a study of that country's trial courts.
Indiana University Maurer School of Law – Bloomington announced Aug. 19 that over the next three years Jayanth Krishnan,
a professor and director of the Center on the Global Legal Profession's India Initiative, will be a project director
for the study that will look at district courts in three different Indian states, as well as forums for alternative dispute
resolution in India.
In addition to Krishnan's work, six students who recently started their second year of law school were the first Milton
Stewart Fellows to travel to India this summer. The students worked for non-governmental organizations, law firms, and the
Indian Solicitor General's Office. They all lived and worked in New Delhi for at least six weeks; two of the interns
stayed an additional two weeks.
Both programs are important to the India Initiative, said Ramla H. Farzad, executive director of the Center on the Global
Legal Profession.
 
The study relates to the research component of the center, while the internships offer a practical component to students.
The two components complement each other, she said.
Research component
The study Krishnan will work on is funded by a $261,000 grant from the Ford Foundation, something he helped secure
by speaking with Ford-India.
He said he approached the organization about a study because, he said via e-mail while traveling, there wasn't much
academic information available about the trial courts and that most studies focused on the upper judiciary, especially the
Supreme Court of India.
 
Gandhi Smriti, a museum dedicated to Mahatma Gandhi.
"But that is only a sliver of legal life for most claimants," he said. "The fact is that most Indians who
deal with the courts do so at the lower court level."
Ford helped connect Krishnan to the National Centre for Advocacy Studies in Maharashtra, the main recipient of the grant.
That organization will also work closely with the Centre for Social Justice in Gujarat, and Jagori Grameen in Himachal Pradesh.
The study will focus on district courts in these three states, as well as various forums for ADR. These states were not only
chosen because of the organizations, Krishnan added, but also because of the social, economic, and political differences among
these states.
Cases there can take at least 10 years, if not 20 or 30, to come to a resolution through the trial process. He also said
there are between 30,000 and 40,000 cases pending before the Supreme Court of India, not to mention the tens of millions of
cases in the lower courts.
He cited a number of reasons for backlogs in the court. For instance, Indian trial courts are known for excessive granting
of continuances, numerous vacancies on the bench, poor court infrastructure, and many instances of interlocutory appeals that
tie up cases for years, he said.
 
Cycle rickshaw.
"Plus there is also the issue of how lawyers are paid in India," he said. "Most lawyers tend to be solo-practicing,
courtroom litigators. A good percentage tends to charge per court appearance, which many believe provides an incentive for
the lawyers to keep cases in court for long periods of time. Part of what we are going to be looking at in the study is the
extent to which this is true."
Krishnan said he and the others doing the study hope to determine what is going on in the trial courts, while also studying
ADR.
There are also different types of ADR that have existed in India perhaps since ancient times. There have also been various
attempts to have formalized forums for ADR since the end of colonialism in 1947, particularly during and after the 1980s,
he said.
"ADR is extremely diverse and entails many, many different types of forums. Some are state-sponsored, some are not;
processes, outcomes, satisfaction-rates, frequency of occurrence, predictability, and reliability all greatly vary. Some forums
have lawyers, some don't; the make-up of adjudicatory panels varies as well.
 
Krishnan
"ADR is available for many types of legal disputes in India, but the main question is what kind of justice is coming
out from these forums?" he said. "Because the regular courts are quite clogged and it takes lots of time for cases
to reach a final verdict, ADR is seen as a natural by-pass to the elongated court process. The problem though is with such
variation present within the ADR forums, there is real uncertainty as to how equitable outcomes are."
 
Overall, he hopes the three-year study will address the "empirical reality to the actual happenings within the lower
courts."
"Our goal is to confirm, verify, and/or reject whether this conventional wisdom is accurate based on rigorous data
collection. From there, we can then make substantive recommendations on how best to proceed," he said.
Krishnan said he plans to travel to India three or four times a year, and will discuss the study with his students.
Practical component
In addition to Krishnan's recently announced study, the first group of Milton Stewart Fellows traveled to
India for six to eight weeks this summer starting in mid-May.
Nicholas Dau-Schmidt was an intern at the law firm of J. Sagar Associates; Zachary Holladay worked for Jagori, a non-governmental
organization focused on women's rights in India; Erin Mihalik, also worked for a women's rights NGO, the Self
Employed Women's Association-Bharat; Erica Oppenheimer worked for Amarchand & Mangaldas & Suresh A. Suroff &
Co., India's largest law firm, followed by an internship at the Indian Solicitor General's Office; Jillian Rountree
worked for the Clarus Law Firm; and Renee Turner was an intern at The Dalit Foundation, an NGO focused on empowering the rights
of the lowest castes in India, followed by an internship at the law firm of Lalit Bhasin & Co.
Farzad said the center helped organize the internships by looking for funding to support the students while they were living
and working in India.
For instance, the NGO internships came about through a partnership with the Unitarian Universalist Holdeen India Program
and its director, Kathy Sreedhar, Farzad said.
Alum Milton Stuart of Portland, Ore., also helped fund the fellows. He, along with William D. Henderson, director, Center
on the Global Legal Profession; and Krishnan visited where the students would be working and living in February.
 
Farzad
Five of the students stayed at a hotel for guests of the O.P. Jindal Global Law School, which announced a partnership with
the Bloomington law school a year ago. The sixth student stayed closer to the law firm where she was working at a guest house
of one of the partners, Farzad added.
"What made this summer's internships so fascinating was they had such different experiences," she said.
For instance, one of the interns might work with an NGO and see people working in a field, while another would go to a lavish
birthday party in the evening. The interns would then meet up to talk about their days.
"There was this really stark contrast … the students picked up on and appreciated," Farzad said. "Everybody
came away completely altered."
While India was the first country to have interns from the center to this extent, she added there was a pilot program in
China for two interns. She said the center plans to expand the program to include opportunities for students in Brazil and
South Africa.
More information about the center, including journal entries from the interns, is available on the blog for the center, http://globalprofession.law.indiana.edu.•
Please enable JavaScript to view this content.