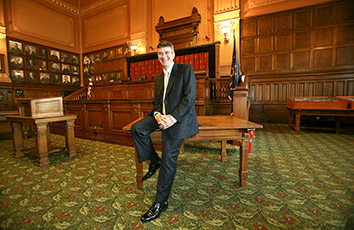 Judge Steven H. David said he would have been content staying in his job as Boone Circuit judge for the rest of his legal career.
But he took a chance, overcoming an initial doubt that he should apply for an Indiana Supreme Court opening and ultimately rising to the top of 34 attorneys and judges to become the state's 106th justice. He replaces retiring Justice Theodore R. Boehm.
 
Just as he'd once dreamed of being the first in his family to go to college, enroll in law school, and embrace a 25-year military career, the 15-year trial judge has once again achieved his dream that stems from his life goal of giving back through public service.
"I feel like I've won the Steve David professional lottery and I don't have to give the money back," he said about a week after hearing the news, stepping away from the annual judicial conference in Indianapolis to talk about his experience. "Everything in my life is about public service, and this is not something that I planned on doing but something that just came along. The lesson learned is it's OK to dream. Hard work can pay off."
Gov. Mitch Daniels announced his decision Sept. 17, selecting Judge David from a field of finalists that also included Marion Superior Judge Robyn Moberly and Indianapolis appellate attorney Karl Mulvaney. The governor said Judge David stood out for his distinguished years on the trial bench, his past experience as corporate counsel, and his longtime military legal career.
Following Justice Boehm's retirement announcement in May, Judge David was one of the initial 34 applicants for the spot. The Indiana Judicial Nominating Commission in July chose him as one of nine semi-finalists who'd return for second interviews before it narrowed the field to the final three. Click here to read Judge David's application.
Daniels
The governor said that from Judge David, he heard "the clearest expression of commitment to proper restraint in jurisprudence and deep respect for the boundaries of judicial decision-making. He will be a judge who interprets, rather than invents our laws."
Paving the way to justice
A 1982 graduate of Indiana University School of Law – Indianapolis, Judge David started on the Boone Circuit bench in 1995. Before taking the bench, he began his legal career as an associate working at Richard Eynon's law firm in Columbus where he'd been clerking for two years during law school. He handled primarily personal injury and general law during his time there before moving on to practice family law and civil litigation at the Columbus law firm that became Cline King King & David. He returned to practice with Eynon for almost two years before becoming corporate counsel in 1988 for Mayflower Transit in Carmel.
That took him away from Bartholomew County where he'd hoped to one day became a judge. Instead, he settled in Boone County, where he would ultimately serve on the bench.
Elected in 1994 and taking the bench in January 1995, he's presided over all types of civil, criminal, and juvenile matters. He also served as special judge by Supreme Court appointment, and hearing officer or special master in attorney and judicial misconduct cases. Some of his more noteworthy cases through the years have been his special judging on the Zolo Azania death penalty case in 2005 and the capital case of Mark Lichtenberger in 1999, which involved the execution-style shooting of a state trooper and led to a life without parole plus 20-year sentence.
Most recently Judge David presided over the ongoing disciplinary case against Delaware County Prosecutor Mark McKinney – a matter that he'll likely have to recuse himself on once it reaches the Supreme Court for a decision about potential sanctions. As juvenile judge in the county, Judge David also has been a vocal advocate for families and on juvenile law, and he's proud that through the years he's never been overturned on appeal in a parental-rights termination matter.
He's testified through the years about those issues, as well as speaking about other general legal matters and developing the Boone County Continuing Legal Education program.
But on top of that distinguished career in private practice, the corporate world, and as a trial judge, what made Judge David an even more fascinating choice was his distinguished military and related legal career. The son of a retired U.S. Air Force man, Judge David spent his early childhood on bases in the Azores near Portugal and in Oklahoma and Maryland before his dad retired and the family settled in Bartholomew County. That experience with military service led him to join the U.S. Army Judge Advocate General's Corps in 1982 soon after his law school graduation.
He remained in the Army Reserves and moved up the ranks to get special top secret clearance, receiving multiple military awards, and serving in various roles in active duty through the years. Judge David has helped reform the treatment of detainees in Iraq and served as chief defense counsel for Guantanamo Bay detainees, as well as served as military judge and legal advocate.
After a long and distinguished military career, Judge David retired from his service Sept. 1, which paved the way for his new role on the state Supreme Court.
"Everything I've done has helped prepare me for the next chapter of my life," the judge said. "I look forward to working with the absolute best Supreme Court in the United States, the absolute best Court of Appeals, and all the trial judges and every lawyer. Most importantly, I look forward to serving the citizens of the state of Indiana."
In the legal community, court watchers say that Judge David's varied experience make him someone who differs from the current lineup and will add a new dimension to the state's highest court. His appointment also shifts the court's balance in favor of those with past judicial experience, as he, Chief Justice Randall T. Shepard, and Justice Robert Rucker all hail from the trial or appellate bench while Justices Brent Dickson and Frank Sullivan came from the practicing lawyer ranks.
Reaction
Sitting in the courtroom where he'll soon preside, Judge David said he hopes he always remains in awe about being a part of such a professional, civilized, and historic part of the legal system. He said this appointment isn't about him and he's trying to remain modest, though he can't help smiling and chuckling when putting his head on the pillow at night.
Though he hasn't yet had the chance, Judge David said he plans to spend time researching the history of Indiana Supreme Court justices so that he knows more about those whose portraits hang on the walls of the ornate courtroom in the Statehouse. He still can't believe that his photo will be placed up there, and he can only hope to follow the leadership that Justice Boehm has displayed.
"I hope some aspect of my past is of benefit to the process," Judge David said. "This isn't about me, it's about the process, about embracing the rule of law."
Judge David said he hopes to add to the already-strong sense of professionalism and civility displayed by the court but doesn't know how his presence might shift the dynamic.
"I am going to be the same person I was, and that won't change," he said, adding that he hopes the other four justices are ready for that. "It hasn't set in, and I hope it never does. The moment you are not in awe about this courtroom or this process is the day you should quit."
Those who know Judge David say he'll offer a perspective on juveniles and family law that the Supreme Court doesn't currently have.
Boone County Bar Association president Michael Schultz, an attorney at Parr Richey Obremskey Frandsen & Patterson in Lebanon, said the governor couldn't have made a better a choice.
"While (we) fully appreciate the loss that will be felt with Judge David leaving the bench here, we also recognize that his experience and his considerable talents will be best utilized by serving not just the citizens of Boone County, but all citizens of our state."
Judge David is finalizing his work in Boone County before making the transition, which is expected in mid-October. The court's public information officer Kathryn Dolan said that means the court will see an 18-day gap where there are only four justices because Justice Boehm steps down Sept. 30, the day of his retirement ceremony. An investiture ceremony for Judge David is planned for Oct. 18 and that ceremony will be webcast live online; previous investitures are also archived online. The governor is responsible for selecting someone to succeed Judge David on the trial bench and complete the term that runs through 2012.•
 
Please enable JavaScript to view this content.