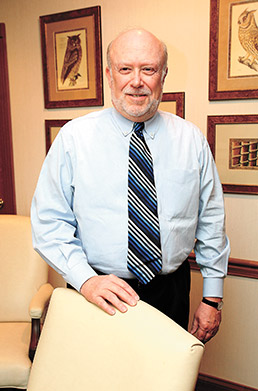 While many attorneys may want to do pro bono work, not all of them are comfortable taking on what could end up being a lengthy and possibly complicated family law case, which is the majority of cases the pro bono districts around the state tend to handle.
So when the Business Law Council of the Business Law Section of the Indiana State Bar Association decided to start the Pro Bono Program for Nonprofits, the intent was not only to help the organizations that otherwise couldn't afford legal help, but also to give an opportunity to business law attorneys who already have the expertise to deal with some of the issues.
 
The program's organizers, including F. Bradford Johnson of Ittenbach Johnson Trettin & Koeller in Indianapolis, plan to work more closely with the plan administrators of the pro bono districts in the coming months, including a discussion at the upcoming annual meeting held in conjunction with the ISBA annual meeting in mid-October.
While the pro bono representation is the main goal of the program, other goals include partnering with government and nonprofit organizations to conduct seminars and workshops around the state, and to have a list of mentors who would be available to volunteer attorneys when issues arise that the volunteer attorney may not be able to handle on her own.
Johnson said the business law section has about 850 members and the program has been received favorably.
"We want to create a referral network for small nonprofit organizations that have legal needs that aren't being met because one, they're small, and two, they're nonprofit," he said.
The program is similar to the Community Development Law Center in Indianapolis, which has concentrated its efforts on nonprofits and faith-based organizations in central Indiana with a focus on community improvements for about 18 years.
Jenkins
Sheila Jenkins, executive director of CDLC, met with Johnson when the idea for the program first came about.
"I think it is praiseworthy to have any kind of pro bono service available to nonprofits or faith-based organizations that have limited resources and need counsel," she said.
One difference between CDLC and the program is the CDLC rarely helps organizations outside central Indiana, and the business law section program plans to have a statewide reach. Johnson said he was trying to be mindful of what CDLC does when determining the program's structure.
For nonprofits that do have an interest in receiving free legal help from the program, there is an application that gathers information about the nature of the organization and what issues they would like to address.
Volunteer attorneys will also complete questionnaires about their expertise and what they are willing to do, and from there the attorneys will be matched with organizations in their area.
Nickloy
Jeffrey Scott Nickloy of Campbell Kyle Proffitt in Noblesville, a volunteer with the program, has been working with a nonprofit organization in Terre Haute. He has been working with the client since early this year and was willing to travel about two hours due to some of the specific issues the organization was facing.
While Nickloy used to handle pro bono family law cases when he was a family law attorney, and has continued to take a range of pro bono cases from time to time, he said he got involved with this particular program because he wanted to support the Business Law Council and Johnson's efforts for getting the program's structure together.
"The other part of the why was what the potential client wanted to do, which included some business reorganization work, along with overlying contract issues, areas I have a lot of experience with. I felt like I was qualified to tackle their issues," he said.
While he wouldn't name the client, other than to say it was a nonprofit organization that meets the needs of the Terre Haute community, he would say his pro bono representation has included meetings with the board of directors and an evaluation of their organizational documents. He has also looked over the contract issues that they have, including some leasing issues.
From there, he proposed a reorganization plan, including help with the appropriate language to achieve what the client wants to do.
"It is the kind of thing that I think the council had in mind when it adopted this program in the first place," he said. "To reach out and try to help not-for-profit organizations that seem to be serving a community purpose and need legal help and can't afford to hire somebody to do the things they need done."
He said based on this experience he would likely take another pro bono client for the program, but he wouldn't take on more than one at a time.
"Anything you can do to benefit a not-for-profit in your community usually ends up helping the community as a whole," he said.
Johnson added a number of attorneys have expressed an interest in volunteering, but so far they have received about a half dozen requests for help, in addition to a few questions that could be easily answered in a phone call or brief meeting.
"For instance, one wanted to get 501c3 recognition and didn't know where to start, so I got them started. There have been some situations like that, some calls from nonprofits concerned with their tax returns," he said.
Fennell
Monica Fennell, executive director of the Indiana Pro Bono Commission, said the plan administrators are aware of the program, but for the most part don't know much about it. She welcomed the opportunity for plan administrators who may get requests from small nonprofit organizations, but may not be able to handle them with their current pools of volunteer attorneys.
"Although the pro bono districts can train an attorney with nonprofit expertise to take a family law case, there are some attorneys who will never take a pro bono family law case but would be happy to take a pro bono project in their area of expertise," she said via e-mail. "This project should be very useful in providing a pro bono opportunity for attorneys with nonprofit skills and knowledge. I applaud the business law section for taking the initiative and creating this project to fill an unmet need."
R. Scott Wylie, a co-plan administrator for the Volunteer Lawyer Program of Southwestern Indiana, which oversees District 13 based in Evansville, said the program could fill a need in his district.
"In these times of increasing demand for services and downward pressure on fundraising, many nonprofit groups that serve vulnerable and low-income populations in Indiana don't have the funds to pay for an attorney when they need one," he said via e-mail.
"While many of our pro bono districts offer help to nonprofit groups like we do in Evansville, the need is still more than most of us can address. This is especially so in our more rural counties where there may be no local attorney familiar with nonprofit law. The work of the business law section should go a long way in helping to address that need. I hope their work becomes widely known and is utilized as yet another tool for our state's lawyers to serve the needs of the poor in our community."
For more information or for a nonprofit organization to request legal help through the program, contact Johnson via e-mail, [email protected].•
Please enable JavaScript to view this content.