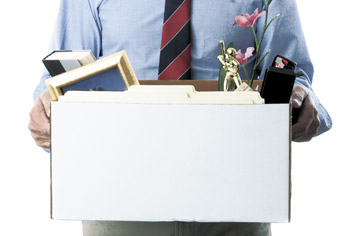 As people lose their jobs in a rough economy, it's obvious that unemployment claims go up – and stay up – as it is more difficult to find new work.
In this particular economic environment, employment law attorneys in Indiana who represent employers of all sizes both here and around the country have also observed an uptick in the number of claims brought to the Equal Employment Opportunity Commission and at similar agencies at the state and local levels, such as the Indiana Civil Rights Commission, the Metropolitan Human Relations Commission in Fort Wayne, the Office of Equal Opportunity in Indianapolis, and the Human Relations Commission in Evansville.
These attorneys advise their clients about this possibility as early as when the clients start making plans for a reduction in force. Among that advice is to update all job descriptions, and to have a clear and concise explanation about how they determined who to let go. This will help if the issue arises at the administrative level or in court because the employer can better explain the process and the decision to anyone who asks, including the employee, an administrative agency, or a judge, they said.
"I think when people have been laid off, they look at what their options are, particularly when they have trouble finding new employment," which has been the case in the last few years, said Kathleen Anderson, an attorney at the Fort Wayne office of Barnes & Thornburg who represents employers on a number of employment law matters.
"They consider filing unemployment and will possibly consider filing administrative charges at the local, state, or federal agency level. I'm seeing a greater number of charges, but a greater number are lacking any basis."
Anderson said she thinks this is the case because even though there are more claims being filed at the agency level, there
doesn't seem to be a larger number being approved. There also doesn't appear to be a larger number proceeding to trial if the agency determines there isn't enough reason to find the employer had discriminated against the former employee, or even the person who was an applicant for a job who wasn't ultimately hired.
Another employment law attorney who represents businesses, Tami Earnhart at Ice Miller in Indianapolis, said she has also noticed the uptick in claims.
Earnhart
"There are some cases that are questionable – as in the past – and there are some cases that have more merit than others, but that's always been the case," she said.
Earnhart said more people may be making claims because of an increased awareness of the option, such as media reports about high-profile discrimination cases and class-action lawsuits that tend to get more attention compared with cases filed by individuals.
In order to bring a federal discrimination claim, the person will first need to file a claim before the EEOC, the Indiana Civil Rights Commission, or a local fair employment practices agency.
If the EEOC finds there is enough information to support the claim based on the information presented, the EEOC will ask if the parties would agree to a mediation. If there is no mediation or if an agreement isn't reached at mediation, the charge will be investigated. If the employer doesn't cooperate, the employer may be subpoenaed. If the investigation yields enough information that the EEOC thinks the claimant has a valid claim, a member of the EEOC's legal staff will decide whether or not to file a lawsuit. Some cases are referred to the Department of Justice.
Baldwin
If the agency ultimately decides there isn't enough information to support the claim, the claimant will receive a one-page notice of right to sue and dismissal. The amount of time a former employee has to file suit on her own following the EEOC's decision of how to proceed on the claim depends on the type of claim.
Remedies also vary but can include notice from the EEOC to stop discriminatory practices; job placement, back pay, and/or benefits the claimant would have received if she had not been discriminated against; and attorney's fees, expert witness fees, and court costs.
But before a former employee gets to the point of filing a claim, Anderson said employers have been proactive when it comes to their reduction-of-force plans to help the employees understand why they are being let go in the first place.
"Typically, companies will try to keep the higher-level performers, people with skills the company needs, and people who are adaptable, so those folks are clear choices for retention, especially in the first few rounds of reducing a work force," she said.
But when companies need to make deeper cuts, those are more difficult to make as they tend to affect higher-level employees and some of the better performers, "so it's difficult for them to understand why they were affected by reduction. It's also difficult for them to understand the decision is not personal."
Chuck Baldwin, managing shareholder for the Indianapolis office of Ogletree Deakins Nash Smoak & Stewart, agreed this is all the more reason to make the process as fair and objective as possible.
Of the types of cases employment law attorneys are seeing, Baldwin and Anderson said they're seeing an increase in the number of retaliation, wage an hour, and Americans with Disabilities Act cases.
Because of recent changes to ADA, Baldwin said employees have more they can claim under the act. The new legislation includes not only people with physical or mental impairments, but also further considers how accessible employers are to their employees when it comes to reasonably accommodating their needs in the workplace.
Anderson gave an example of a newer type of ADA case in which an individual was hired and then had trouble doing a particular job.
"The case will come down to what the particular disability or medical condition is and – regardless of the reasonable accommodations that could have been made – if the job could have been done," she said.
The agency or judge will then "focus on the alleged impairments, what the job was, and how the company could or could not work around it. Some impairments employers cannot work around."
For instance, she said, if someone claimed to have a back issue and couldn't lift more than 5 pounds as a result, but the job specifically required the person to lift 5 pounds or more, the person making the claim could have a more difficult case of proving an ADA violation. But if the job requires that particular skill only on a fairly infrequent basis, such as once a month, as opposed to multiple times in a week or in a day, there is a much greater chance the employee could make his case that the company could have assigned that particular task to someone else in order to accommodate the employee who can't physically lift the required amount.
This is another reason, Baldwin said, that he's been advising clients to make sure all of their job descriptions are up-to-date, so if someone does make a claim regarding the ADA, the employer will know more quickly if they could or couldn't accommodate someone – and if they could, then they could do what's right for the employee.
The attorneys also noted they've noticed an increase in the number of age-discrimination claims, particularly among baby boomers who have been losing their jobs.
Earnhart added she expects there will continue to be a number of claims based on gender, race, national origin, and religion.
While it is more difficult to find a new job in this economy, the attorneys also reported seeing some positive signs the economy is starting to turn around.
Anderson said she has had fewer discussions with clients regarding plans for reductions of force. While the companies aren't necessarily hiring, she said, they are looking ahead to start adding people when they can, while also determining how to more effectively use their current workforces.•
Please enable JavaScript to view this content.