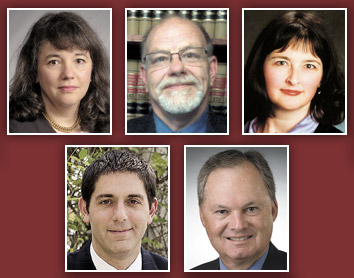 More than 7,000 attorneys in 19 central Indiana counties can now vote for one colleague they'd like to see join the Indiana Judicial Nominating and Qualifications commissions.
The Indiana Appellate Clerk's Office mailed ballots and biographies Oct. 12 to attorneys' homes, and those lawyers have until 4 p.m. Nov. 10 to return ballots. The returned ballots will be counted at 10 a.m. Nov. 12 to determine who fills the vacancy for one spot on the seven-member panel that's chaired by Indiana Chief Justice Randall T. Shepard and includes three lawyers chosen by colleagues and three non-attorneys appointed by the governor. Indianapolis attorney John Trimble completes his three-year term at year's end and five lawyers are running for the job.
Applying for the post in the 2nd judicial district for the 2011-2013 term are:
• Jan M. Carroll, a partner at Barnes & Thornburg.
• David R. Hennessy, a solo criminal defense attorney.
• Kathy L. Osborn, a partner at Baker & Daniels.
• Joel Schumm, an attorney and a professor at Indiana University School of Law – Indianapolis.
• William E. Winingham Jr., a name partner at Wilson Kehoe & Winingham.
The district is made up of Adams, Blackford, Carroll, Cass, Clinton, Delaware, Grant, Hamilton, Howard, Huntington, Jay, Madison, Marion, Miami, Tippecanoe, Tipton, Wabash, Wells, and White counties. But whoever is chosen to start in January 2011 will have statewide impact on how judicial discipline and qualifications issues are tackled by the commissions.
Click here to read each of the five nominees' responses to questions from Indiana Lawyer .•
Please enable JavaScript to view this content.