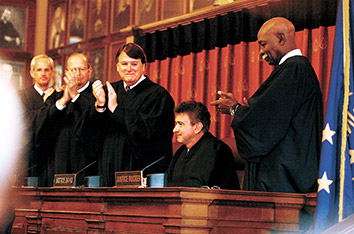 One word marked Justice Steven H. David's beginning on the Indiana Supreme Court.
"Wow," was his response in amazement, moments after being sworn as the state's 106th justice and donning his high court robe for the first time.
That reaction marked not only the historic change in the court's lineup for the first time in 11 years, but also reflected the humility and modesty displayed by the newly appointed Supreme Court justice who took the bench Oct. 18.
An estimated 230 people packed the ornate third-floor courtroom inside the Indiana Statehouse that day, culminating a process that begin in May when Justice Theodore R. Boehm announced he'd be retiring from the court. The summer narrowed the nearly three dozen applicants down to three and Gov. Mitch Daniels on Sept. 17 chose the Boone Circuit judge to take that spot.
 
The investiture ceremony signified his official start on the court, which would be only two days before hearing his first trio of oral arguments and his first appellate court conference behind closed doors. Fifteen years at the trial court level combined with experience in military law, as a corporate legal counsel, and in private practice led to that point and put him in a spot he said he'd never dreamed he would be in.
"Gov. Daniels, sir, what can I say to the person who picked me over so many qualified candidates to be number 106," Justice David said, moments after the governor administered the judicial oath, he put on the new robe for the first time and took a seat on the bench. "I haven't got the tattoo yet but I intend to get one. It'll go right over the gavel I have now."
As the investiture ceremony began, Justice David's picture on the courtroom wall between Chief Justice Randall T. Shepard and Justice Robert D. Rucker was covered with a red curtain. Just as he walked out with his new colleagues for the first time, the curtain was removed to reveal his portrait now displayed.
When introducing those who'd speak about the new member, Chief Justice Shepard praised the merit-selection system that sets Indiana apart from many of its neighboring states that endure high-dollar and contentious judicial elections.
The governor pointed to the new justice's extensive experience at the trial court level, corporate experience with Mayflower, private practice in Columbus, and his longtime service as a U.S. Army colonel and judge advocate general who'd represented detainees at Guantanamo Bay, Cuba.
Nashville attorney James Reichert, who served as vice president of legal for Mayflower back when Justice David worked there, talked about his friend and colleague's passion for running and his love for family, the latter being a true measure of the man and jurist. The story that the new justice had donated a kidney to his critically ill niece 16 years ago was a surprise to some the audience.
Justice David, who grew up in Bartholomew County, spoke of wanting to be a lawyer since he was a little boy, a desire to be on the bench since his first day of law school at Indiana University School of Law – Indianapolis, and that now having his own chambers with an engraved "Justice David" nameplate inside the Indiana Statehouse is beyond what he'd ever dreamed.
Justice David described his judicial philosophy as being one of humility, respect, fairness, and the rule of law. He also mentioned his love for family and juvenile cases and praised the civility and professionalism that the Supreme Court has demonstrated through the years.
"Every day I will do the best I can," Justice David said, vowing to have respect for the executive and legislative branches and to always fight to protect the Indiana Constitution. "I have no agenda. I am not an 'R', I am not a 'D', I am not an 'I'. I owe no one anything."
But while marking some of the serious notes of the historic event, the ceremony clearly brought out the new justice's lighter side, with Justice David himself and his friends and colleagues offering laughter, wit, and humor at every turn.
Citing his love for music lyrics and history, Justice David gave a speech that included references to Abraham Lincoln, Oliver Wendell Holmes, and country singers Kenny Chesney, Lee Brice, and Toby Keith. He used those musical references to note how he wanted to be a part of the solution, and how he hadn't gotten to this point alone.
He also touched on what he described as the "elephant in the room," about Justice Boehm being a man praised by many for his intellect. The new justice told a story about a law school professor of his who also knows Boehm, and said that while the former justice is "the smartest man she knows," Justice David was a "memorable student."
That brought laughter from everyone in the room, from those in the audience to the other justices on the bench.
"Now, the whole world knows what I've known for so long – that he has a wonderful sense of humor," said former Indiana State Bar Association president and Columbus attorney Richard Eynon, whom Justice David clerked for while in law school and went to work for as a young attorney after graduation. "He's not a clown or a jester, but he has within himself a way of making people very comfortable by creating laughter and lightening things up, all while being serious and always committed to the rule of law."
Attending the investiture, Eynon took comfort in seeing something that he's never before witnessed – all five justices on the bench laughing together and having fun. He described his former law clerk as being 100 percent unique, and that Indiana likely won't ever see another justice with those same experiences and qualifications and personality.
"He's not there to change the court, but yes, I think they'll take his qualities and all of his experiences and change as a result of that," Eynon said. "That's a healthy jolt for the Supreme Court, and it's a difference and change he's already making. I think all lawyers in the state who listened or watched that investiture are smiling and saying, 'Yes, this is a man who will represent all of us without failure.'"•
Please enable JavaScript to view this content.