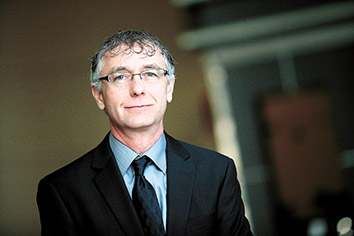 An ongoing concern among Indiana State Bar Association presidents has been how to be inclusive of all members, regardless of their backgrounds including geography, ethnicity, gender, even practice area and other issues that are of importance to attorneys for professional and personal reasons.
Jeffry A. Lind, an attorney with Fleschner Stark Tanoos & Newlin in Terre Haute, became the ISBA's president Oct. 15 at the annual meeting in Indianapolis. Like his predecessors, he plans to continue to work with all members of the state's largest legal organization, with a focus on county and specialty bars around the state.
While he couldn't officially act on this initiative until Oct. 15, he hasn't been able to do much in the first week, but he has been thinking about what he would like to do for a while.
 
With help from the ISBA's Local & Specialty Bar Liaison Catheryne Pully, who started at the organization in April, he will make every effort to reach out to every bar association to find out not only what they are doing, but what the ISBA can do for them.
As liaison, Pully has been reaching out to bar associations around the state to introduce herself so they know they can reach her, and she has been establishing liaisons at the various bar associations so she knows who to contact when she wants to reach out to them.
By doing this, Pully and Lind plan to work together in shedding more light on what local and specialty bars do in terms of projects, recruitment, and other issues many of them face, not only to publicize their efforts, but also to help other local and specialty bars replicate those efforts in their own communities – in their own ways.
For instance, Pully said, if there are two or more bars doing a similar project or initiative, the ISBA can help those two connect the dots to help them with resources or in other ways.
The ISBA has also, for the last few years, offered the option to local and specialty bars to host websites for their bar associations on the ISBA's website. That is still the case for bars that want to take advantage of that option.
By reaching out to local and specialty bars, Lind said he will continue the work of immediate past-president Roderick Morgan of Bingham McHale in Indianapolis, who focused his term as president on diversity.
Lind said by reaching out more to specialty bars, such as the Hispanic Bar Association, Women's Bar Association, and Kimbrough Bar Association in northwest Indiana, as well as the Marion County Bar Association in Indianapolis, he will learn not only about their programs, but also the issues that are important to them. Issues, he said, he may or may not have already thought about.
"Specialty bars serve segments of the legal community as identified by the members of those bars," he said. "They're all out there, doing very good things for their members and communities. I'd like to know if what they're doing could be passed onto others. … Or if there's something they or local bar associations need that I or the state bar association can do, I'd like to offer help where I can."
"Reaching out to local and specialty bars is a matter of inclusion and as a follow-up to Rod's diversity efforts, it is all about inclusion," he added. "I think I would gain the most from the specialty bars because I think their experiences as a bar association are potentially much different than those I might have experienced."
Also like his predecessors, by reaching out to local and specialty bars, he expects to spend a good amount of time on the road, which translates into less time in the office during normal business hours – and more time working evenings and weekends.
For instance, in his first week as president, he traveled to Madison County to meet with their bar association, which includes about 60 members or half of that county's lawyers, for an annual event now in its 10th year that has always included a representative from the ISBA.
"I don't think people have recognized how time consuming it is," to be the president of the ISBA, said Madison County Bar Association President John N. Shanks II, who was appreciative of Lind for making the trip from one end of the state to the other for the event.
Shanks, a member of the ISBA House of Delegates, said he spoke with ISBA Executive Director Tom Pyrz and Lind at the conference about how well done it was this year.
He added he was pleased with the work Morgan had done as president, and was enthusiastic about the work Pully will be doing for the ISBA.
"I've invited her to one of our CLEs this year, and having her on board is going to be very significant in promoting the agenda of the ISBA. … We need a liaison for the local bars, and this will bring together more unity instead of local bars thinking they're out there by themselves."
Other than working with local and specialty bars, Lind plans to support other statewide efforts in the legal community.
He was at the conference for the American Bar Association's Commission on Lawyer Assistance Programs in Indianapolis in early October as a volunteer for the Indiana Judges and Lawyers Assistance Program. Lind has on occasion represented lawyers in disciplinary actions.
He also plans to support the civics education efforts of the Indiana Bar Foundation, and encourages attorneys to give to the Hour for Civics initiative, which encourages attorneys to give the equivalent of one billable hour to fund the IBF's civics education efforts.
"If everyone did it they could fund the civics programs. I'm really tight and I did it," he said.
He will also work with the committees and sections of the ISBA, again with an eye on projects that may only be focused on one geographic area that could be expanded around the state.
"The Women in the Law Committee noted they've been working on and hope to bring to conclusion a Girl Scout civics merit badge," he said. "That stands out to me because while it would be wonderful to implement it in Indianapolis, it's the kind of thing that would be welcomed in all regions of the state. I would imagine lawyers across the state would get a warm feeling about working on a project like that. It makes you feel good inside – the whole concept of Girl Scouts learning civics. It's those types of things I'd like to see more of."•
Please enable JavaScript to view this content.