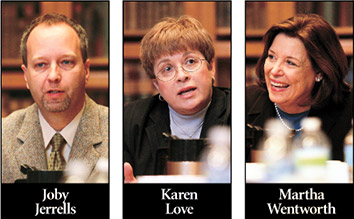 Within two months, Indiana will have a new state tax judge for only the second time ever.
The Indiana Judicial Nominating Commission has recommended that that the governor consider Bloomington attorney Joby Jerrells, Hendricks Superior 3 Judge Karen Love, and attorney Martha Wentworth of Greenwood as finalists for the state's only specialized appellate court.
Gov. Mitch Daniels will make the final decision on who replaces Judge Thomas G. Fisher. Judge Fisher retires from the tax bench on Jan. 1, 2011, culminating a legal career that's included 24 years of service as the state's first and only tax court judge.
Meeting with seven semi-finalists on Oct. 27, the commission interviewed four women and three men for 25 minutes each. These second interviews followed an initial round on Sept. 27 with 14 applicants and delved more in-depth into each person's background and what he or she thinks about the tax court. Aside from the finalists, the others interviewed were: George Angelone, Dan Carwile, Hon. Carol Comer, and Melony Sacopulos.
The commission had submitted a question to each semi-finalist, asking them to reflect on how the tax judge might contribute to the development of the state's jurisprudence and to the improvement of the overall judiciary.
"All the candidates have experience that gives us the core competency and intellect, which is good news for this commission and the state," said banking attorney Dan Carwile from Evansville, one of the semi-finalists.
One of the main themes discussed during the second round of interviews focused on public access and transparency and making sure the tax court operates efficiently so that its cases move as quickly as possible and the public understands what is happening.
Administrative law judge and semi-finalist Carol Comer told the commission that courts in general are considered "scary" places for non-attorneys and that the entire judiciary needs to do a better job with transparency and access.
"The point is, the Tax Court needs to be just as accessible for the layperson as someone represented by counsel," she said. "Most claims don't make it to court because that's where things become 'very legal and complicated.'"
She said the court's message must reach the broadest possible audience, and that using Twitter and Facebook could even be something to consider for the future in order to "be more conscious on how ideas are communicated concisely, clearly, quickly, and to the point."
"Modern communication is changing," she said. "Imagine a day when the Tax Court has a Facebook page where people can befriend and see opinions as they're issued, or get updates from the court as they happen. That's not different from what's on the court website now, but it's just a different form for the more modern generation."
Chief Justice Shepard complimented everyone who'd applied for the post and said it was a tough decision for the commission to narrow down the initial or semi-finalist list, but that members were confident these were great choices for the governor to consider.
Jerrells
A second-career attorney who'd worked in computer operations before enrolling in and graduating from Indiana University School of Law – Indianapolis in 2003, Jerrells now works as both a deputy prosecutor in the Attorney General's Office and is also a self-employed attorney out of his home in Bloomington. He talked about his experience in all types of law, from tax and civil issues to criminal prosecutions and corporate clients. He ran for Monroe County judge in 2008 but was defeated in the general election.
If chosen for this appellate seat, Jerrells said he would be interested in trying to "enhance, hone, and improve" the jurisprudence that has been created during the past quarter century. He said an electronic docket would be beneficial for that court's efficiency and that he'd want to make sure pro se litigants understood the process.
Responding to a question about the structure of how appeals come from the Department of Revenue, Jerrells told members that the issue is "brewing" and that the discretion given by the Tax Court to those state agency decisions might need to be examined, possibly by a rule or statute. He also said timeliness should be examined and efficiency should be improved if necessary, particularly since there's no "lazy judge" rule as exists for state trial courts.
"Since there's going to be a new tax judge, there's an opportunity where we can determine what needs to change," he said.
Love
The only trial judge interviewed, Judge Love said the tax judge's responsibility is to provide "timely and affordable justice for all" and that her experience on the bench since 1995 has prepared her for this role on the administrative, legal and judiciary sides. She hopes the tax court judge can help Indiana become a leader in tax law just like it is known nationally for jury reform.
In addition to her judicial experience, Love has also practiced law privately, worked as a certified accountant, and she helped draft the state's Child Support Guidelines. Nominating commission members also asked about her experience on a bank board and the decisions she'd had to make in that role.
Though noting that appellate courts aren't doing their jobs to effectuate change, Judge Love noted that she'd conduct a review of pending cases and actively communicate with outgoing Judge Fisher as well as the practicing bar to get familiar with the court.
One commission member noted that he was impressed with her writing, and Judge Love noted that she's learned from the lawyers and other jurists throughout the state. "I'm a product of the legal profession, the judiciary in Indiana," she said. "I want you to see what trial judges are like, and I want to make them proud."
Wentworth
Wentworth echoed many of the aspects that her fellow semi-finalists pointed out, and she noted that she'd spent time reading State of the Judiciary speeches to get an idea of how the Hoosier judiciary has changed through the years. Today, Wentworth serves as tax director for the multi-state group Deloitte Tax LLP. Her previous professional roles have included clerking for the Tax Court in the early 1990s and working closely with the state Department of Revenue. Her experience shows that she's advocated for continuing education, professionalism and collegiality, she said.
Saying that judges must be careful in communicating with lawmakers, Wentworth said it would be appropriate to help the legislature understand what possible unintended consequences might result from state statute changes. She said the state faces so many intriguing and challenging legal questions on tax law, such as what is considered distortion on taxes, the amount of discretion the DOR has in allowing separate corporate entities to file separate or joint returns, and how the state agency can discretionarily change federal taxable income.
"My first job out of law school was working for a judge. I never thought I'd have this opportunity, but when it came right down to it, I couldn't just not try. I have such a passion for tax law and for Indiana's tax law to be fair and good and have other states look to us. That, to me, is so important; that pride is worth so much more than what I'm doing now."
The governor's choice
Daniels' general counsel David Pippen, who sat through all of the interviews, said the process hasn't been formalized and he wasn't sure how the three finalists might be interviewed or whether a hypothetical case might be presented to the trio as was done with the most recent Indiana Supreme Court vacancy.
By law, Daniels has 60 days to make a decision from the time a final report is sent from the nominating commission. The commission sent it to the governor Nov. 5. Though he has until early January to make a decision, the governor is expected to announce the new jurist by the end of this year. If that doesn't happen, the chief justice can pick from the three finalists' names.•
Please enable JavaScript to view this content.