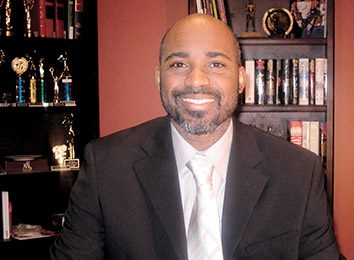 Crown Point attorney Shontrai Irving may be considered a success story in the legal world with multiple awards illustrating his experience in the corporate, criminal, and civil sides of the law.
But that's only one part of what he does, and while he loves the lawyering, it's not what makes him the most proud.
Irving has been designated a "dad of the year," and to him it's more than a t-shirt or coffee cup slogan. The Indiana Foster Care Adoption Association named him Foster Parent of the Year in 2007, and it's that role that brings out the most pride and drives everything he does from community service and how he treats people, to the way he serves as an in-house attorney for State Farm Mutual Automobile Insurance Company's corporate litigation office.
"Everything has really fallen into place, and it comes together perfectly," the 36-year-old said. "My philosophy is not just to do it, but do it well."
 
As a corporate attorney for State Farm Insurance Litigation for the past five years, Irving says he's the youngest in the 12-attorney office. The Crown Point office is one of two litigation offices statewide with the other in Indianapolis, and his team handles the northern part of the state. Most of his days involve defending policy holders in auto, fire, or home coverage litigation, he said.
A typical day might start off meeting with clients or the claims department about defending cases, and then Irving says he moves into what any other trial attorney often does – delving into discovery, answering complaints, scheduling depositions, and appearing in court. Most of the cases settle, but Irving said he gets into court at least a couple times a month when the telephonic conferences aren't used.
Some might consider the job boring, but Irving said he loves it and really enjoys meeting with clients and handling the small claims issues regularly. The litigation counsel often appears in those cases, and he finds it fulfilling being able to help regular people understand their insurance coverage and go through the court process.
His supervisor and mentor, Deanne Sasser, says that Irving has been an asset to the department and she has noticed his attitude as a lawyer and person have boosted the office's morale and reputation.
"Shontrai has been a breath of fresh air," she said. "The small claims court is like the people's court, and from an insurance company lawyer's perspective, it usually doesn't go as well there because it's more focused on the plaintiff. But Shontrai has the best record of winning small claims because of his positive attitude and motivation for people. I don't know how he does it, but he does it so well."
Aside from those small claims issues, Irving also handles more severe cases that resulted in personal injury or death, and those cases often involve probate issues. Generally, Indiana doesn't have as many cases litigated as do other states with different insurance coverage structures, he said.
"Just like a slogan, State Farm is there," Irving says, reciting the company mission about helping people manage risks and recover from unexpected happenings. "It's important to work for a company with that mission, to promote that mission not only for State Farm but for lawyers in general."
Graduating in 2003 from what is now the Indiana University Maurer School of Law, Irving began his legal career working for the Lake County Prosecutor's Office as a deputy prosecutor. He also has a master's degree in criminal justice and said that his first job was something he was passionate about.
"I've always been fascinated by crimes, how and why they are committed and how people can be rehabilitated," Irving said. "I really enjoyed being in the prosecutor's office, because it gave me the opportunity to be in court every day. To get to know the judges and what was and wasn't appropriate for the attorneys."
But wanting to explore the civil side of the law, Irving said he spoke to some friends and colleagues and decided it would be beneficial to get experience in other non-criminal areas of the law.
"I saw it as a way to learn another area of law and become more marketable," he said.
Aside from his legal work, Irving said his biggest accomplishment has been taking on the role of a foster dad in the past four years. When he was a deputy prosecutor, Irving said he went with his mom – a registered foster mother just as his aunt is – to take some foster parenting classes. He recalls being reluctant because he had just gotten out of school and didn't want to jump back into a classroom. Since his prosecutor job at the time involved handling child abuse and neglect cases, Irving decided to start the classes and says he found the two coincided really well.
"I thought it made me a better prosecutor at the time. But then, I wanted to make more of a difference and become a foster parent myself," he said.
Living with his grandmother at the time, Irving wanted to foster one child. The state foster agency asked him about taking an 8-year-old boy and that child's 6-year-old brother, and he agreed. Only later was it discovered that the two boys also had a 5-year-old brother and 2-year old sister, and the agency wanted to keep them all together if possible.
Now, the three boys and one girl remain together and their ages range from 12 to 6. But they aren't the only ones that Irving has influenced. To date, he's provided a home to more than 20 children.
"That has changed my life forever," he says about being a foster parent. "It keeps a smile on the face when you're at work, and that's my motivation."
His role as a foster parent has earned him some of the recognition and awards that he's most proud of, which come on top of those for his involvement in the legal profession. Most recently, the Indiana State Bar Association selected Irving as the attorney to receive the 2010 Outstanding Young Lawyer Award and he adds that to his resume of receiving the Hon. Viola J. Taliaferro Award in 2008 and other recognition from the Indiana Pacers, Indianapolis Colts, and the General Assembly – among many others.
Irving believes that mentoring, diversity, and pro bono work are all important, and he's tried to bring that belief to his position at State Farm.
Not knowing what's next, Irving says he is just enjoying what his corporate counsel position offers him, and he wants to be a role model for his children.
"At work and home you want to give your best, and it's really helpful to have a strong team at home and at the office," he said.•
Please enable JavaScript to view this content.