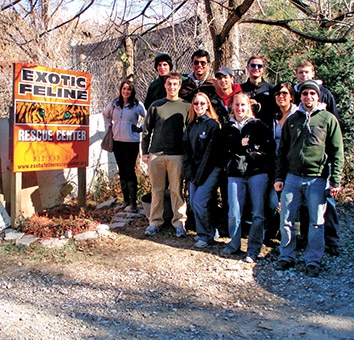 To learn more about a number of legal concerns that involve animal welfare – whether those issues involve pets, livestock, or even exotic animals – students at Indiana law schools have started organizations affiliated with the national Animal Legal Defense Fund.
These groups tend to have similar goals: to raise awareness among the law school and community at large about animal welfare issues, to give students networking opportunities, and to help with fundraising for local animal shelters and other organizations.
To reach these goals, however, there needs to be enough interest to get support from a law school and dedication from the students and others involved.
 
The newest animal welfare law group at an Indiana law school is the Student Animal Legal Defense Fund chapter at Indiana University Maurer School of Law in Bloomington.
Chris Pierce, one of the founders and a 2L, said he was pleasantly surprised by how many people attended a meeting to gauge interest last spring.
Pierce said he was also told that sustainability was important to consider because, as he learned, another animal welfare organization had existed at his law school but folded a few years ago because there wasn't enough interest to keep it going.
As of now, about 10 members have paid dues to join, and another 10 or 15 have expressed a serious interest, he said.
To get the word out, the group organized a carpool to visit the annual pumpkin party at the Exotic Feline Rescue Center in Center Point Nov. 6. At the pumpkin party, crowds of people and the law students watched some of the center's more than 225 exotic cats – including lions, tigers, cougars, bobcats, and leopards – as they played with carved pumpkins that had raw meat treats inside them.
Pierce said he and others in his SALDF chapter hoped the event would be something fun for participants but would also raise awareness of the center. Since it was founded in 1991, the center has taken in a number of ill and unwanted large cats from various situations, including illegal breeders, owners who received the animals as gifts but couldn't take care of them, and owners and sellers who neglected and abused the big cats.
Pierce added that one of the members of his SALDF chapter volunteered for the center, which has worked with a number of Indiana University students over the years.
Two members of the SALDF group will also compete in the National Animal Law Competitions at Harvard Law School in late February. The three competitions focus on legislative drafting and lobbying, closing arguments, and an appellate moot court competition that will include students from the Bloomington law school.
Members of another SALDF chapter, students at Valparaiso University School of Law, attended a different national conference – the Animal Law Conference at Lewis & Clark Law School in Portland, Ore., home of the Center for Animal Law Studies. That center also helps sponsor the February competition at Harvard.
The president of the Valparaiso SALDF chapter, Aimee Gong, a 2L, said she and others from that organization were able to network with animal law experts from around the country.
Gong added that to raise awareness, on Nov. 9 the organization, along with the Valparaiso Environmental Law Society, hosted Kim Ferraro, founder and executive director of Legal Environmental Aid Foundation of Indiana Inc. Ferraro spoke about confined animal feeding operations in a talk that highlighted information about the environmental impacts of CAFOs and their treatment of livestock.
This semester, the group has planned a bake sale of dog and cat treats and a photo opportunity for pets with Santa. Items will be collected and donated to a local animal shelter. The group is considering hosting a vegetarian or vegan cooking class to shine a spotlight on the treatment of animals used for food and a possible screening of the documentary film "Food, Inc." which includes factory farms.
More than 225 big cats at the Exotic Feline Rescue Center, including tigers, lions, and hybrids, as well as, cougars, bobcats, and leopards, were observed by visitors at the center's annual pumpkin party Nov. 6. (Photo submitted)
Gong said most SALDF events will be open to anyone at Valparaiso who wants to participate including undergraduate students and members of the community.
The group is also working with faculty advisor Rebecca Huss, who was recently featured in a book about Michael Vick's dog fighting case. Huss was in charge of rehabilitating the dogs in that case.
In her animal law class, Gong said, Huss will host a number of interesting guest speakers. Some of those classes will be open to the community as SALDF events, Gary added.
Students at Indiana University School of Law – Indianapolis also run an SALDF chapter called the Animal Law Society, which currently has about 10 active members.
In 2009, students in that group organized a 2010 calendar of professors and their pets to raise money for the group and area animal welfare organizations. While members have not done a calendar for 2011, this year they did repeat last year's food and supply drive for local shelters.
According to that organization's chair, Amber Collins, a second year evening student, the organization collected so much in late October that it was able to give to two shelters in the Indianapolis area.
Next semester, the group plans to participate in the Mutt Strut sponsored by the Humane Society of Indianapolis, work with the law school's Criminal Law Society to present a speaker about connections between criminal law and animal cruelty, and host a "bark sale" for snacks for students.
"The vast majority of the proceeds will be donated to local animal shelters, and a portion will be used to fund ALS events for the year," Collins said.
Members from that organization will also focus their efforts on researching and raising awareness of county ordinances involving pets in Marion and surrounding counties.
"We want to reach out to these communities to reduce the occurrence of animal cruelty and provide a foundation on which the communities can build better animal laws. We will team up with Friends of Indianapolis Dogs Outside to complete outreach efforts. We will begin by doing site visits in the communities that are most at risk or have the highest occurrence of animal neglect/cruelty cases. We want to see first hand the conditions we are working to change and offer help and information to pet owners," she added.
While these organizations can offer various opportunities for students with an interest in animal welfare law, they also allow the students to find others who share their interest in this area.
"Of course I think animal law is important in general, but … a lot of people are also interested in this area of law who might not otherwise know about the available opportunities, or that there are many other people with this common interest," Gong said. "We send e-mails to members about any internships and pro bono work in animal law. I think if you don't have an organization like ours, someone can come to law school and want to do animal law, but won't be able to get involved, and might get frustrated."•
Please enable JavaScript to view this content.