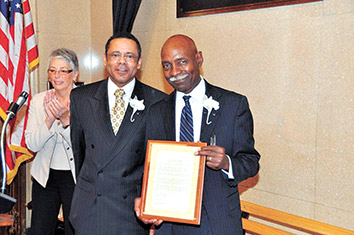 The practice of naming a building after someone is a longstanding tradition throughout the country, but one of the most common practices in those renamings is waiting until someone dies to dedicate that place.
Actions honoring three prominent Indiana jurists are bucking that trend, one involving a veteran trial judge retiring this month while the other two recognize sitting justices on the state's highest court. The local courthouses in East Chicago and Gary are being renamed respectively in honor of retiring Lake Circuit Judge Lorenzo Arredondo and Justice Robert Rucker, while Indiana Chief Justice Randall T. Shepard has his name attached to a new law and social justice program in the Evansville high school he used to attend.
 
While these dedications may not symbolize any emerging trend, they do represent a rare opportunity to not only recognize distinct judicial careers but also inspire local citizens and even strengthen the legal community itself.
"Sometimes, you get a chance to give a person their flowers while they can still smell them," said Lake County Commissioner Roosevelt Allen Jr., who played an integral part in the dedications in that local jurisdiction. "People accomplish many things in their lives and careers and you should recognize and reward them before they're gone. Otherwise, they're not around to appreciate how the community feels about what the person has done."
Lake County Commissioners approved both of the local courthouse name changes earlier this year, with the Justice Rucker dedication ceremony happening Dec. 3 and paving the way for the renaming to honor Judge Arredondo's retirement at the end of 2010.
County officials voted in February to rename the Depression-built satellite county courthouse at 15 W. 4th Avenue in Gary after Justice Rucker. The judge grew up in that city and practiced there and in East Chicago after receiving his law degree from Valparaiso University School of Law in 1976. He also served as a Lake County deputy prosecutor before being named to the Indiana Court of Appeals in 1991, and subsequently to the state Supreme Court in 1999.
That building houses two Superior Courts that handle a large portion of the county's caseload, and it was where Justice Rucker spent some of his time practicing before becoming a judge. As the commissioner representing that district, Allen led that renaming effort. He denied that it was motivated by talk of county court closings or centralization and instead emphasized it was meant to honor the justice's legal career and serve as an inspiration to others in the African-American community.
Justice Rucker said he's humbled to have that honor from his hometown.
"As a young lawyer in private practice, I made my way in and out of that building on many occasions," he said, noting that he'd argued before Superior Judge Gerald Svetanoff, the now-deceased Superior Judge James Danikolas, and even Judge James Moody before his appointment to the federal bench. "Although it has been many years since I have worked in Lake County, I have always considered it home. It is a special honor to be thought of so highly by the people in my home community. I am deeply touched by their kindness."
This bronze plaque dedicated to Justice Robert Rucker now hangs inside the local Lake County courthouse, located at 15 W. 4th Avenue in Gary. It honors the attorney and jurist from there, who practiced in that county and served as Lake County deputy prosecutor before taking the bench. (Photo submitted)
Now based in Indianapolis for his appellate duties, Justice Rucker attended the Dec. 3 ceremony that unveiled a $12,000 bronze 48" x 40" plaque detailing his background and local connection. That plaque sparked controversy locally about the cost and practice, with Commissioner Fran DuPey criticizing the public cost at a time when the county is being forced by reduced tax revenues to lay off county government employees. She also opposed the practice of naming public buildings after the living, something that carried over to the second Lake County renaming later in the year for the courthouse in East Chicago.
That time, on Nov. 17, two of the three county commissioners voted in favor of renaming the 3711 E. Main St. courthouse the Lorenzo Arredondo Justice Center after the retiring judge who has served the Circuit Court for 34 years. A similar plaque being paid for by personal and legal community donations will be placed in that court where the judge has presided. A time for the official dedication has not been decided.
Arredondo
Responding to the dedication in his name, Judge Arredondo said he was humbled and honored by the measure and joked that it influenced his decision so far to not keep practicing once he leaves the bench.
"Having a building with your name on it kind of makes it difficult to just step in as a regular lawyer," he said with a laugh, noting he is looking forward to enjoying his retirement.
As the first Latino judge to serve in Indiana and the longest-serving Latino trial judge in the nation, Judge Arredondo has been elected six times after serving on the now-abolished Lake County Court and as a prosecutor and assistant attorney for the county. The University of San Francisco School of Law graduate also founded the Hispanic National Bar Association and served in leadership roles on numerous committees through the years, including the Indiana Supreme Court's Commission on Race & Gender Fairness.
Superior Judge Calvin Hawkins, who presides over the East Chicago court, led the renaming effort in Judge Arredondo's honor, citing his retiring colleague's influence in the community and legal profession. He said commissioners shattered the philosophy of not naming buildings after living people when it approved renaming the Gary courthouse in honor of Justice Rucker.
"This is about Lorenzo, but it's more than just Lorenzo," Judge Hawkins said, describing his colleague's "rise from poverty" to become a significant jurist respected statewide and nationally. "It's a statement we can give to young people and others that he's a symbol of us, of what someone can become in this country."
That's what Allen says led the effort to honor both Judge Arredondo and Justice Rucker – to look at both jurists as contemporary role models in the community. Chief Justice Shepard expressed the same sentiment about his colleagues.
"It's not completely unprecedented generally because you do have federal courts and some state juvenile facilities named after individuals, but it is (unprecedented) to have a courthouse named after a judge. I'm not sure it's a trend because those are two unique careers being recognized and they are themselves worthy of that honor," he said.
But the inspiration for others in the community, especially those who might see judges as role models paving the way in the legal community, is what Chief Justice Shepard hopes can be echoed in southern Indiana with a school program now bearing his name.
 
Shepard
Announced late last year and beginning earlier this year, the Randall T. Shepard Academy for Law and Social Justice is offered to high school students served by the Evansville Vanderburgh School Corp. Chief Justice Shepard grew up in the Evansville community and worked for the mayor's office before serving on the Vanderburgh Superior Court until his Supreme Court appointment in 1985.
The two-year program offered to juniors and seniors is housed within a classroom at Harrison High School in Evansville, the chief justice's alma mater. He is a member of the class of 1965. The program integrates English and social studies curriculums for selected juniors and seniors to prepare students for careers in law, social justice, and government policy. About two dozen students enrolled for the current semester. Second-year students will have the chance to participate in varied educational opportunities such as a law ambassador program in Washington, D.C., as well as law firm internships and visits to teen, criminal, civil, and appellate courts.
While it's only a classroom and isn't a courthouse or building bearing his name, the chief justice said that students receive a T-shirt that displays his name. He received one of those, too, and it's one that his daughter wears often.
"At some level, you feel an unworthiness about this kind of recognition," Chief Justice Shepard said. "It's not an easy thing to describe your feelings about, but seeing high school students wearing T-shirts with your name on it… that's the most striking thing."
The chief justice isn't focused on the name recognition, but rather the endeavor itself. He met with the superintendent for the first time while visiting Evansville early last year, and the two delved into how the legal profession needs a better feeder-system that starts before law school in undergraduate years and even in high school. They began discussing how a charter school might be created to tackle this, and the superintendent began exploring the idea within the school system. That led to this academy announcement in November 2009, which has gained support from the Evansville Bar Association and Foundation, along with others in the community. A $50,000 grant from Vectren helped establish the academy, according to school officials, and the chief justice donated his prize money from an American Judicature Society award this past summer to the program.
Chief Justice Shepard says he is helping and participating as much as he can without interfering with his "day job." He visited early in the semester in August, when students had studied a particular case in advance and the class was built around that. The discussion touched on the judicial process and some aspects of that particular case, which the chief justice said was possible because the court had already decided to deny transfer. In November, he used Skype video-conferencing for the first time and communicated with students that way for an hour.
"The idea of creating something like this that's new and unique and in my hometown, it's frankly exciting to be a part of it," he said. "To be able to help from time to time is quite a wonderful thing, notwithstanding the name of it. You do feel this great sense of gratitude for the generosity. I can only say that it's a lovely and warm thing to have someone recognize you in that sort of way."•
Please enable JavaScript to view this content.