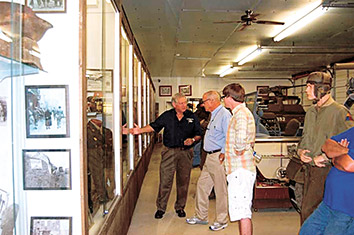 After starting his collection of World War II memorabilia as a child, almost three decades ago a judge in southern Indiana had amassed enough artifacts, including jets and tanks, to open a museum in Vincennes.
Since opening the Indiana Military Museum and securing its 501c3 status, the collection has continued to grow, said Knox Superior Judge Jim R. Osborne, the museum's founder and chair.
In fact, it has outgrown its space. In January, the museum will begin its move to a space that is closer to George Rogers Clark National Historic Park, which includes a monument to its namesake Revolutionary War hero; Grouseland, the home of William Henry Harrison when he was governor of the Indiana territory; and other historic landmarks in the area.
Phase I, the purchase of the land, has been completed. The current portion of the project, Phase II, includes the renovation and restoration of the existing buildings. Finally, Phase III will be the construction of a new building on the grounds.
Judge Osborne said the move was also critical to the museum's growth because the goal is to be "the best in the Midwest."
While there are a number of comparable military museums in the United States, he said, the only thing that separated the Indiana Military Museum from those was the facility itself. He added that the new facility would put it on par with similar museums on the West Coast and the East Coast.
Board member and retired Princeton attorney George Rehnquist said the other thing that separates this museum from others is that while many museums have collections of small items such as military uniforms, insignia, and weapons, this museum is a great location because the grounds provide enough space to display tanks and planes.
Rehnquist is a military collector himself, a hobby he became more passionate about after he became friends with Judge Osborne 30 years ago. He said that he tends to collect smaller items, particularly military books, and is an avid reader.
So how does a southern Indiana judge end up with a museum's worth of military memorabilia, tanks, and planes?
Judge Osborne said his interest in collecting started when he was very young. Between hearing stories about World War II when he was growing up and the fact that his father built drive-in theaters, which gave him the chance to see just about every movie, including war movies, he was hooked at an early age, he said.
He received World War II artifacts from people who would have just thrown them away because back then, he said, they didn't seem to have much value.
Knox Superior Judge Jim Osborne, chairman of the board of the Indiana Military Museum, left, explains an exhibit to honorary board member George Patton Waters, grandson of Gen. George S. Patton, and another museum visitor. (Submitted photo)
Since then, his collection has grown to include artifacts from before and after World War II, including the Civil War, Spanish-American War, World War I, Korea, Vietnam, and the Gulf War.
Some of the displays at the museum, which are rotated due to a lack of space to show everything at the same time, have included artifacts from Band of Brothers, Easy Company; D-Day, June 6, 1944; the women's effort during World War II; and flags and uniforms from Operation Desert Storm.
The museum also has a number of artifacts related not only to military history, but also to Indiana history, as many of the items belonged to soldiers from Indiana.
For instance, the museum opened an exhibit in July that features items from a survivor of the Battle of Little Bighorn in 1876, also known as Custer's Last Stand. Private Jacob Adams was born in Ohio, but after he was discharged from the Army, he moved to Vincennes.
Adams died there in 1934 and is buried in Mount Calvary Cemetery. His grave is about 100 yards from the museum's new location, Judge Osborne said.
Adams' granddaughter donated papers to the museum, including his discharge papers and a picture of him. The exhibit also includes an Indian War-period uniform, horseshoes, spent bullets, military buttons, a Calvary saber, Indian beads, arrowheads, a Springfield 45/70 single-shot breech-loading carbine, and a book that Adams had dictated about the experience to one of his daughters.
The museum has also displayed personal items that belonged to Vietnam Congressional Medal of Honor recipient, honorary board member, and Indiana native SFC Sammy L. Davis. Footage of Davis receiving the Congressional Medal of Honor was used in the movie "Forrest Gump" – Tom Hanks' head was superimposed over Davis' head in the footage.
As for the larger items like tanks, trucks, and planes, Judge Osborne said some of the items in his collection came from others who bought them as surplus the government was selling. At one point, tanks were so easy to acquire, he said, that in one case a man in Chicago bought about 100 Sherman tanks and converted them into bulldozers.
As a museum, it can also receive military equipment from the government by going through the proper procedures.
For instance, an M47 General Patton Tank came to the museum a few years ago from an arsenal in Anniston, Ala. Because it was too big to transport by road, Rehnquist was able to use a connection he had with a rail company to have it shipped at no cost.
Judge Osborne said once it arrived, a local construction company helped move the tank to the museum.
Another large acquisition, an F4 Phantom Fighter Jet, is waiting in Ohio for transport to the museum. Judge Osborne said it will need to be disassembled, moved, and reassembled.
To grow the museum's collection, he also continues to collect and attend military memorabilia shows. The most recent show he attended was in Nashville, Tenn., over the Thanksgiving holiday weekend. He said while there, he spoke with curators and collectors about his museum and about their collections.
He said there's a camaraderie among military collectors, and he tends to see many of the same people at the shows. At the show in late November he ran into a group that had been to the Vincennes museum already. They shared that they were impressed and were planning a return trip for the spring.
In addition to meeting other collectors and curators, the museum has allowed Judge Osborne to meet a number of well-known supporters of military history, including veterans and politicians, who have ultimately decided to serve as honorary directors of the Indiana Military Museum.
Honorary directors lend their names to the museum to promote its mission of educating the public about military history. These directors also promote the museum by appearing at museum events.
For instance, Edith Shain, the nurse featured in the famous photo of the kiss between her and an unknown soldier in Times Square on V-J Day, was an honorary director before she died at age 91 on June 20.
Other honorary directors include NASA astronaut Capt. Frank Culbertson; Former FBI Director Louis J. Freeh; former presidential candidate and veteran H. Ross Perot; George Patton Waters, grandson of Gen. George S. Patton; and former Indiana Governor Edgar D. Whitcomb.
But beyond being a collection of items – large and small – Judge Osborne said the museum is educational above all else.
"Museums like ours will help instill an interest in young people in military history," he said. "But we want to emphasize that we're not just a place to look at artifacts. There's an educational intent to our exhibits. We want to teach visitors about the military men and women who've served this country, and what that means."
The museum also hosts educational events for the public throughout the year.
While the museum is open daily April 1 through Nov. 1, it is open by appointment and group tours are available year round. More information, including how to support the museum's growth at the new location, is available at the museum's website, www.indianamilitarymuseum.org.•
Please enable JavaScript to view this content.