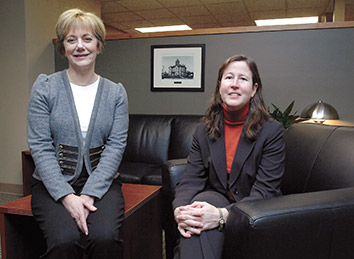 While low interest rates can be a good thing for those looking to take out loans to buy a home, a car, or to refinance, they mean nothing but headaches and heartaches for organizations that depend on the dollars generated, such as legal aid organizations that rely on funds from Interest on Lawyer Trust Accounts, or IOLTA.
Because most Indiana banks offered interest rates for IOLTA in 2010 around 1 percent or less, among the casualties in 2011 budgets submitted to the Indiana Bar Foundation were travel reimbursements, recognition events, staff hours, some staff members, and various programs. Budgets were submitted to the IBF by Dec. 1.
"There was no fat to cut," said Chuck Dunlap, IBF executive director. "They were cutting muscle, the core components of their programs. It would not be a surprise if the numbers of clients and volunteers goes down due to fewer hours to screen cases."
 
He added that because each district has its own plan in place when it comes to staff and programming, the IBF decided not to cut every district at the same percentage. This decision was also made because some districts were already at critical mass and couldn't sustain the same percentage cut as other districts that had grown more over the years.
Other factors were considered, Dunlap said, including how much carryover the individual districts could apply to their 2011 budgets. For the first time, districts will need to spend their carryover funds before they receive more funding from the IBF.
Budget cuts are also expected to affect the number of clients the districts are able to serve now that staff members will have fewer paid hours. Staff will not only have less time to take calls from potential clients and match attorneys with their cases, but they will also have less time to make calls to drum up interest among volunteers and fewer hours available to organize events such as CLEs, another way the districts have been able to encourage volunteers' involvement.
However, these are not the smallest budgets the districts have seen. The program started with 2001 budgets at $300,000. (See the related graph demonstrating how the budgets have changed over the years.)
"Even though it's not good to have cuts in funding, the pro bono districts have survived on this amount before," said Monica Fennell, executive director of the Indiana Pro Bono Commission. "I think some of them who've been around can look at how they did it before and go from there."
How did we get here?
Most of Indiana's pro bono districts receive most, if not all, of their funding from IOLTA because that is how the program was set up 10 years ago. While other states' pro bono programs also use IOLTA funds, IOLTA is generally one of many funding sources and not necessarily the major source of funding.
Nationally, IOLTA interest rates were around 0.35 percent as of mid-2010. Some states' IOLTA funds are in worse shape than others and not all states have a reserve like Indiana, but those states' programs likely have other funding sources to offset their IOLTA losses.
Because the IBF kept the districts up to date on interest rates, when those rates 0started to decline in 2008, they knew cutbacks were inevitable. What they didn't know was exactly when those cutbacks would become a reality or how bad it would be.
Budgets for 2009 were at a record high with a statewide total of nearly $1.7 million, or $445,501 more than the budgets for 2008, and $633,465 more than budgets for 2007, the first year money was put into the reserve.
The IBF tapped into the reserves for the first time to fulfill 2010 budget requests after the IOLTA amount in mid-2009 was half of what it was in mid-2008, dropping from about $3 million earned to about $1.5 million earned. Of that, about $1.2 million was allocated to the districts for their 2010 budgets, plus $401,619 was distributed from the reserves. A statewide total of $35,246 was not approved, the first time since the 2006 budget that not all funds the districts requested received approval.
By mid-2010, the IOLTA fund had again earned about half of what it earned by that point in the previous year. Of that amount, just under $428,000 was distributed to the districts, plus an additional $489,304 from the reserves, for a total of $917,173. An additional $497,645 had been requested but not granted.
In the meantime, since mid-2009 districts 2, 3, 6, 9, and 11 have needed to replace their former plan administrators. No one interviewed by the Indiana Lawyer would say for certain that any of those former plan administrators left their posts due to budget cuts, but a few speculated that it was possible.
"Anytime you lose a longtime plan administrator, it's sad to see them go," Dunlap said. "It's a unique position."
Of the seven districts that replied to requests for interviews, most said they cut staff or staff hours.
For instance, District 10, which is based in Bloomington and comprises Owen, Monroe, Greene, and Lawrence counties, cut staff hours for volunteer coordinator Adrian Polit from 30 to 15 hours per week, said plan administrator Diane Walker.
She said she hoped he would stay on even with his reduced hours, but she wasn't sure.
Like other plan administrators who cut staff hours, she said this cut would possibly affect the number of clients served by volunteer attorneys.
Beyond assigning clients to volunteers, "Adrian makes calls to drum up interest," Walker said. "If he has less time to do that, I'm not sure what will happen."
Judith Stanton, plan administrator for Northwest Indiana Volunteer Lawyers, the pro bono organization for District 1 comprising Jasper, Lake, LaPorte, Newton, Porter, Pulaski, and Starke counties, said she had to cut a part-time paralegal and reduced her own hours by 20 percent.
Like Walker, Stanton said fewer staff hours could mean fewer cases handled by pro bono attorneys in her district. By losing the part-time paralegal who helped with the intake process, "we'll need to spend more time on the phone interviewing clients," she said.
One solution to help potential clients who may need to wait for an attorney to be assigned to them is to suggest they file pro se through one of the state's Family Court Project locations if one is available in the respective district.
This has been the case in the Volunteer Lawyer Program of Southwestern Indiana serving District 13 comprising Daviess, Dubois, Gibson, Knox, Martin, Perry, Pike, Posey, Spencer, Vanderburgh, and Warrick counties.
Co-plan administrator Scott Wylie said on the one hand, it will help more people get through the legal system if they have uncomplicated cases, such as uncontested divorces. On the other hand, he said, it's unfortunate to tell people they are somehow unworthy of representation just because their case isn't as high of a priority.
Laurie Boyd, plan administrator for the Heartland Pro Bono District, said she has also referred clients to the Indiana Supreme Court's pro se website and will help them figure out what forms they need to complete. Heartland represents District 8 and comprises Boone, Hamilton, Hancock, Hendricks, Johnson, Marion, Morgan, and Shelby counties.
The Family Court Project can be particularly helpful to the pro bono districts because most of their cases are in the area of family law, which can often be the most difficult cases to place.
Boyd, Stanton, and other plan administrators said they might consider accepting fewer family law cases in 2011, and some plan administrators, such as Walker and District 14 plan administrator Amy Roth, will only take family law cases when there is an element of domestic violence and/or abuse because they are the highest priority. District 14 comprises Clark, Crawford, Floyd, Harrison, Orange, Scott, and Washington counties.
Despite their smaller budgets, one common reason for optimism cited by the administrators is a supportive legal community and local bar associations, particularly the larger bar associations that have more resources. These bars can help fill gaps by encouraging lawyers to volunteer and potentially provide funding and in-kind donations for volunteer recognition events and other needs of the districts.
For instance, the Allen County Bar has supported the Volunteer Program of Northeast Indiana, which serves District 3 comprising Adams, Allen, DeKalb, Huntington, LaGrange, Noble, Steuben, Wells, and Whitley counties.
That bar association has helped by providing assistance with the pro bono district's annual Talk to a Lawyer Today event and by providing space for CLEs, said plan administrator Terry McCaffrey.
Wylie and his co-plan administrator Beverly Corn said the Evansville Bar Foundation has always supported their district, Stanton said the Lake County Bar Association has helped her district, Walker credited the Monroe County Bar Association for its support, and Boyd said bar associations in her district, including the Hamilton County Bar Association, have helped her.
Individual lawyers have helped as well.
McCaffrey said he was lucky that his landlord, a volunteer lawyer for the organization, would give him a rent reduction for 2011.
Roth said when she had to move District 14's office, her landlord, a judge, agreed to Roth's request that the rent would be no more than the amount she asked to pay, which was the same rate the district was paying before an unexpected move.
Looking ahead, many plan administrators said they are more concerned about what will happen with the budget for 2012 if interest rates don't turn around.
To help with this, Dunlap said the IBF has been looking at other sources of funding. The Indiana Pro Bono Commission cannot raise the funds on its own, but the IBF can raise funds for the IPBC.
One possible funding source is that 25 percent of the residual of cy pres awards – unclaimed funds from class action law suits – will be applied to fund pro bono starting Jan. 1, following rule changes earlier this year.
Dunlap said other possible solutions were being explored and he discussed these with plan administrators.
Plan administrators also said they've been encouraged to seek additional funding, but many said they were uncertain that would make up for the cuts.
Some expressed concern about competing with other legal aid providers in their districts. Because pro bono districts are funded by IOLTA, the other legal aid agencies, which are having budget issues of their own and also seeing record numbers of clients due to the recession, understood they wouldn't be competing for the same funds.
Other concerns plan administrators raised when they considered finding outside funding for the first time was that many of them don't have grant writing experience or simply don't have time, especially with cuts in staff hours, to fundraise.
Dunlap said he understood these concerns.
"We know it's a difficult time and that the districts are having to do more with less," he said. "The need is greater now more than ever, and we're hoping that in 2011 we'll see indications that interest rates will turn the corner."•
Please enable JavaScript to view this content.