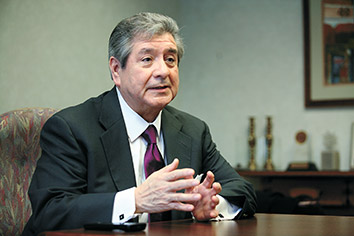 Lake Circuit Judge Lorenzo Arredondo didn't set out to make history when he took the bench more than three decades ago.
But thanks to what he describes as an array of "historical accidents" over the course of his life, the 69-year old has cemented his name in the history books.
His 34-year journey in the county judiciary comes to an end this year, as he's one of 18 appellate and trial court jurists hanging up their robes. But his story is far from finished, and looking back Judge Arredondo marvels at his meager beginnings and how he ended up in a position that has allowed him to make landmark rulings, have a courthouse named after him, and be considered a role model for the Latino community.
Though modest about some of those achievements and how they came to be, it's clear Judge Arredondo's life story is remarkable. It took him from a steel mill in East Chicago to a secondary school teaching career, then to a California law school as one of the first-ever CLEO participants. That ultimately paved the way for the young man from East Chicago to become the first Latino judge in Indiana and the longest-serving at the trial level anywhere in the country.
Simply, he symbolizes the American dream as seen through the lens of the Indiana legal community.
"My advances are so exponentially coincidences and what I'd say were historical accidents," he said. "We're taught to do public service in my family, but only someone who's served as a judge knows what an honor this is. You try to do the best you can because it's a high honor and privilege."
Before the law
As the youngest of 10 siblings, Lorenzo was born and raised in East Chicago. His mother, Maria Perez, was born during the Mexican Revolution and entered an arranged marriage at age 14 to Miguel Arredondo. The couple and their first daughter immigrated to the U.S. in the 1920s, where they lived in a boxcar while Miguel worked for a Texas railroad company. They eventually settled in East Chicago. His father worked for Inland Steel, and that was the life a young Lorenzo expected long before a legal career was in his sights.
"Everyone just went to work in the steel mills, and that's what I thought I was destined for," the judge says now.
But his dad was killed by a train in 1955 when Lorenzo was about 14, and the judge recalls coming to the realization that he needed a different direction. He worked in the steel mill for a year after school, saving enough money to attend classes at Indiana University Northwest Extension and ultimately enrolling and studying secondary education in Bloomington.
Though he'd found a career in teaching social studies at the Gary high school, he still wanted something more. In 1968, Lorenzo saw a newspaper advertisement about a newly created national program known as Council on Legal Education Opportunity. He applied, but had just missed the deadline for that inaugural year and had to wait for the next opportunity. His second application was accepted, and in 1969 the future judge found himself traveling to the University of San Francisco School of Law.
After earning his law degree 1972, he came back to Lake County to work as a deputy prosecutor, county attorney, and in private practice. Later that decade, Indiana lawmakers opened another door for him.
Jump to judge
Statewide changes in 1975 abolished the Justice of the Peace courts and instead created the county courts that remained through 2009 until they were completely abolished.
Even though he was a young attorney at the time, Judge Arredondo applied and ran against one of the three seated justices of the peace locally and won a four-year term on the new county court in Lake County.
When Lake Circuit Judge Felix A. Kaul was retiring in 1976, he prodded the young county judge to apply rather than seek re-election at the lower court. He did, and that election put Judge Arredondo into the constitutionally created court on Jan. 1, 1977.
His predecessor, who Judge Arredondo describes as a true father figure for him, stayed on briefly as a mentor but opted not to remain as a part-time commissioner or in any other capacity, as his protégé had suggested.
"That way, he'd be around a couple times a week and the attorneys could see he was still there, in case this new guy was off his rocker," Judge Arredondo said. "He was so beloved and everyone knew him, and he was such an outstanding role model of what a judge should be. That's what I've tried to be."
A distinguished jurist
Every case is important to the particular litigants involved, Judge Arredondo says, but he knows some have been more noteworthy than others. He cites the first-ever decision to name a guardian ad litem for a dog, which landed him on the front page of the New York Times and later set the stage for the Michael Vicks dog-fighting case, and creating protocol for how hospitals handle stopping life support of a terminally ill patient.
But for Judge Arredondo, the most memorable issues are the child custody cases, and he says he can't count the letters and feedback he's received from people about those rulings.
"Those are the heartwarming things that make it all worthwhile," he said.
Through the years, Judge Arredondo has observed and overseen incredible changes in Lake County's courts, including the creation of a family division, the domestic relations counseling bureau, and the "children's room" designed to reduce stress on children whose parents are attending court hearings in his Crown Point courthouse.
Technology has been one of the most impactful changes he's observed during his 34 years. He has watched and participated as the judiciary has g
one from an all-paper filing and recordkeeping system in those early years to the implementation of an e-filing system in three courts this year. Judge Arredondo's court was the first statewide to install a fax machine in 1991, and computers have been introduced and upgraded ever since.
Jury reform on pay and notice timing has made significant strides in obtaining more people to serve, and the formation of parenting and child support guidelines have been monumental, he said.
He's also played a pivotal role with the Indiana Supreme Court's Race and Gender Fairness Commission created in 1999, co-chairing it and addressing issues such as courtroom interpreter certifications.
Statewide and nationally, the legal community has honored Judge Arredondo's service through the years with multiple awards and leadership honors. A founder who served as president of the Hispanic National Bar Association, a group that has grown to more than 33,000 members, Judge Arredondo also formed a northwest Indiana Hispanic Lawyers Association and co-founded the Calumet Inns of Court. His accomplishments include a laundry list of high legal honors, and his reputation has led the White House to summon him several times to participate in conferences about issues on Latinos and the legal profession.
Most recently, the local county he's served for 34 years dedicated a courthouse in his honor. Lake County officials in November voted to rename the courthouse in East Chicago as the Lorenzo Arredondo Justice Center.
Lake Superior Judge Calvin Hawkins, who presides in East Chicago and led the renaming effort, described his colleague as a star and says he's a role model for not only children but anyone interested in becoming an attorney or judge.
"This is about Lorenzo, but it's more than just Lorenzo," he said. "It's a statement we can give to young people and others that he's a symbol of us, of what someone can become in this country."
New adventures
Judge Arredondo decided in early 2010 not to run again for another six-year term. He explains his reasoning by referring to his predecessor who'd been on the bench for 36 years – two years longer than he will have served.
"I always took his advice, and that's still the case now about him saying not to stay too long," Judge Arredondo said. "I won't break his record, and that's fine. It's nice to step back when you're at the top of your game and can have your health and mind to do something with the time you have left."
Joking that it would be tough to return to practice in a building named in your honor, Judge Arredondo said he didn't know exactly what he might do as far as his legal career. Senior judging isn't on the list because of Lake County's system of self-insuring judges, and he's mulled the possibility of one day being a TV or radio show legal analyst. Short of exact plans, he points out that he'll always be available to those who might need him and always for mentoring – just as he received in his early days on the bench.
He plans to travel and also work with his older brother Ramon, who with his wife, Trisha, has written a book about their mother's immigration and journey in America. The nationwide book tour launched earlier this year in Washington, D.C., and the judge has traveled some already, promoting it with his family.
Aside from that, the retiring judge hasn't spelled out specifics but said "his siblings likely have many more plans" for him. Even though his mom lived to be 97 and her mom to be 95, Judge Arredondo at age 69 doesn't want to bank on that time left and hopes to seize the day.
"You just don't know what doors might open…," he said, a smile curling at the edge of his mouth as he looks out a window and toward the sky. "But rereading the classics, doing the Argentine tango, and running with the bulls are among the things on the bucket list."•
Please enable JavaScript to view this content.