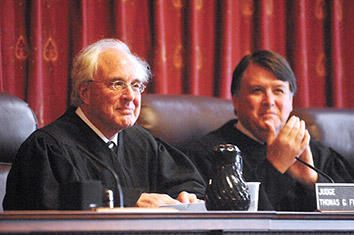 Retiring Indiana Tax Court Judge Thomas G. Fisher received a warm goodbye at a send-off ceremony Dec. 17, as the state recognized the solid and nationally recognized body of caselaw that Indiana's first appellate tax judge created during his 24 years on the bench.
As of Indiana Lawyer deadline, the governor had not named who will succeed Judge Fisher on the state's appellate bench, but the three finalists vying for that spot attended the ceremony honoring what the judge has done for Indiana since the Tax Court's creation in 1986.
"As Indiana's first and only tax court judge, you've blazed a trail in what had been uncharted legal territory," said the Tax Court's staff attorney Erika Aker.
Indiana Chief Justice Randall Shepard said his colleague has done more than any other person on the appellate bench with decisions such as the landmark Town of St. John ruling in 1999 that led to a restructuring of the Indiana property tax system. In a time when President Barack Obama and Congress have recently debated and forged tax policy, Judge Fisher's impact can be seen through the predictability and certainty in tax law he's created for Indiana's economy.
"We'd hoped to get thoughtful and predictable tax law that would benefit us all," the chief justice said, referring to when the new court was created. "Tom's splendid service has made that dream and hope a reality. Tom Fisher did more than any other single person to bring predictability and fairness to that (tax) system."
Showing his sense of humor, Judge Fisher ended the ceremony by revealing what judges wear when issuing their decisions in court. He ducked down behind the bench briefly, then drew laughter and applause as he reappeared wearing a British-style white wig and holding a large arm-length gavel.
He plans to retire and become a senior judge as soon as the governor names his successor – either Bloomington attorney Joby Jerrells, Greenwood attorney Martha Wentworth, or Hendricks Superior Judge Karen Love.•
Please enable JavaScript to view this content.