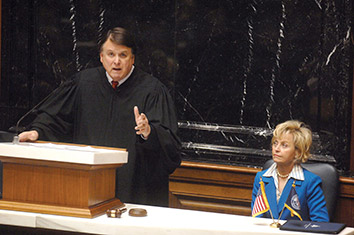 Even though times are tough, the Indiana chief justice says the Hoosier judiciary remains strong and continues to be a leader that other states look to as an example.
Giving his 24th annual State of the Judiciary speech before a joint session of the Indiana General Assembly on Jan. 12, Chief Justice Randall T. Shepard praised the state court system's efforts during the past year that have materialized despite the economic climate and lack of resources for everyone.
Referring to the public commentary that is happening in Indiana and nationwide on how broken government is and that public leaders aren't listening to constituents, the chief justice talked about how the legal community has responded and proven that it can rise above the economic crisis.
 
"In short, Indiana's judiciary is one that keeps its feet planted firmly on this territory, on Hoosier soil, while keeping its eyes on the horizon," Chief Justice Shepard said. He highlighted four areas where he observed the state courts thriving during 2010.
Mortgage foreclosures: With foreclosure filings higher last year than in 2009 and many courts burdened with those cases, the chief justice highlighted how homeowners now have the opportunity to participate in a settlement conference. He stated that more than 40 percent of homeowners respond when a court sends out a separate settlement notice. The conferences are currently used in counties having 60 percent of the foreclosures, and Chief Justice Shepard said they'll be implemented statewide by the end of this year, along with the best practices document State Court Administration recently published to help judges outline case management plans.
Smarter sentencing: As the state legislature discusses how to revise sentencing so that high-risk offenders receive appropriate sentences and are incarcerated, the chief justice explained that local corrections officials have already been tackling that issue. He discussed how a risk assessment tool recently became mandatory for every criminal and delinquency court statewide, and he said that 2,300 probation officers, judges, and court staff have been trained to use it.
Technology: Praising the continued implementation of the statewide case management system called Odyssey, the chief justice said it is currently being used in 77 courts in 26 counties and at least 175 courts are on a waiting list to participate. The participation reflects use in a third of the state's courts since the project began in late 2007, and he urged lawmakers to temporarily increase from $7 to $10 the automated record-keeping fee to help speed up the process. The chief justice also praised other technology avenues that have been put into place during the past year, including electronic notification systems tracking police citations, protective orders in domestic violence cases, and when someone is adjudicated mentally ill so those individuals can be kept from obtaining firearms.
Jury instructions: The chief justice stated that the state unveiled new instructions last fall, taking much of the legalese out of courtroom instructions and replacing it with examples and language that non-attorneys can easily understand.
"The men and women of the Indiana courts tackle all these issues and more, both through long-range strategic planning and through immediate action," Chief Justice Shepard said. "So, it's with the men and women of Indiana's courts, who've proven themselves able at diagnosing a defect or identifying an opportunity, recruiting talented people, and capable of seizing the moment on the basis of the best ideas available."•
Please enable JavaScript to view this content.