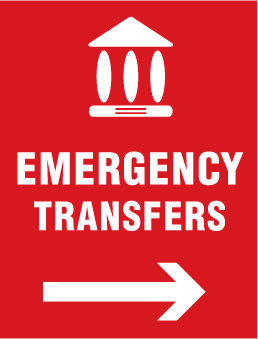 What attorneys might consider an emergency legal issue may not draw the same urgency from the Indiana Supreme Court.
In fact, it usually doesn't.
Emergency transfer requests to the state's highest court don't happen often, and when they do, it is rare for the justices to grant a request and decide to intervene and take jurisdiction on an appeal. What the infrequency shows is that most attorneys practicing before Indiana's appellate courts use the process that's in place, but only rarely do the highest jurists see a need to sidestep the Court of Appeals to give guidance to the lawyers and judges who must address those legal questions in the trenches.
"If you look at all the appeals, you can see that they're really all over the board, and it's hard to ID any single theme that runs through the cases," said Indianapolis appellate attorney Bryan Babb. "That's a big deal for them to take a case, because they have to start from scratch."
The Indiana appellate clerk's office doesn't specifically track emergency transfer information and compile it within annual reports for trend watching, but figures show that only three of the 20 emergency requests made in the past two years have been granted under Appellate Rule 56(A). Everything from election law to criminal and worker's compensation issues have been pitched on urgency, but most haven't been accepted at that stage.
 
Tracking data from years past is difficult without the clerk's office information showing how many motions have been filed. Information can be found using WestLaw, Lexis, or even the published court decisions themselves if the court specifies that it was a 56(A) matter.
Through the years, appellate attorneys Babb and George Patton with Bose McKinney & Evans have compiled those granted transfers based on legal research, giving appellate practitioners an idea of what the court has accepted on an emergency basis. An updated edition of the Appellate Procedure book last published in 2001 is in the works, and Indianapolis law professor Joel Schumm will be compiling criminal cases that have received transfer. The last pocket part issued with that information is for 2009-2010.
Cases listed in the most recent treatise and data compiled from legal research and appellate dockets show at least 50 cases have been granted emergency transfer going back to 1974, though the list may not be complete.
 
Laramore
"It used to be par for course that the court granted about one a year," said attorney Jon Laramore with Baker & Daniels. "It's not like there's a policy, but that's how it worked out, and I'm not sure how that plays out as far as percentages based on the total number of petitions."
Emergency transfer motions before the court are supposed to show an appeal involves a substantial question of law of great public importance as well as some emergency requiring the court's speedy determination. Attorneys say that can be a tricky set of criteria open to interpretation, but the Indiana courts nearly 40 years ago defined issues of "public concern" as those related to public safety and well-being.
Reflecting on the cases he's seen transferred on the emergency basis, Patton said that the number has been pretty steady through the years. He's had a couple granted and denied, and the likelihood of that happening comes down to the specifics of a case and whether any disagreement exists at the lower courts.
Those appellate practitioners who regularly argue before the state appeals courts say these types of emergency requests should be made sparingly by lawyers in order to get the most benefit out of the court system that's in place.
Through his decade of practice, Babb has been involved in four emergency transfers, and the court has granted two of those – an annexation case in Hamilton County about four years ago and an asbestos case about eight years ago. He also served as amicus curiae counsel on a sewer district case granted on emergency transfer in 2008.
His most recent emergency transfer request, which was denied, involved child support issues. Justices denied emergency transfer in January in the case of Allan C. Bir v. Cynthia Bir, No. 06A01-1009-DR-449. The appeal, still pending at the Court of Appeals level, calls into question the constitutionality of the state
's new child support guidelines that began in 2010 – revisions that altered the payment scheme for high-income earners and raised the ceiling on what obligations would be paid.
Since the justices had revised the rules, Babb and his fellow attorneys argued that the Court of Appeals is obligated to follow the new guidelines the higher court had set and so it wasn't in a position to objectively review this appeal.
Both legal teams disputed whether the case rose to the level of "great public importance" required under Rule 56(A), with the mother's attorneys footnoting in a brief that it applied to only a small number of families statewide and doesn't impact more common issues such as public education, utilities, voting, or religious freedom. The father's attorneys contended that the issue was that important because it impacts other pending appeals of high-income earners who need guidance.
In the end, the court decided against taking the case, and it will now be considered by the Court of Appeals. While the intermediate appellate court is efficient and speedy compared to other states, Babb said the process can still take more than a year before it even ends up at the transfer stage again.
"There's no guarantee the (Supreme) court would do anything differently, but you just know that there's nowhere to go after that," he said, noting that a federal suit might be possible if U.S. law is involved. "It's a certainty that's provided in knowing that Indiana's court of last resort has looked at the case and issue, and that's the end."
The court recently took the case of State v. FreeEats.com, Inc., No. 07A01-1007-MI-323, which involved "robo-calls" and some political free speech issues. Justices heard arguments in January, and that case has the potential to impact how residents receive those types of calls, especially during political seasons.
Generally, election law issues are cases that the court looks favorably on as a possible emergency transfer, attorneys say. But just because it's an election law issue doesn't mean the court will take it. Justices last year twice denied an election-specific appeal prior to the November general election, ultimately allowing a Lake County judicial candidate to remain on the ballot despite a challenge to his eligibility. The issue involved William I. Fine's candidacy for the Lake Circuit bench, after the Indiana Election Commission in September struck him from the ballot and a Marion Superior judge later reinstated his name for voters to choose. Challenger Michael Lambert objected to how the county Republican Party chair had chosen Fine for the vacancy by vote rather than holding a caucus, and he tried to have Fine removed. But the Supreme Court denied two Rule 56(A) motions in September, and the lower appellate court declined to fast track the case prior to the election, which Fine lost. That appeal remains pending and hasn't progressed since late last year, according to the appellate docket.
Babb sees the court's denial as part of the larger trend.
"We generally want to use the benefit of the Court of Appeals process setup in this state, and the fact that we have so few of these emergency transfers is a sign of how thorough our law is interpreted in Indiana and what kind of guidance attorneys and trial judges are getting," he said. "You're going to get more crystallized, distilled issues as we move up the appeals process, from the three-judge panel to a court one-third that size, and that just means more eyes are looking at it for the most comprehensive result."•
 
Please enable JavaScript to view this content.