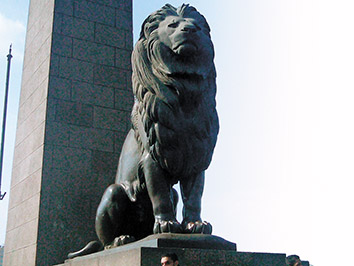 News about protests and unrest in Egypt changed daily, sometimes hourly. Although former President Hosni Mubarak stepped down Feb. 11 and the military has taken power and conceded to many of the protestors' demands, it has left many wondering what this means for the people in Egypt. Collateral damage of the public revolt has included the temporary closure of an Indiana University law school program in that city.
A group of 63 students started classes Jan. 9 at Indiana University School of Law – Indianapolis' program at Cairo University's Faculty of Law. When the protests started Jan. 25, it was the last week of the first block of classes. Tahrir Square, the main site for protestors, is about a mile from the university.
 
This is the only program of its kind in Egypt that involves an American university teaching courses that result in the Egyptian students receiving the same master of laws degree as students who attend courses at the school's American campus. Groups averaging 65 students have entered the program each January since 2008.
The program, which is funded by the United States Agency for International Development and has received funding for the 2011 cohort of students, was initially started to help the country's economy by training business lawyers.
While many of the students have had a connection to or interest in practicing business law, a large number of them also enrolled due to their interest in rule of law issues. Students have included judges in Egypt's court that is equivalent to the U.S. federal Circuit courts.
"They don't want to do it to help their government, they want to do it to help their country," said Frank Emmert, executive director of the law school's Center for International and Comparative Law and director of the Egypt program.
Most students work during the day and take the courses at night. Students complete a year of evening courses, starting in January every year, then spend about six months working on a thesis project before they graduate in the summer.
Because courses for the program are taught in blocks, Emmert said those involved with the program have decided to wait and evaluate on a weekly basis how things are going to determine when the next block of classes will start.
Emmert said he was also unsure how the blocks would actually be scheduled going forward and if the program would still conclude on time. While there is a specific schedule for the blocks, he said the program directors have to be considerate of the professors' who are scheduled to teach as well. So far, he said the professors who are signed up still want to teach in Cairo, but state-imposed evening curfews in Egypt start while the program's evening courses have been taking place.
As the protests were starting, Emmert said most students wanted to keep going. They finished the first block of classes and are now working on their finals. Emmert said they received an extension because the Internet was shut down for a week, making research difficult.
Emmert planned to leave Jan. 27, two days after the protests began, actually flew out the next day, and arrived home in Indianapolis on Jan. 28.
Swadesh S. Kalsi, a retired attorney who practiced at Krieg DeVault and was scheduled to teach a course in Egypt starting Jan. 31, safely left Cairo shortly after Emmert.
While there were no other American professors from the program in Egypt at the time Emmert and Kalsi left, Emmert said he and others involved were concerned for their Egyptian colleagues. They have been able to keep in contact via phone and e-mail, and while the Internet and some cell towers were shut down, they were able to contact each other on their landlines.
Emmert's wife, Salma Taman, an Egyptian and 2009 graduate of the program, has also kept in close contact with her family in Alexandria, Egypt.
"What I'm sure of is this is a revolution by the Egyptian people," she said. "It's not political and it's not religious. The people have been exposed to the rule of law and the freedoms and the good things they never heard of before. In the past they couldn't compare their system to anything else because they weren't exposed to these values and principles. Now that they are getting their education abroad and getting on the Internet, they know more. It was inevitable they would stand up for their rights."
Emmert added there has been a tension there, which was heightened by the recent uprising in nearby Tunisia. The unrest in Egypt had been building, Emmert said, partially due to the economy and difficulties faced by the middle class.
He said that those who started the protests in Egypt have come forward and are mostly professionals – doctors, lawyers, businesspeople – and other educated middle-class members of society.
Jacob Manaloor, associate director for contracts, grants, and fundraising at the law school, has been to Egypt four times and was there most recently Jan. 6 to 20. He said while people weren't exactly happy with their economy, they also wouldn't come right out and say anything openly against their government.
He said there was frustration because, like in America, people in Egypt want a better life for their children. But they were also noticing that that might not happen if the current situation continued.
The program has helped create better opportunities for the students, he said, and even the program directors connected to the IU program in Cairo. Several students were already employed when they entered the program, some as judges or working for businesses including oil and gas companies in the Middle East, but the degree has helped them advance in their previous jobs.
Emmert, Taman, Manaloor, and Terri Cuellar, another school administrator who was in Cairo shortly before the protests began, expressed concern for the people involved in the uprising. For their students' safety, none of the teachers or administrators would say if any of the program's students or alumni were directly involved, but they would say it's a possibility.
"Seeing how the Egyptian people are oppressed by their government and how unbalanced the economy is there, I hope that they will accomplish a true democratic government," Cuellar said. "I'm not sure that will be done easily or as we think of what a democratic government is just because of the cultural differences, but to have the freedom to say what they feel and not be afraid for their lives would be a great thing. Democracy will not come to them without a great deal of cultural adjustment. The flavor of democracy that they will experience over time will not be the same as we experience."
She added that there are many sides her friends and colleagues have been taking, "from strongly pro-Mubarak, to just wanting to get back to a stable day-to-day life, to pro-revolution," she said.
While they were assessing the situation to decide when they can restart the program, as of Feb. 14 Emmert said he is concerned that because the economy has crashed in Egypt, private law firms and companies that have expressed interest to fund the program may no longer be able to do so. Another cause for concern is that U.S. AID funds the program, and that support would also be affected if the U.S. government decides to shut off funding to Egypt. He said the program was still looking for other funding sources, including American law firms and companies that have an interest.•
Please enable JavaScript to view this content.