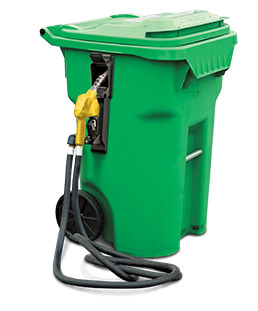 When attorney John Kirkwood sees a garbage dump, his mind not only starts wandering toward the renewable energy that could be produced at that site but also an expanding field of law that's drawing more lawyers into the environmental fold.
These days, the mental images may be cornfields or municipal waste into ethanol, woody biomass into environment-friendly fuel, or wind recycled into electricity – but those are just the starting points for what lawyers say is an evolving and ever-expanding area of energy and environmental law.
Kirkwood's foray into that world may start with those mental pictures, but it soon detours into what he's spent a quarter century of his career practicing: municipal bonding and finance law, pivotal parts in the renewable energy picture that is getting more attention these days. He's handled financing issues on projects like Lucas Oil Stadium, the Indiana Convention Center expansion, and Indianapolis Water, and the corn ethanol craze brought his background to the eyes of national and international companies.
Chairing Krieg DeVault's Alternative Energy and Clean Tech practice group, Kirkwood is one of a growing number of attorneys statewide and nationally who've turned their attention to renewable energy and the financing of these types of projects. His firm represents three out-of-state companies that recently received millions in loan guarantees for renewable energy facilities.
Companies represented by other firms have similar legal minds on those projects, and they all say that the financing component of these projects is just as important to the environment as the projects themselves.
"That financing fits right in with everything going on in green energy and environmental law," Kirkwood said. "After that corn ethanol revolution that was like a bolt of lightening sweeping across the country, we started debating whether making energy out of what we eat was really smart and the equity was pulled back. But that lull is over."
Hoosier attorneys watching the renewable energy and environmental trends of these projects have been focused on new U.S. Department of Agriculture regulations that will put in place a funding mechanism. Lawyers in Indiana say that the new rules are expected to set standards that will make it easier to finance these types of projects, allowing community banks to lend money for financing rather than making it more difficult for companies to undertake these efforts.
That, of course, means a boost in the legal work of those in the new energy areas and more traditional transactional and financing fields.
"It's pretty safe to assume that what people are looking for in these regulations is going to happen and will make it feasible for these large-scale renewable energy projects to happen more often," said Stephen Dutton, an attorney with Barnes & Thornburg's new energy group. "Financing overall has been such a problem for everyone, and this USDA financing will be a welcome addition to what's been available. Having no national standard has made it difficult to predict what will happen in the future, and people can't be sure that all of these biomass projects will be treated the same."
The issue can be contentious, as one Indiana business knows because of a federal lawsuit it filed against the USDA last summer. The Claypool-based LD Biodiesel and Soybean Processing Plant, owned by Louis Dreyfus Agricultural Industries LLC (LDAI), filed suit against the agency last summer in the District of Columbia. The suit claims the facility's funding was being unconstitutionally denied because the plant's percentage of foreign ownership is more than 51 percent. The suit alleged that the USDA rules didn't impose any citizenship requirement.
But now, that contentious financial issue in court is muddied by the USDA's recent announcements that numerous renewable energy projects nationwide will be granted those loan guarantees. LD Biodiesel received about $1.4 million, but it's unclear what impact that funding will have on the pending lawsuit. Attorney John Buckley Jr. in Washington, D.C., couldn't be reached for comment on the suit or government investments, but the last docket entry for the suit was in November.
Those types of issues that may have sparked tension before are now destined for a different path, as the federal government is investing in these renewable energy projects.
The USDA in mid-January announced millions of dollars in loans in multiple states on a variety of projects, such as $15 million for biodiesel and cornstarch ethanol. Authorized under sections of the Farm Bill of 2008 and paid for in part through recent stimulus funding, one of the grants awarded entails loan guarantees to entrepreneurs who might want to invest in advanced biofuel production.
A total of 68 projects in 33 states received money – including four projects in Indiana totaling about $1.57 million in loans. The Indiana recipients are Louis Dreyfus Agricultural Industries; E Biofuels; T and M Limited Partnership; and Indiana Flex Fuels.
Eligible examples for the funding include biofuels derived from cellulose; crop residue; animal, food and yard waste material; biogas (landfill and sewage waste treatment gas); vegetable oil; and animal fat, according to the USDA.
Lawyers on those projects are scattered throughout the state and country, including Dutton and Kirkwood.
Three of Krieg DeVault's clients have reaped $405 million in benefits from another section of the Farm Bill, according to Kirkwood. In rural western Alabama, Costaka received conditional word that it would receive $250 million to build and operate a 53-million gallon advanced ethanol biorefinery plant using woody biomass; Enerkem Corp. in Mississippi will receive $80 million to build and operate a biorefinery capable of producing 10-million gallons per year of biofuels from refining dried and post-sorted municipal waste; and INEOS New Planet BioEnergy in Florida will receive $75 million to construct and operate a biorefinery capable of producing ethanol and electricity.
A fourth biorefinery applicant in California, Bluefire Ethanol, was another of Krieg DeVault's clients and is awaiting word on whether it will receive any loan guarantees. The firm is also working with other clients on similar measures, Kirkwood said.
"This is pretty historic," he said. "The unique thing about all of this is that we lack guidance right now, and we've just been clumsy and awkward and what we're doing didn't fit the existing models in capital markets for funding."
Kirkwood said his 25 years of experience taught him how to finance a project, whether it be a school or hospital, and these deals are similar in that regard. But it's factoring in the environment, contract law, bank financing, intellectual property, and many other areas that make it so new and interesting, he said.
With about six to eight lawyers at his firm who are "new energy focused," Kirkwood works with many others within other divisions who handle specific issues depending on the matter at hand. These issues have broadened his practice area nationally and internationally, Kirkwood said.
"Every one of these projects is built on a piece of dirt that has an environmental issue involved, but nationally there's still only a small number of firms and a small fraternity of lawyers doing this work," he said. "As Indiana has become home to more wind farms and our farmers have put those environmental twists on what they do, more federal support is going into this. Really, I see this as an engine for the firm that's going to get bigger and bigger."•
Please enable JavaScript to view this content.